The King and I
Richard Rodgers and Oscar Hammerstein II
Lincoln Center Theater
Donald Gordon Auditorium, Wales Millennium Centre
–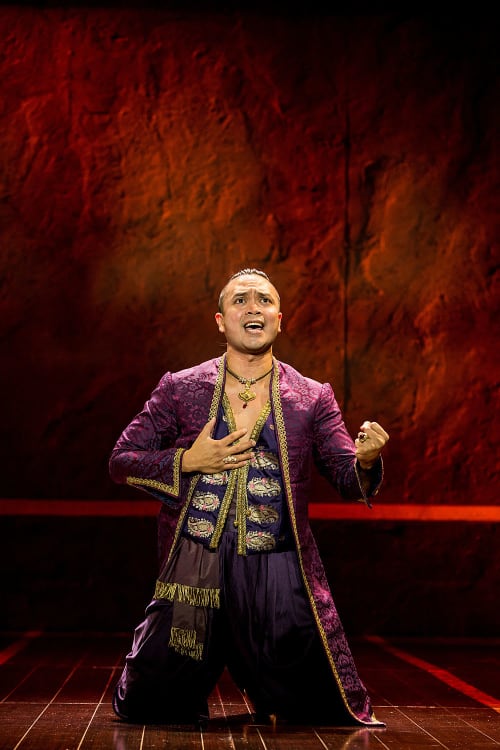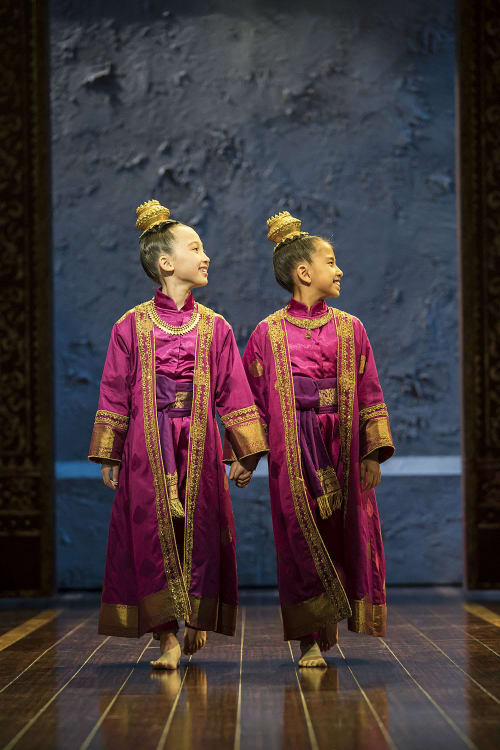 Following a run at the London Palladium, the touring version of Rodgers and Hammerstein's knowingly exotic musical extravaganza arrives to brighten up a bleak Cardiff January.
The King and I was first produced in 1951, based on Margaret Landon's 1946 novel which was a somewhat romanticised fictionalisation of Anna Leonowen's account of working as a governess at the court of King Mongkut of Siam in the 1860s. The Broadway show and subsequent film are most famous for making a star of Yul Brynner (as well as providing him with a good earner for the rest of his life); but, as the programme notes point out, the text contains much oblique political comment which remains relevant.
This is director Bartlett Sher's Tony Award-winning 2015 version of the story, developed at New York's Lincoln Centre Theatre, with a cast largely comprising actors of Asian descent. The lead roles here are taken by Jose Llana, a veteran of the Broadway production, and (off the subs' bench for press night) Maria Coyne.
The tone is set from the off, with the overture highlighting the melodic pleasures to come (live orchestra conducted by Malcolm Forbes-Peckham). The bamboo-patterned curtains part to reveal the impressive prow of a ship (set design is by Michael Yeargan), from which the widowed Anna and her son Louis (Joseph Black) are about to disembark.
Despite their familiarity with the Far East, they are about to face a number of disorientating cultural challenges, largely stemming from the autocratic nature of the King's rule. Despite wishing to take advantage of what the West has to offer in terms of language and scientific knowledge, he is keen to maintain his absolute authority, painfully aware that European nations are looking for weaknesses as they seek to gain access to his nation's natural resources.
He also has domestic issues to deal with: while most of his many wives, led by Cezarah Bonner's infirm Lady Thiang, are devoted to him, Tuptim, the most recent arrival (a gift from the King of Burma), is not as faithful as she might be, due to a prior arrangement with Lun Tha (Ethan Le Phong), the messenger who brought her to Siam.
Thus, while the bulk of the action is taken up with the battle of wills between feisty proto-feminist Anna and a monarch who is unaccustomed to being defied, the climax comes when the unhappy romantic subplot comes to a head.
Llana is suitably imperious and crowd-pleasingly funny as the King, but suffers from the fact that his only solo song, "A Puzzlement", is one of the weakest numbers on offer.
Coyne is likeably spirited and vocally highly adept—although inevitably Ms Leonowens's cut-glass pronunciation fails to come across as fluent during the dialogue sequences.
Amongst a strong supporting cast, Jessica Gomes-Ng makes a striking impression as an operatically tragic Tuptim; with Bonner's Queen and Kok-Hwa Lie's Prime Minister constantly reminding us of the high stakes games being played, and Aaron Teoh bringing both humour and pathos as the conflicted Prince Chulalongkorn.
And then, of course, there are the King's multifarious children, engineered for maximum cuteness, and his wives (likewise), although we see only a handful of each, beautifully costumed by Catherine Zuber.
The choreography (by Christopher Gatelli, based on Jerome Robbins's original work) does not overwhelm the action, truly coming into its own during the paradoxically beautiful escape-from-slavery themed "Uncle Tom's Cabin" ballet interlude.
One might argue that the songs seem somewhat shoehorned into the plot, but when they're of the quality of "I Whistle A Happy Tune", "Getting To Know You", "Shall We Dance", "Hello, Young Lovers" and "I Have Dreamed", and delivered with such charm and skill, it would be churlish to complain.
Indeed, the many themes touched upon (race, monarchism, imperialism, the subjugation of women, the nature of marriage, East-West relations, et cetera, et cetera) remind one that The Broadway Musical at its best is a vehicle for big ideas as well as big tunes. This is a beautiful production of a subtly subversive tale.
Reviewer: Othniel Smith