The King's Speech
David Seidler
Wyndham's Theatre
–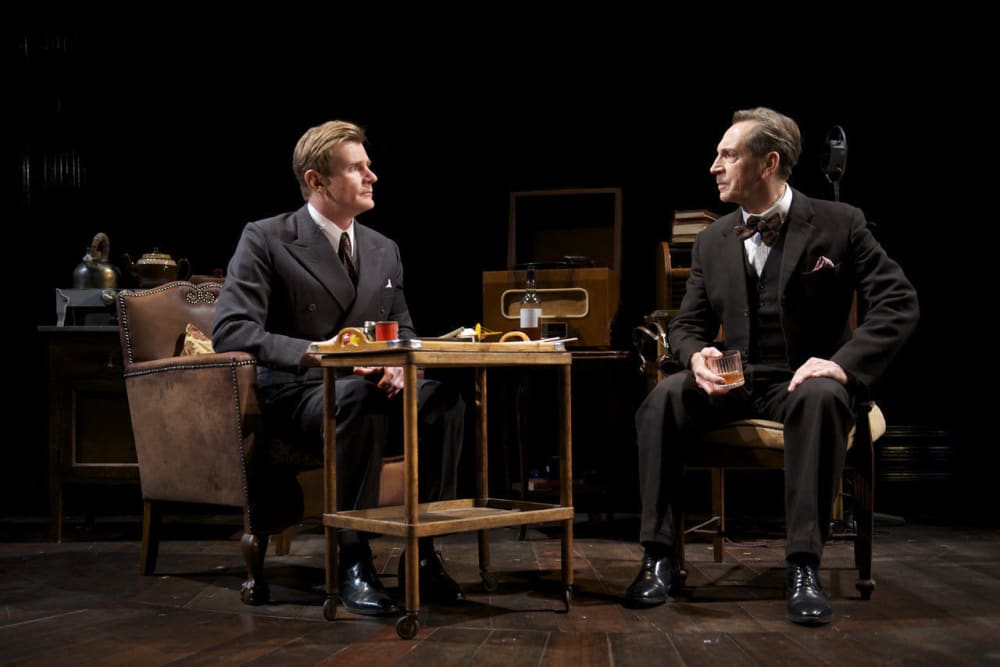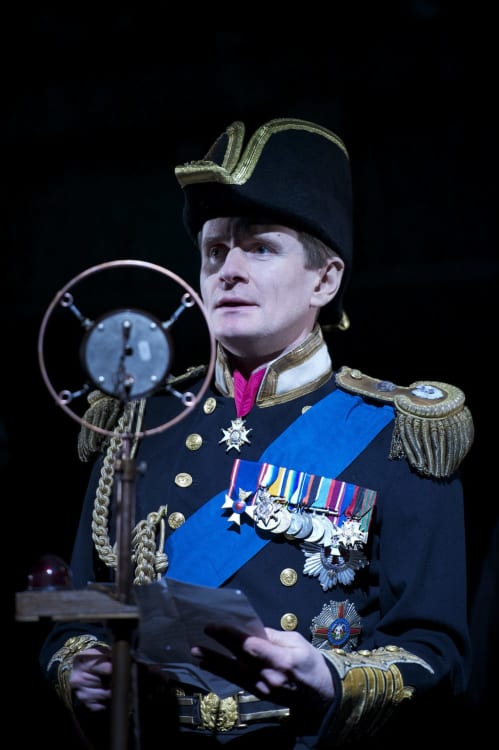 Sometimes it is hard to imagine that a stage version can add anything to the lives of those who have enjoyed a popular, in this case well scripted, movie. Overcome any reluctance because this slick theatrical production, adapted by screenwriter David Seidler, is every bit as good as his film but harder-edged and rather better focussed.
It helps that Adrian Noble, who has clearly contributed much to the success of this great evening, was brave enough to take the best elements of the story then spice them up to maximum effect for a live audience.
The staging is surprisingly effective, with the actors placed by designer Anthony Ward on a revolve in delicately illuminated semi-darkness accompanied by a soundscape that is dominated by Adolf Hitler seemingly threatening war from the wings at every opportunity.
The story is a classic tale of a future King saved by a common, in every sense, man and enabled to rule triumphantly and confidently. It may not literally be rags to riches but is metaphorically so.
The impeccably dressed rag man is Charles Edwards as Bertie, the future King George VI. Edwards is magnificent as an insecure, self-effacing stammerer who has been mentally abused since childhood by everyone from his bombastic father played by Joss Ackland onwards.
Egged on by his witty wife, Emma Fielding taking the role of the future centenarian Queen Mother, he seeks help from the least likely quack in Harley Street.
This is Jonathan Hyde's Lionel Logue, an Australian "doctor" who turns out to be a failed actor and is a proponent of lèse-majesté bordering on the kind of treason that would have left him headless in the Middle Ages.
His treatment, starting from the principle that "we must be equal", would seem relatively normal today, analysis plus a talking cure leavened by psychological trickery and lashings of common sense.
The joy of the story is the developing relationship between two men who discover a mutual dependency. At the beginning, they bristle at each other like orang-utans fighting over territory but soon realise that working together is likely to bring benefits to both.
Bertie, as Lionel insists on calling him, is the man who might just be King if his adulterous brother David chooses sex with his American paramour over his birth right. That is not a role that sits well with a stammer so bad that he can't get through even the first word of Hamlet's most famous speech.
Logue is a congenital failure with artistic tendencies who, at least in its portrayal, needs a big win more for his own self esteem than a career that seems to be chugging along rather nicely.
The lessons present exactly the same theatrical journey and pleasure as those between Henry Higgins and Eliza Doolittle in any quality production of Pygmalion, though obviously with the roles reversed.
By the end, it is hard to keep a tear from the eye as the poor weakling from the opening scene becomes a true King.
While one cannot fault the two stars, who form an excellent partnership, in supporting roles, Charlotte Randle as Logue's lovably homely but desperately homesick wife Myrtle and Ian McNeice who eventually gets to deliver a delicious Churchillian speech both threaten to steal the plaudits every time that they appear.
The opening night lived up to the hype too, since not only was your diligent representative in the presence of Royalty on stage but closer to home he had sparkling company too. In the next three seats sat one of the country's highest profile politicians and a recently retired ministerial colleague, both equally charming let it be said, plus The Artist Formerly Known as Shrek.
All in all, a night to remember both on and off stage.
Reviewer: Philip Fisher