The Ladykillers
Graham Linehan from the screenplay by William Rose
Edward Snape for Fiery Angel
Vaudeville Theatre
–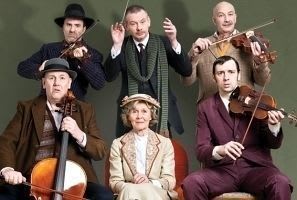 This stage version of Alexander Mackendrick's 1955 Ealing comedy film has already had one successful run at the Gielgud in 2011-12 and Sean Foley's production now returns with a new cast. It isn't William Rose's script but a new play by Graham Linehan that draws on the basics of the plot and characters.
It is like one of those mechanised models that used to feature in seaside penny arcades: at the drop of a coin they went into whirring action, flashing lights, doors opening and figures moving they would re-enact a murder, an execution or a haunting. There is something of that automated action about this telling of a story about a group of gangsters who rent a room from a sweet old lady to plot a heist and stake out the territory with its view of the streets and station at Kings Cross, pretending that they are a string quartet rehearsing with their conductor.
The most amazing thing about it is Michael Taylor's set. A small Victorian villa façade turns to reveal an interior that is a crazy mixture of gothic glasshouse and station train shed and two storeys of cluttered rooms with spiralling stairs rising above its tilted-floor rooms. It turns again to provide a different exterior, a rooftop ledge above the railway lines. Every time a train roars past beneath the whole house shakes and trembles, furniture slides across the floor and lights go on the blink.
That sets the style for the whole show, a style of bold exaggeration, of running gags and slapstick. Subtle it isn't: it is typical that when a gathering of the landlady's female neighbours turn up expecting to hear a chamber concert, some of them are grotesquely caricatured by big men in drag—at least it means, I guess, that the understudies for the gangsters don't have to sit in their dressing rooms all night.
Against all this, John Gordon Sinclair as "Professor Marcus", planner of the heist, and Angela Thorne as Mrs Louisa Wilberforce, the old lady, are more restrained in their creations.
He eschews the prominent dentistry that Alec Guinness sported in the role but he also lacks most of the sinister aspect they helped create and the script makes him much less calculated in his planning. Neither the Professor nor the production generally carry the menace inherent in the movie and that takes away the darkness of the comedy. The recipe here is for the audience to have a good night out, to laugh and not ask questions.
Dramatist Linehan is probably well aware of how the characters could be interpreted as symbols for segments of society that undermine the nation (director Foley writes about it in the programme) but that's certainly not his emphasis.
His Mrs Wilberforce, who is rarely off the stage (if you can't see her she is probably hovering behind a door), gives Angela Thorne the chance to steal the show. The audiences love her, but she is too much the professional to unbalance things and knows when to melt into the background.
Blair Plant's likeable local bobbie with a soft spot for the eccentric old lady is a reminder of the old "evening all!"—a time-honoured British cliché beautifully resurrected. The broad characterisations of the "baddies" may be equally recognizable clichés but this adds comic point and they have their individual touches.
Simon Day, uprightly proper as con-man "Major Courtney", has some hilarious moments, not lest when he is discovered to be a secret cross-dresser. Ralf Little brings a kind of innocence to wideboy Harry Robinson, programmed to pilfer everything that's moveable but unable to stop polishing the furniture, and Chris McCalphy as battered boxer "One Round" with his challenged intelligence who finds a delightful moment when you see him discovering a new understanding.
They are all broadly drawn, but Con O'Neill's Louis, the knife-wielding foreign crook, makes his uncontrollability so blustery that he can be difficult to understand, though his throwing arm is extra accurate, thanks to special effects designer Scott Penrose.
Penrose presumably is responsible for the sequence with toy train and cars that presents us with the robbery itself. I presume it is all part of the joke to make it look so amateur but running gags and a preposterous inventiveness to Professor Marcus and his mates' explanations for their activities that never lets up. Why have five grown men crammed themselves into a cupboard? They are having a meeting! But what is the meeting about
These crooks—or rather Graham Lineham—can be remarkably inventive!.
Reviewer: Howard Loxton