The Lambton Worm
Ray Spencer and Graham Thompson
The Customs House
The Customs House, South Shields
–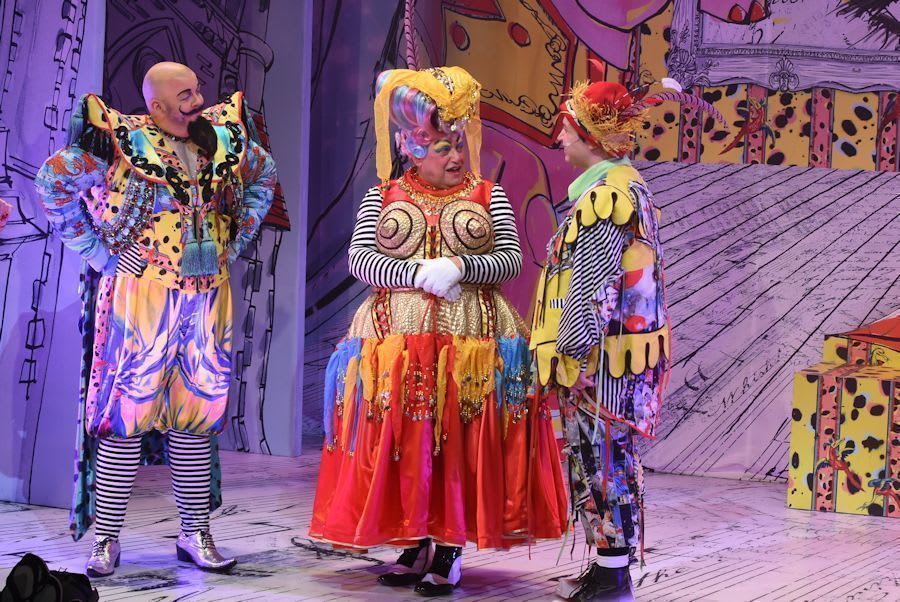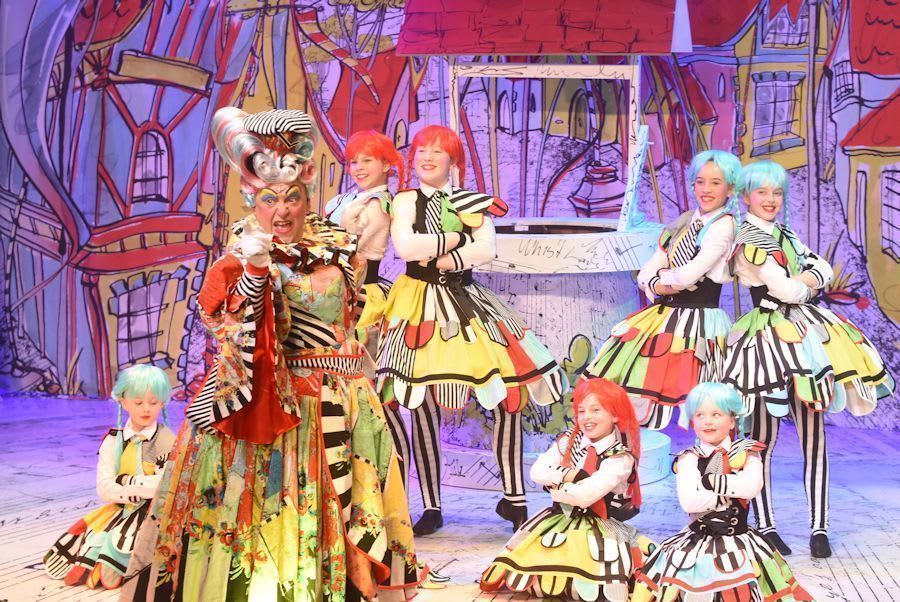 A totally new pantomime story, that's what the Customs House has come up with this year. That's not something that happens very often—and, to be honest, when it does it usually doesn't work very well. I'm still not convinced by Beauty and the Beast, but we'll see what the Customs House does with it next year, for yes, the venue has just announced it as next year's panto.
The Lambton Worm is an old Wearside legend which was made into a song 175 years ago and the Customs House's Ray Spencer decided to celebrate this anniversary by creating the very first panto based on it.
It has to be said that it doesn't always stick closely to the original story. Or, to be more honest, it very rarely sticks closely to the original story. But this is panto and original stories are merely a hook onto which to hang the show. If you knew the original stories of, say, Sleeping Beauty or Babes in the Wood, your toes would curl in horror!
This is a proper panto. When Ray Spencer's Dame Bella Ballcock walks on stage and shouts, "Eeeeee!" and follows it with, "let's all have a good E(eeee) together!" and the audience does, you know you're in familiar pantoland country.
The doubles entendres follow thick and fast. "My name's Bella Ballcock," she says. "I don't like 'Ball' but I do like…" (Pause for effect, a pause filled with howls of laughter from all the mams and dads in the audience—and, I suspect, a few older children as well) "…Bella." And more laughter!
The tone of the evening has been set and the laughs come tumbling one after the other—one-liners, puns, doubles entendres, sight gags, slapstick, comic songs ("Cocktails for Two" is an absolute joy), the lot! Many of them are telegraphed, which in normal life would kill them but in pantoland—or at least in Customs House pantoland—it makes them even funnier.
We see a tarpaulin laid on the stage and we know the slosh scene is coming. And they don't come much sloshier than those at the Customs House. You just know that the participants will be continually slipping and falling down all over the place—rather more, I suspect, than was rehearsed...
A group of the principals turn up in outlandish (this year it's superhero) costumes (guess who Spencer is), stand in a line facing the audience and sing a song, and you know, you just know, that the take-off scene is about to happen and the kids get ready to make the most noise they've ever made in their lives. (And the adults do too.)
It's a non-traditional panto story which has been turned into an unashamedly traditional panto of the kind the Customs House audiences love, audiences who turn up year after year, often in the same seats on the same night. It's an important part of their Christmas and there is a definite family feel to the theatre during panto. The venue advertises itself as "Your Customs House" and that's certainly how it feels at panto time.
Spencer, of course, has almost 40 years' experience of playing in panto and it shows. But even he is not immune to making the odd mistake, which of course he amplifies to great comic effect, and the audience love it. I sometimes have a sneaking suspicion that these mistakes are not mistakes at all, but perhaps I have a suspicious mind…
The show's Comic is David John Hopper who plays Dame Bella's son Arbuthnot for the second year. The two have established a good working relationship, playing off each other and getting laugh after laugh.
There are, in fact, only two people in the panto who are in the original story. One is The Brave and Bold Sir John Lambton—did his parents really christen him The Brave and Bold?—who is played by swashbuckling Steven Lee Hamilton who returns to the role of Principal Boy after playing the villainous Fleshcreep in Jack and the Beanstalk last year, and the other is his father Lord Lambton, here called Lord Larry Lambton, played by Cal Halbert, one half of the Britain's Got Talent favourite duo The Mimic Men, who makes hilarious use of his impressionist talents.
Eleanor Chaganis returns for a second year as Principal Girl, a North African princess called Aneesa whom Sir John meets on his travels. Of course they immediately fall in love, as is only proper for two good looking young people who have superb singing voices. After all, that's what the Principal Boy and Girl are for!
Her father, the Sultan (Gareth Hunter, another Customs House panto regular), initially disapproves of the match but soon comes round and—Surprise! Surprise!—finds his love too at the end of the show. And he makes a magnificant Hulk. Or is it Sulk?
There are no Immortals, just two sisters who are very different. The good one is Susie the Soothsayer (who obviously has a little magic). Another regular, Natasha Haws of the beautiful singing voice, plays her as the sweet best friend type, and the baddie is Poison Pen, played by a newcomer to the panto Georgia Nicholson, who made her Customs House debut in the 2016 production The Dolly Mixtures. She proves herself to be beautifully evil—and evilly beautiful!
Finally there's a skin part—a dog, Puddles (we all know why he's called that—panto is never subtle!), played by Lewis Jobson. In the original story he was Sir John's favourite hunting hound; here he's a mutt given the power of speech by Soothsayer Susie.
As ever, the youngsters of the South Tyneside Dance Workshop under choreographer Jacqui West add their own charm and it's all played out on incredible sets and in incredible costumes by Fox and Shriek whose imaginations have added so much to the Customs House panto for quite a few years now.
Oh yes, and a little bird tells me that Puddles and Arbuthnot are going off on an adventure in February. Now that should prove interesting…
Reviewer: Peter Lathan