The Last Five Years
Jason Robert Brown
Leeway Productions
Weston Studio, Wales Millennium Centre
–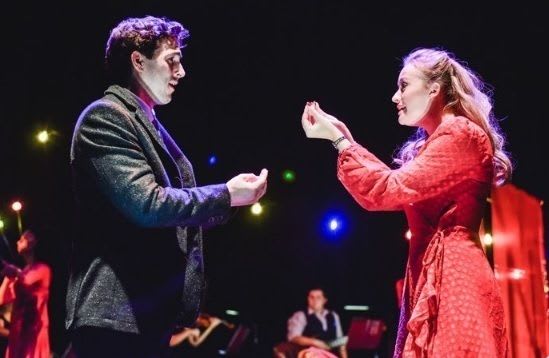 Wales's first professional production of Jason Robert Brown's off-Broadway hit The Last Five Years played to a full house on press night in the Weston Studio. The fact, though, that it was part of the Wales Millennium Centre's diversity-oriented Performances For The Curious season means that the audience will have been expecting an unconventional take on this essentially conventional tale.
Born out of director Angharad Lee's desire to explore inventive methods of opening up theatre to more hearing-impaired performers and audiences, this version is a collaboration with noted deaf choreographer Mark Smith. The tone is set by the overture, beautifully sung by a locally assembled choir, with sign-language incorporated.
The Last Five Years is a two-character chamber piece—the story of a relationship, told from both the male and female perspectives. Cathy, a struggling actress, begins her account as the marriage has fallen apart; Jamie, an aspiring novelist, starts at the beginning, expressing his desire to meet an exotic woman (i.e. not, like him, Jewish).
In Leeway's treatment, Lauren Hood's Cathy is also played by dancer Raffie Julien, as a shadow/reflection of the heroine. In contrast, Michael Hamway plays Jamie in conjunction with Anthony Snowden, who seems to be more of a companion/wingman.
The action takes place on a distractingly cluttered stage, perhaps reflecting the hecticness of New York living. There is a heavily laden bookcase representing Jamie's concerns, a dressing room area representing Cathy's, a mobile staircase which becomes several vantage points (a boardwalk, a balcony), and several large boxes on which dates are scrawled indicating the stage of the relationship which we are witnessing. Not to mention the small musical ensemble at the back.
Brown's score is appealing and melodic, even if none of the songs is particularly memorable; his lyrics are clever and occasionally biting; both are (for good or ill) full of Sondheimian turns of phrase.
The story is, perhaps inevitably, predictable—Jamie's success means that he is tempted by other women; Cathy's lack of success feeds her insecurity. The relationship is scuppered by a failure to communicate effectively, thus we only see the couple directly interact once.
This production plays cleverly with this idea, the two Jamies and Cathys occupying the same space, but different universes. Having not seen a "traditional" treatment of the text (I believe the 2014 film saw its lead actors sharing more scenes), I can't comment on whether having dancers embody the inner lives of the protagonists enhances the poignancy, but it certainly makes for a fascinating spectacle.
Hood and Hamway, both seasoned professionals despite their relative youth, give West End-quality vocal performances, neither afraid to show up their characters' weaknesses. Snowden and Julien are equally accomplished in their (mostly) non-speaking roles, and are wittily deployed by the co-directors.
Musical director David Laugharne and his fellow musicians (Katy Rowe, Beatrice Newman, Luke Adams and Matthew Farrell) are impressive—there are even brief interventions into the drama—and Jane Lalljee's lighting design subtly transports us between moods and locations.
As a hearing person, I can't comment on how well Leeway's production serves deaf audiences—there is much use of signing, but some of Brown's more intricate and idiosyncratic lyrics seem to go untranslated. In terms of arresting visuals, though, it certainly delivers.
Following the Cardiff run, the show goes on a brief tour of Wales. Judging from the reactions of musical-theatre-lovers around me on the night I saw it, fans of the original show will be delighted with this innovative adaptation of it; others will certainly be intrigued.
Reviewer: Othniel Smith