The Last Mermaid
Charlotte Church, Jonathan Powell, Siôn Trefor
Wales Millennium Centre
Weston Studio, Wales Millennium Centre
–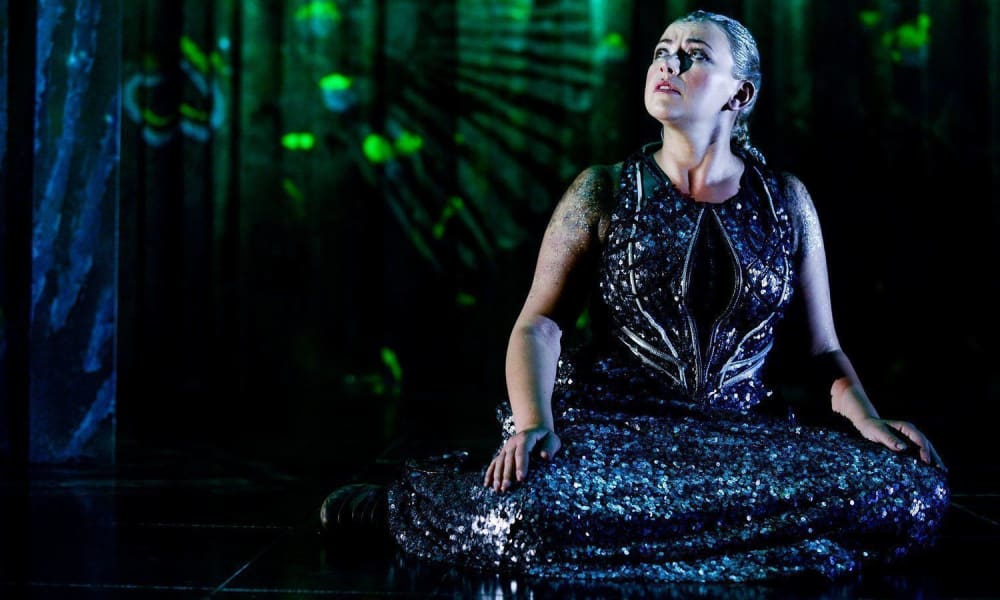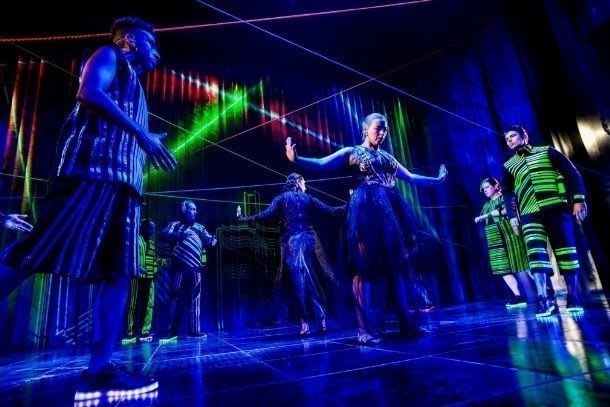 Given the remarkable breadth of Charlotte Church's career thus far (multi-million selling child soprano, pop star, TV chat show host, political commentator etc.), it seems hard to believe that she has made only infrequent forays into live theatrical performance.
Church has spent the past few years producing operatically inflected indie rock with her collaborators Powell and Trefor. It is this team which has devised The Last Mermaid, commissioned as part of Cardiff's hearteningly diverse Festival of Voice.
Inspired by The Little Mermaid, in both its Hans Christian Andersen and Disney versions, this is an ecologically themed piece which makes every effort not to patronise its intended family audience. The story is outlined in a picture-book, available to purchase as we enter the Weston Studio, which makes rather more sense after seeing the show than before.
The aquatic motif evident in Francis O'Connor's deceptively minimalist set design does little to prepare us for the breathtaking under-sea visuals provided by video designer Andrzej Goulding, which dominate proceedings throughout.
We find ourselves, courtesy of director Bruce Guthrie and a versatile dozen-strong ensemble of singers/dancers (choreographed by Lucy Cullingford), in what appears to be a bustling subterranean environment. All of a sudden, though, apparently due to external circumstances, life seems to cease.
All is not lost, however—heralded by a beautifully clad vocal trio, Church's mermaid emerges from a shell. Alone, she starts to explore her new universe; although we see that the mysterious, beautiful objects which surround her are, in fact, discarded items of detritus from the world of humans.
As in the fairy tale, there is a prince-like figure with whom the mermaid becomes entranced. Even more intriguing, however, is the huge whale (conveyed via video) which she befriends. It transpires, though, that the "prince" is a harpoon-wielding fisherman. Things are destined to end badly for at least one of them.
The score is very strong indeed, bold and catchy, constantly shifting in tone; from lushly orchestral via R&B-tinged pop, and techno—during the section in which the mermaid finds her feet and is confronted with the regimented world of land-dwellers—to Celtic folksiness.
But it is Charlotte Church that the capacity crowd has come to see, and I suspect they are not disappointed. The voice is as powerful as ever, even when her mermaid is pre-verbal, but truly comes into its own when the lyrics (mercifully not overly preachy) come into play.
She even manages to glean a few (intentional) laughs as the heroine, on reaching land, starts to play with her newly-acquired language skills and body-consciousness. Dancing is not her strong point—much of the burden is carried by Clemmie Sveaas as (I think) a spirit guide figure—but for the most part Church gives an authoritative and sympathetic performance.
The technical aspects of the production also deserve much praise, the sound and lighting design (by Mike Walker and Rick Fisher respectively) totally transforming the compact venue. And Gabriella Slade's costume design is extravagantly witty.
The message is a basic one—the planet would be better off if mankind weren't so intent on despoiling it—but it is delivered with great charm and lightness of touch. We conclude on an optimistic note, and leave still humming the tunes.
The Last Mermaid clocks in at a little over an hour, and what it lacks in narrative sophistication it more than makes up for in terms of spectacle. I suspect that this short run won't be the last we see of it.
Reviewer: Othniel Smith