The Last Ship
Karl Sydow and Kathryn Schenker in association with Northern Stage
Music and lyrics by Sting; book by Lorne Campbell
Leeds Grand Theatre
–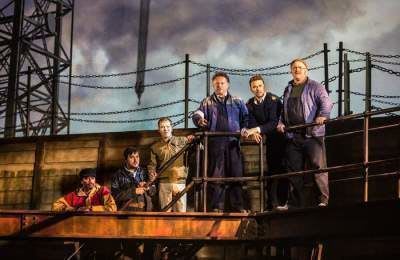 When The Last Ship hit Broadway in the autumn of 2014, it almost sank without a trace. Many critics complimented Sting—the show's composer and lyricist—on his Tony-nominated score, but the overriding feeling was that a musical about industrial decline in the North East of England was not a good fit for Broadway. The phenomenal success of Billy Elliot: The Musical would appear to contradict this perspective, but tickets were in small demand nevertheless.
With a new book by Lorne Campbell, who also directs, this fresh production of The Last Ship has made a great splash in the UK, garnering top-notch reviews and delighting audiences. Having just watched an excellent production of Sunshine on Leith at the West Yorkshire Playhouse, I doubted that Sting's long-cherished theatre project would measure up. How wrong I was! The show is an absolute joy, far surpassing my expectations.
Inspired by Sting's childhood in Wallsend, a small town on the outskirts of Newcastle, The Last Ship portrays the closure of the local shipyard in the early 'eighties. The show may not feature a grotesque puppet of Margaret Thatcher like in Billy Elliott, but its stance on her brand of politics is made abundantly clear from the outset.
The imminent closure of the shipyard plunges its workers into an uncertain future. Jackie White (Joe McGann), the yard foreman, wants to fight back, and in this he is supported by his indomitable wife, Peggy (Charlie Hardwick), and the majority of his colleagues.
The Last Ship is also an old-fashioned love story. Gideon (Richard Fleeshman), leaves Wallsend at 16 to join the navy and returns home after 17 years at sea. He hopes, rather naïvely, to rekindle his relationship with his first love, Meg (Frances McNamee), but she is less than pleased to see him. Upon his return, Gideon also learns that he has a daughter he knew nothing about—the bright and acerbic Ellen (Katie Moore).
In a show of this type, in which working-class characters battle against impossible odds, there are ample opportunities for mawkish sentimentality and earnestness. However, Lorne Campbell's admirable script avoids these pitfalls (for the most part), delivering a show that has both heart and brains. The writing is sharper and funnier than in most musicals, and the show is replete with fully realised characters you grow to care for.
People enjoy teasing Sting for a variety of reasons—his recent duet with Shaggy is just the latest in an ever-expanding list—but he remains, nevertheless, a deeply talented musician. His songs for The Last Ship are mostly impressive, lingering in the mind long after the final curtain. Established tracks, such as the achingly romantic "When We Dance", blend well with catchy new songs, like "We've Got Now't Else", to drive the action forward.
The Last Ship is splendidly acted and sung by a talented ensemble. Richard Fleeshman, one of the rising talents of British musical theatre, makes a charmingly down-to-earth leading man. Frances McNamee impresses as his old flame Meg, particularly during a barnstorming rendition of "If You Ever See Me Talking to a Sailor". Katie Moore ensures that Ellen is much more than a prickly teenager, and her complicated relationship with her parents is sensitively played.
There are also excellent performances from Joe McGann and Charlie Hardwick, who invest their characters with great warmth and dignity. Their portrayal of a long-running marriage is deeply moving.
The whole production is further elevated by superb design from 59 Productions. A simple set of ladders and scaffolding serves as a canvas for a series of evocative projections, recreating the harsh beauty of the shipyard.
The Last Ship is a marvellous, heartfelt piece of work, and I urge you to see it if you get the chance.
Reviewer: James Ballands