The Lehman Trilogy
Stefano Massini, Adapted by Ben Power
National Theatre
Piccadilly Theatre
–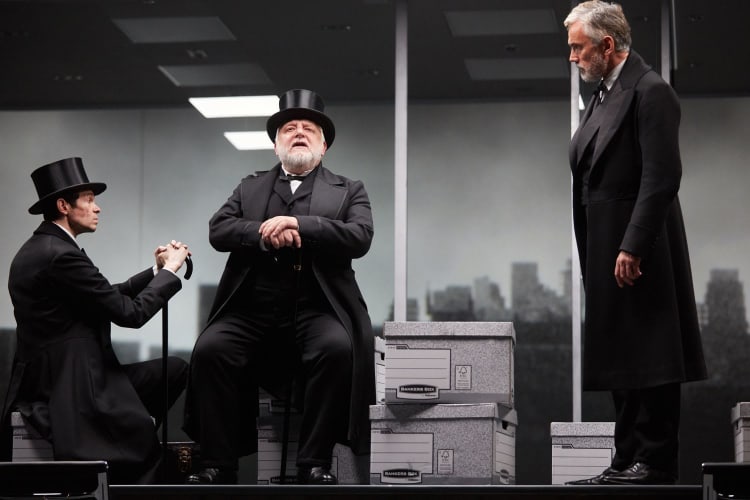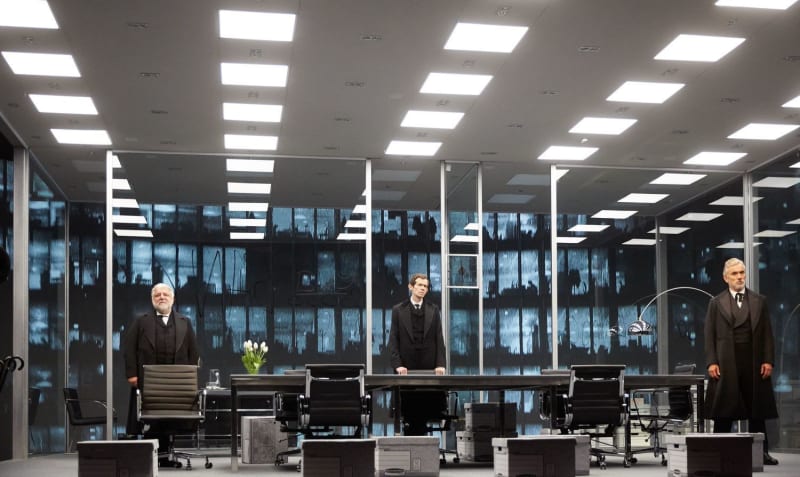 The Lehman Trilogy was the best new play to open in 2018 and, after a stint in New York, returns to wow those Londoners who didn't have a hope of getting a ticket first time around.
Once again, Sam Mendes directs the stupendous cast of Simon Russell Beale, Ben Miles and Adam Godley who between them play several generations of Lehman Brothers and their cronies.
Such is this trio's command of their talent and the material that even a running time of 3 hours 20 minutes flies by. This means that most punters will leave the Piccadilly Theatre feeling that they could easily have enjoyed even more, possibly a blow by blow account of the bank's collapse, which is little more than a coda to the story of a family of Jewish immigrants to the United States who eventually achieve riches beyond their wildest dreams.
The performance plays out on Es Devlin's revolving set, with the actors in a glassed-in modern office backed by evocative computer-generated skylines courtesy of video designer Luke Halls.
It opens with a gripping prologue wittily delivered by Simon Russell Beale narrating the 1844 arrival in New York of German Jew Chaim Lehrman. Soon enough, the diligent Chaim has been converted by a customs official into Henry Lehman and rather incongruously set up a store selling fabrics and clothing in Montgomery, Alabama.
Over the next few years, Henry is followed by brothers Emanuel and Mayer (respectively Miles and Godley) and with their differing skill sets business begins to flourish. Henry is the thinker, Emanuel the doer and Mayer the chairman who breaks up potential fights and turns their differences into concrete proposals, every one of which seems to come off.
From being objects of suspicion, they quickly become pillars of society. Over their lives, even after Henry departs too early, they profit from an ever-changing series of commodities inexorably heading into banking, Emanuel taking the venture to New York.
In addition to commerce, at which they excel, the Lehman Brothers are relatively adept at courting, giving the evening a welcome injection of fun and allowing the performers to demonstrate their exceptional skills as character actors, while playing prospective wives and fathers-in-law.
However, the main narrative thread remains the journey from small-town haberdashery to corporate megalith. Gradually, the reins are taken over by succeeding generations. Russell Beale is thorough, loquacious Philip, while Miles plays Herbert, a lesser businessman destined to become Governor of New York and Godley completes the set a generation further down as charming gambler Bobby, a lover of art and horses.
A story about a family for whom nothing could ever go wrong eventually moves into the ending of which every viewer will have heard. The play briefly opens and closes with the collapse of a bank that seemed indestructible for one and a half centuries. As set down in Stefano Massini's script, the problems emanate from the outsiders who were eventually recruited as the family literally died out.
In particular, the incredibly successful trading division that appeared to be a licence to print money in astonishing quantities eventually not so much hit the buffers as ran through them into destruction as a company that had survived and adapted through the Civil War and then the Great Depression eventually met its belated Gettysburg in the slump of 2008.
It is hard to believe that anybody with an interest in humanity, let alone business, could come away from The Lehman Trilogy feeling anything other than delight. In addition to a rip-roaring tale filled with a surprising amount of humour and a brief education in Jewish lore, it also provides an impressionistic education in American history.
This was the best play of 2018 featuring the best acting in town, his compatriots very nearly matching the incomparable Simon Russell Beale and, on second viewing, there is every chance it will also be the best West End production in 2019.
If you can get hold of them, do not miss out on tickets for this limited run. Otherwise, the performance on 25 July will be shown in 700 UK cinemas and many more worldwide via NT Live.
Reviewer: Philip Fisher