The Lightning Child
Ché Walker and Arthur Darvill
Shakespeare's Globe
–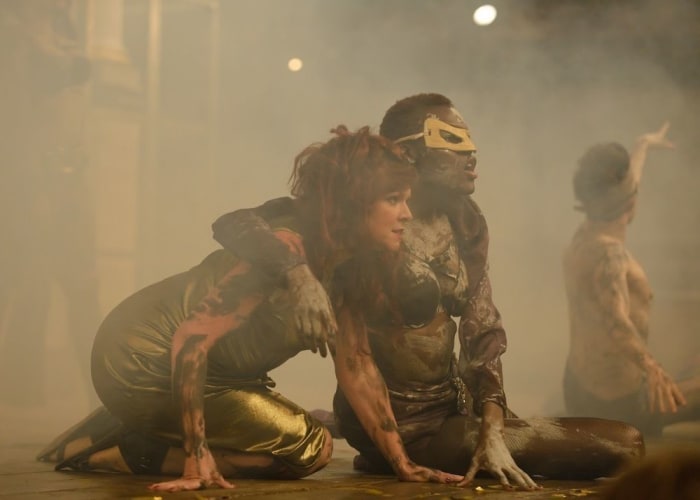 Around the world, the Globe is renowned for its traditional, open air productions of Shakespearean plays in the round.
Each year, a short series of modern plays is now performed, picking up on the season's themes.
Until now, there has never been a musical at the venue as this is not its purpose, that being to bring Shakespeare to the people in a theatre lovingly modelled on the one in which many of his works first saw the light of day.
Even a perfect musical would arguably not be a good fit for this riverside playhouse but The Lightning Child is far from that.
Ché Walker and Arthur Darvill have apparently set out to update The Bacchae but even Euripides would struggle to find any connection between the vast majority of 2¾ long hours and his Greek tragedy.
This play is confusing and incoherent, picking up on the narrator's mystical pronouncement "think of story as a collage and a barrage and a mirage" which proves all too accurate.
He also suggests to viewers that they "don't try to make sense of this", a truly perceptive observation.
With cross-dressing de rigueur and most bodies barely clad for much of a rather chilly evening, it feels as if director Matthew Dunster is trying to distract from the lack of substance.
The classical sections tend to be disjointed. Inter alia, they feature Cadmus and Teiresias played by Geoff Aymer and Bette Bourne seeking sex, Clifford Samuel's Pentheus doing something similar, while Tommy Coleman is The Lightning Child himself, Dionysus recast as James Brown or someone of his ilk.
The highlight is when Agave bemoans the pains of motherhood in a positive tirade that gives Finty Williams free rein to have some fun.
The Greeks keep company with the Globe's first spaceman, Neil Armstrong, but also Billie Holiday, South African gender-challenged athlete Caster Semenya, some junkies, a female psychopath and much more from the contemporary world. Eventually, occasional themes and images recur, though it is rarely clear why.
It seems likely that the goal has been to create a burlesque comedy out of tragedy, though the humour is often puerile, frequently working on that old principle that using an expletive is funny but using two is hilarious.
Even what should be the coup de grâce, a final (reasonably funny) Dionysian joke about masturbation, has been doing the rounds for ages.
The whole is sprinkled with songs composed by Arthur Darvill, which typically have reggae or jazzy roots and can be haunting.
Some may find hidden depths or enjoy the coarseness of the comedy but this play is unlikely to do much that is positive for the image of one of London's iconic landmarks.
Reviewer: Philip Fisher