The Little Matchgirl and Other Happier Tales
From the stories of Hans Christian Andersen
Sam Wanamaker Playhouse at Shakespeare's Globe
–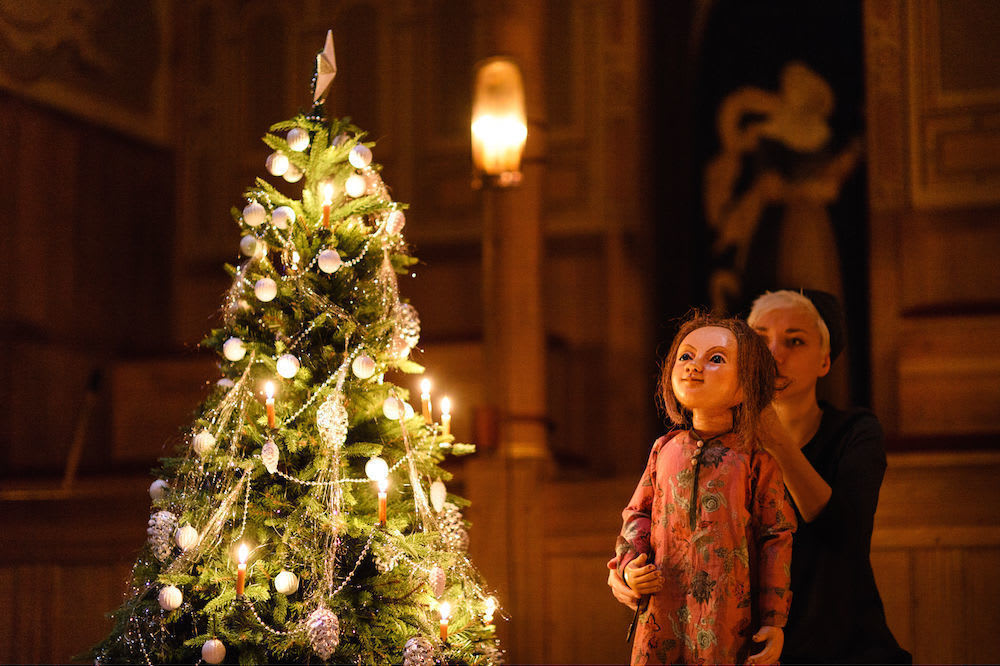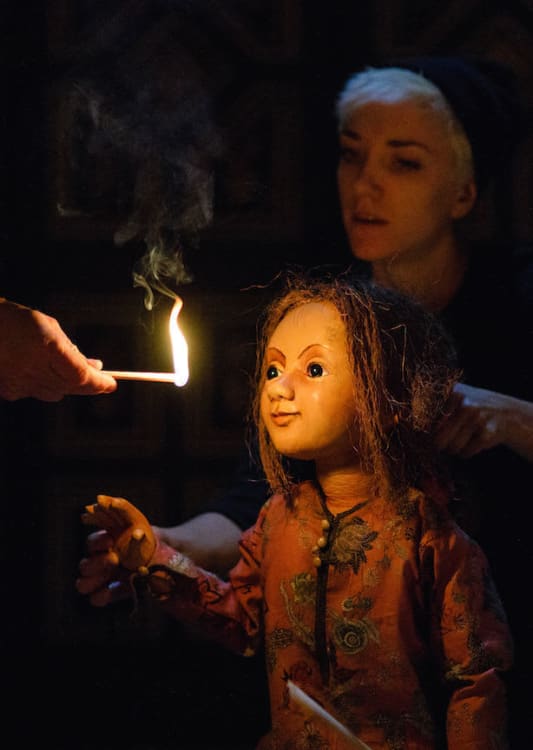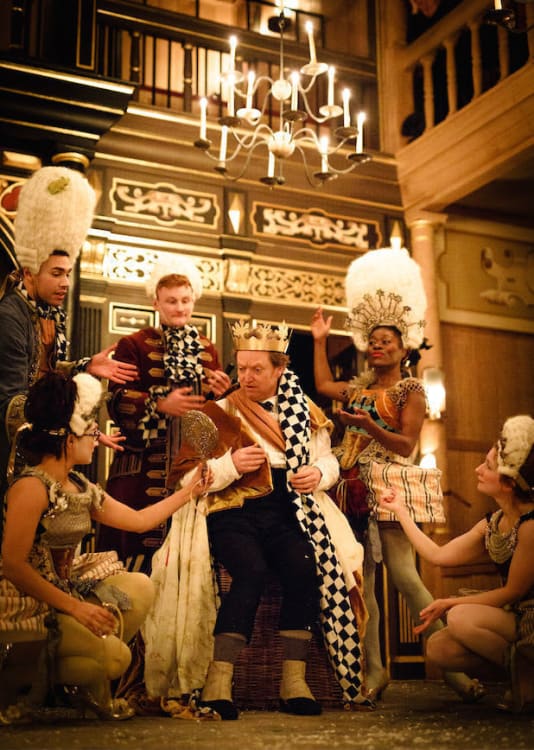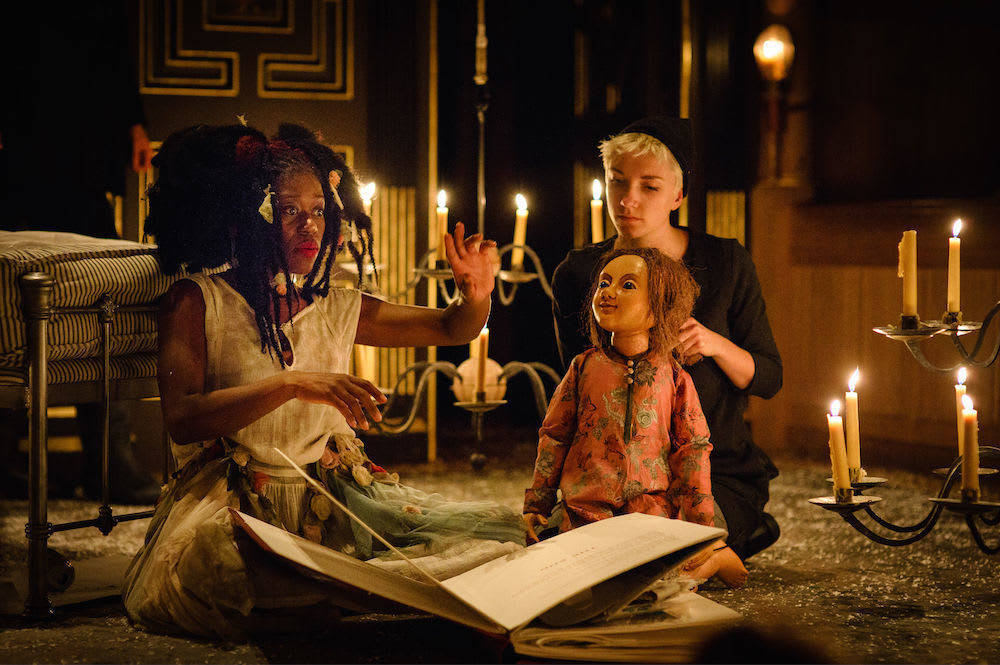 Emma Rice and Joel Horwood, director, writer, and co-adaptors, walk a fine line between the past and the present with their rhyming take on Hans Christian Andersen's immortal tales: poverty is the same however you slice it, and conscience pricking is their subversive intent, as it was for Andersen nearly two hundred years ago.
The Little Matchgirl (a puppet handled by Edie Edmundson) is the frame for the other so-called happier tales, but Thumbelina comes out of a tatty shopping wheelie bag, is refused entrance to a town fenced in by striped beetles ("this is my gaff"), there's talk of "tented cities, escaping the wars", is tricked into bondage to Mole and almost settles for it—"there's no such thing as free these days"—until Swallow (tall elegant guardsman Kyle Lima) whisks her away. And the Princess is not amused by the nine-mattress pea test. She storms out—where there's no trust, is love worth a fig—or a pea?
The trusting foolish Emperor (Paul Hunter) of the lighter The Emperor's New Clothes tale is a parody of a fashion victim—so easy to do—but how to get round the nudity problem on stage in a show advertised as suitable for 9+? Put him in a flesh-toned babygro with realistic fabric bits and bobs attached. His catwalk brings the house down—"gobsmacked, eh?". The two greedy con artists (Jack Shalloo and Bettrys Jones) are phony German poseurs in prison-print jump suits with a neat line in patter ("suck it up and pay"), dance and stance.
The stories, of course, have a storyteller, Ole Shuteye: here he is the roguish head of a ragtag travelling troupe of multi-talented players and puppeteers with their own props and backcloth for any occasion. The Jacobean theatre is not really the place for their sort, but the candles go nicely with Little Matchgirl's matches and the Dickensian glow. Candlelight is so much better than electricity, Ole says, it just takes longer to get going.
There's not much one can teach Paul Hunter, co-founder and artistic director of Told By An Idiot theatre company, about playing to the audience. In his top hat and spats, his Max Wall end of pier prancing, he is a canny player and comic MC, almost single-handedly keeping the energy levels aloft. They're touring in Dorset and Devon next, he says in character—where the venues might fit this outfit better, I'd say.
There's clever play with perspective, especially the tiny beetle puppets turning into big strapping lads (Kyle Lima and Jack Shalloo) in striped costume with an extra pair of legs jutting from their chests. They sing well, too. Thanks to the musical box size of the Sam Wanamaker theatre, the picture book dimensions work very well, though sitting in the upper gallery one is watching through the slightly obscuring candle chandeliers; the plus is proximity to the musicians and the music.
Rough magic, puppets, good humoured acting (it does take time to warm up on press night) and wonderful music by Stephen Warbeck, played on acoustic instruments by Ian 'Fluff' Ross, Dario Rossetti-Bonell and Carina Cosgrave, lift the ninety-five-minute-no-interval show and sweeten the bitter pill of shameful reality.
There's a false ending—when the troupe leaves the stage—and false hope—the Matchgirl lives happily ever after—wishful thinking from the MC. The last few matches may reveal a Christmas tree and a glittering table, but we know Little Matchgirl's tragic end. The paramedics can't save her, though a council worker does help the tramp, now stripped of his top hat and tails. A moral tale for Christmas: THE END. We need that spelling out in capitals.
A production that strives for empathy with contrived bonhomie: I wonder did the young woman next to me get the social conscience bit? Apparently she loved the show even though she spent most of her time texting—well, if politicians can do it during question time… A missed trick by Emma Rice… Any way of incorporating that contemporary attention span into the production?
Reviewer: Vera Liber