The Love Girl and the Innocent
Aleksander Solzhenitsyn, adapted by Matthew Dunster
Jagged Fence in Association with Bigpicnic Productions
Southwark Playhouse
–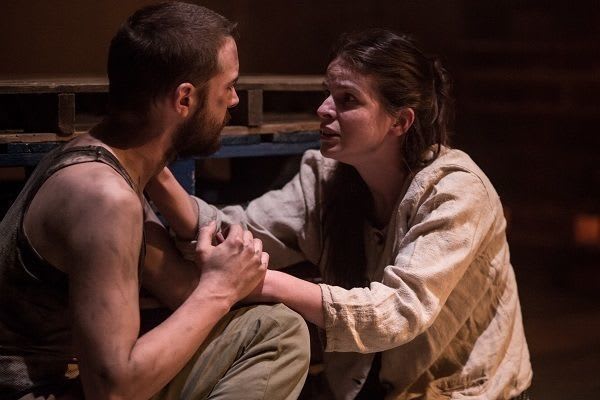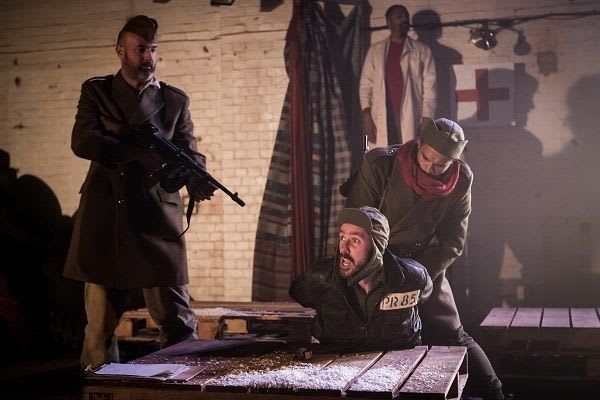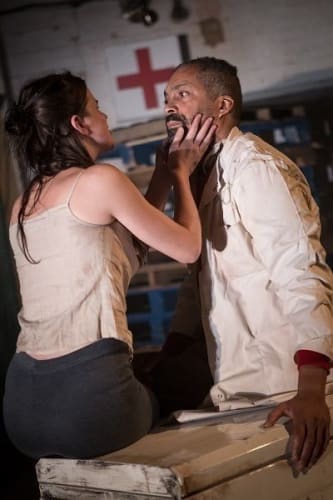 Matthew Dunster is to be congratulated for conceiving a wonderful evening's theatre and then delivering a production that defies all expectation.
A play about life in a Russian gulag or labour camp at the end of the Second World War is a tricky sell but, when a massive cast is needed, all but the most intrepid director would be deterred.
Southwark Playhouse provides a perfect space, offering great adaptability. Thanks to the imagination of designer Anna Fleischle, the warehouse is kitted out with industrial detritus, primarily pallets and tyres that take on lives of their own, all enhanced by a highly effective lighting rig from Joshua Carr.
This is the home to innumerable prisoners, mainly political dissidents, played by a strong ensemble cast that numbers 16, playing at least three times as many roles.
What Aleksander Solzhenitsyn has created on the stage, as he did in his mammoth novels such as The Gulag Archipelago, is a samizdat work that was been written to be understood on two different levels.
On the surface, he portrays the horrors and dark humour of the camps where the typical sentence is 10 years of hard labour.
This is a place where survival can often depend on the ability to make a few roubles by whatever means possible or steal a crust of bread or piece of clothing from a fellow inmate. It is also by no means the worst that the system has to offer, since a posting outside the complex or further east will make death even more likely.
As a subtext, the gulag also becomes a microcosm of Soviet society with its inherent corruption and power struggles which mean that alliances shift and importance disappears on an instant.
The play is made up of Brechtian episodes that give glimpses of life both within the camp and in a country where normal human values have been subverted under the dictatorial stranglehold of Josef Stalin.
In this atmosphere, the few women have opportunities to improve their own lives, if they are willing to compromise.
This is revealed by the contrast between Emily Dobbs as unbending Granya and Rebecca Oldfield playing Lyuba. The latter is the Love Girl of the title, a woman who gives favours to enjoy the minimal comforts of a society where meagre food and even life itself are at a premium.
Her Innocent is Cian Barry's Nemov, originally the Production Chief but far too honest for his own good in a community where threats and bribes rule.
Their love is truly touching, lifting the atmosphere of gloom not only for the couple but also the viewers of a work that grasps and holds the attention throughout its 2½-hour duration.
The Love Girl and the Innocent is a superb rediscovery that deserves a sell-out run and will richly reward the trip out to Elephant and Castle.
Reviewer: Philip Fisher