The Magic Flute (Die Zauberflöte)
Music by Wolfgang Amadeus Mozart, libretto by Emanuel Schikaneder
The Royal Opera
Royal Opera House
–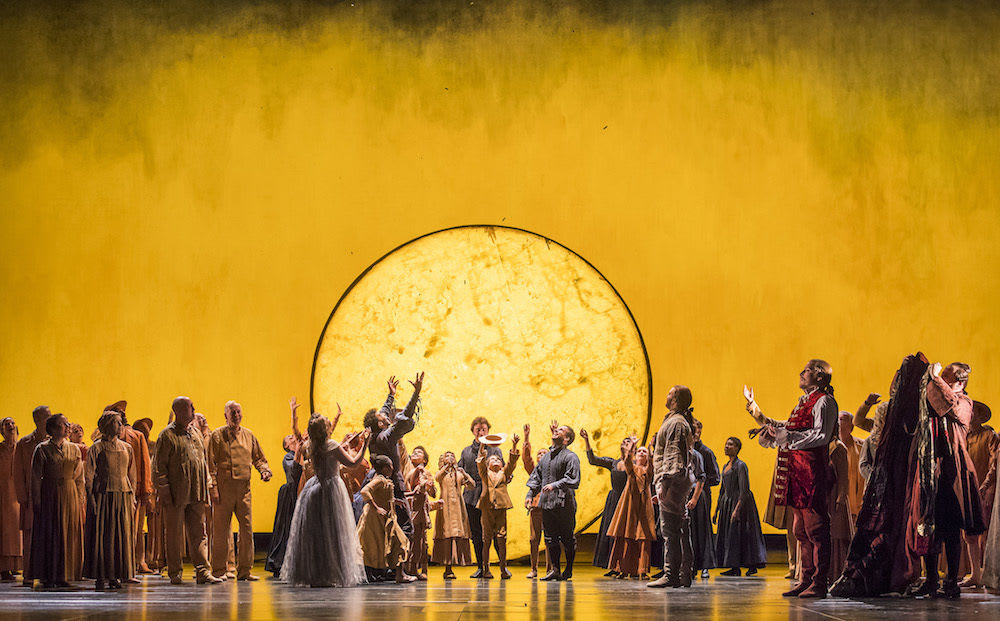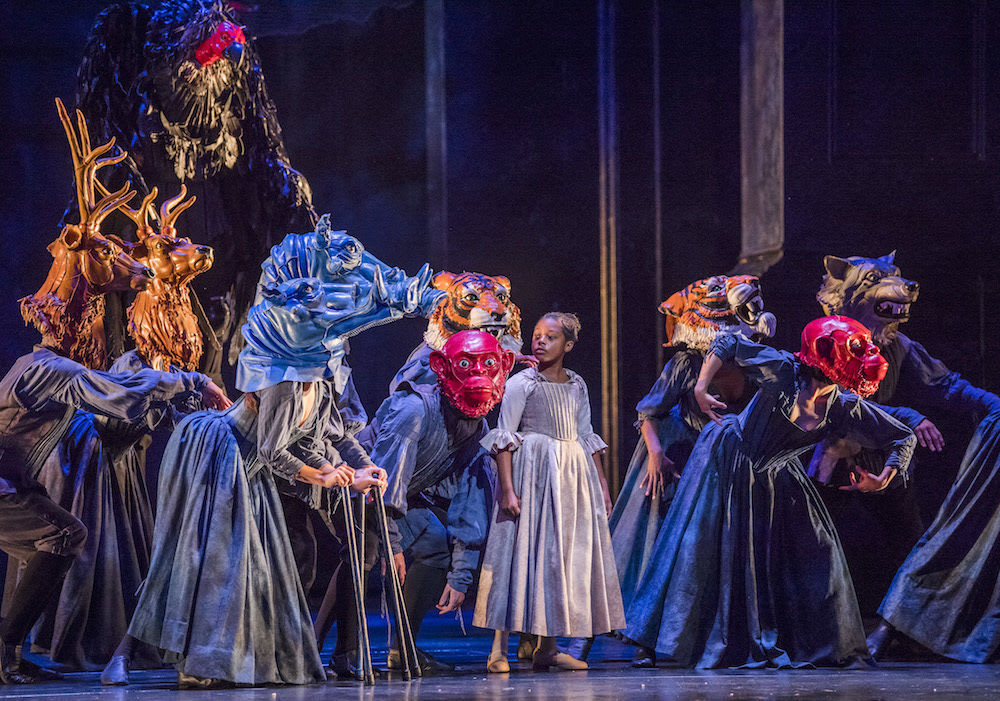 David McVicar's 2003 production of Mozart's Singspiel opera is back for its tenth revival and no one is complaining. The audience laps it up as if it were pantomime season (topical, too, with an elbow bump sneaked in). To Papageno's musings on whether he should commit suicide by hanging, "ja oder nein", I hear shouts of "nein". At the opera! And the applause at curtain call goes on and on.
Gosh, have we missed the thrill of the arts. And nothing gets more thrilling than Mozart's divine music. A wonder to hear it live again, played joyously by the Royal Opera Orchestra under the baton of Hartmut Haenchen. I have watched several Magic Flutes online over lockdown—with my little granddaughters, who, of course, love Papageno and his silly antics. And the magical creatures of the forest and jungle—vultures on stilts here amongst warthogs, deer, monkeys, and more… The Magic Flute is a real treat to be enjoyed on many levels and by all ages.
As the overture plays, lit globes are carried through the theatre, a foretaste of the sun that Sarastro and his priests worship. The Queen of the Night's three Ladies (Anita Watson, Rachel Kelly, Gaynor Keeble) open proceedings rather quietly after they have killed the serpent attacking Tamino—I can barely hear them over the orchestra—but nerves are soon overcome and all is fine.
This is the second cast tonight. Aleksandra Olczyk has metal in her voice as the Queen of the Night, as well she might challenging the male status quo, but the audience cheer her coloratura loud and long. Daniel Behle's Tamino is a lovely soft tenor, though a rather passive one. James Platt's bass gives Sarastro weight and dignity, and Peter Hoare's comic Monostatos (not sinister at all) gives Peter Kellner's young Papageno's charming comic capers a run for his money, as do the comically serious Men in Armour. But it's Christina Gansch's Pamina that thrills and moves me tonight, a heavenly voice. I remember seeing her in the finals of the Cardiff Singer of the World. Her duets with Behle are sublime.
One has to fight through lots of nonsense to get to the music, or should I say the music exonerates the libretto. A fantastical tale with the 'bad' Queen of the Night up against the 'good' Freemasons and their rigid trials and rites of passage; a muddle of a tale with metaphors and moral messages to tease the mind.
A Manichean view on life, light versus darkness, though the anti-women sentiment of the Masonic ideology is hardly enlightening in its eighteenth century age of Enlightenment. One needs to take that with a big pinch of period seasoning. I remember Glyndebourne Opera's production had women suffragettes to right the balance. Wisdom is meant to triumph over reason and nature...
Mysticism and study a male preserve, yet the scene with the orrery, straight out of Joseph Wright of Derby's eponymous painting, finds two children in the library that makes me think of Mozart as a boy with his sister being coached by their father. Granted the girl is sewing whilst the boy is studying astronomy.
Then there's thwarted love as usual: Tamino falls for an image of Pamina, and dutifully fulfils his quest to find and 'save' her. Poor simpleton Papageno is reluctantly drawn into something he is not keen on, but he gets his Papagena (a perky Alexandra Lowe in tarty sixties mini-skirt) in the end, which promises a fruitful marriage and lots of children. There are quite a few children on the stage not least the three boy spirit guides, dressed in forties shorts and Fair Isle tank tops, riding a homemade wooden cart with wings across the sky.
McVicar, together with John Macfarlane's design, takes Schikaneder's tangled libretto and creates a reference laden visual spectacle, a conundrum of stunning imagery, a mingling of periods, as much a fusion of ideas as the libretto. Sarastro hymns the wisdom of Iris and Osiris, yet his grisaille priests look like Voltaire. Sarastro himself little resembles the leader of a sect, rather he could have stepped out of the Viennese court with his red hunting jacket and a bird of prey on his arm.
But whatever your feelings about Schikaneder's libretto—and he wrote the best part for himself, Papageno the bird-catcher eager to catch a little wife—it is Mozart's music that captures the essence of life. I love the part where Papageno's music sets the prissy priests' feet jiggling and hands flapping. That's the irresistible power of music. The last words go to the chorus, the people… and their children.
Reviewer: Vera Liber