The Magic Toyshop
Alan Harris and Angela Carter
Invisible Ink / Theatr Iolo
Chapter, Cardiff
–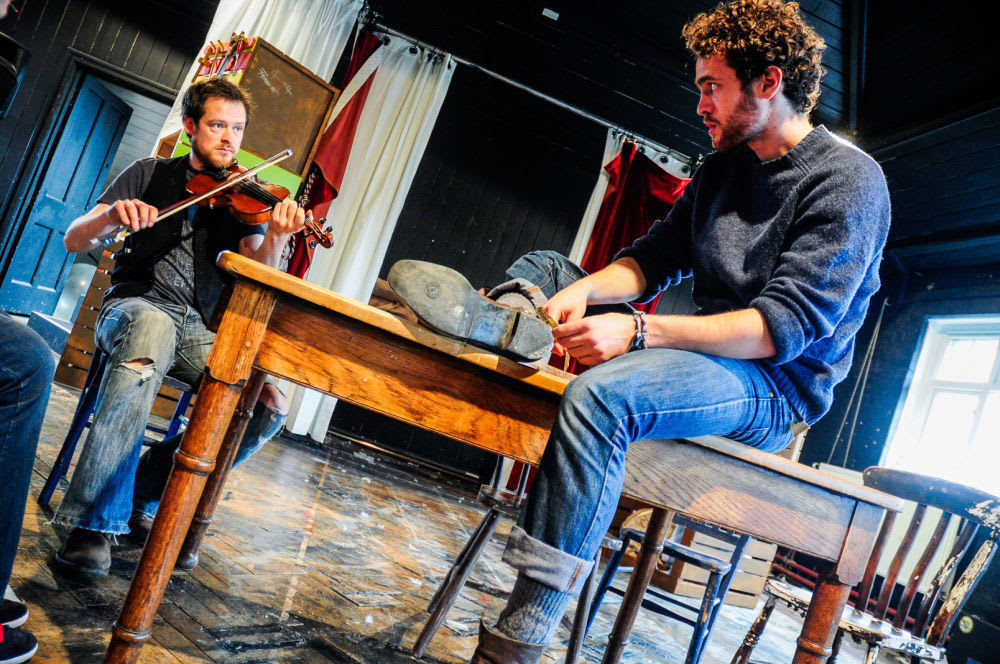 The late Angela Carter is lauded for her darkly sexual, fairy-tale-inflected examinations of femininity. With the notable exception of the film version of The Company Of Wolves, however, her oeuvre has largely bypassed me.
I was therefore grateful for the opportunity to catch this adaptation of her second novel; the debut production (in conjunction with Theatr Iolo), from Invisible Ink, which is comprised of writer Alan Harris and director Sita Calvert-Ennals.
The tone of troubling carnality is evident even as the audience files into the venue's studio space. We find ourselves voyeurs in the bedroom of a 15-year-old girl—Jordanna Moran's Melanie—who lolls, carefree, on her bed in a baby-doll nightie.
As the action begins, we continue to watch as she poses in front of her mirror, tries on a wedding-dress, and indulges in virginal fantasising. Very soon, however, tragic news arrives, and she is thrust into the unforgiving world of harsh adult realities.
We are transported to the emporium of the title, in an unfashionable corner of late 1950s London, where Melanie has been sent to live with her estranged Uncle Philip, played by Kevin Lewis. There are intimations of a poisonous relationship between him and his deceased sister, Melanie's mother.
He is married to the kindly Margaret—Kirsty Cox—who was struck dumb on their wedding day; some unsubtle Carter symbolism, there.
The household is completed by Margaret's Irish brothers: Jonathan Holden's lairy Finn, and the more mysterious Frannie—Jack Reynolds, who demonstrates notable skill on the violin. Both brothers take an interest in the under-age Melanie; she seems to be more curious than alarmed.
In this second phase, Carl Davies's beautiful set is dominated by a mini proscenium—the stage where Uncle Philip performs his puppet shows to a captive family audience. These are the only moments where he displays any sensitivity; otherwise, he is a cruel, bullying presence, barely tolerating his brothers-in-law, and sexually dominating his apparently submissive wife.
Philip incorporates Melanie into his act. Firstly, a puppet appears which seems to bear a strange resemblance to her. She is then pressurised into performing a rather disturbing version of the story of Leda and the Swan (coincidentally also referenced in another show playing in town this week).
Despite Melanie and Finn's apparent mutual attraction, and Philip's hinted-at predatory nature, the story takes an unexpected turn. Unfortunate events ensue; young Melanie is once again visited by disaster.
There are some clever directorial touches—the loudly ticking clock (cf Captain Hook and the crocodile) which signifies Philip's tension-inducing presence in the midst of the family is especially effective. I felt that more could have been made of a climactic moment of discovery, however.
Performance-wise, Moran manages to combine knowingness and innocence without veering into archness; and Cox easily gains audience sympathy as she suffers in silent sadness.
The men seem to dominate, however, Holden's exuberance masking Finn's deep uncertainty, Reynold's doomy aesthete keeping his cards close to his chest, Lewis's lack of physical bulk somehow intensifying his character's creepiness.
Chris Pirie's puppets are impressively delightful / peculiar. Elanor Higgin's lighting design, taking in train journeys, fleeting apparitions and catastrophic conflagrations, is a triumph.
An hour and a half of illicit Gothic sexuality—every bit as dark as promised, and constantly, bleakly intriguing.
Reviewer: Othniel Smith