The Maids
Jean Genet in a translation by Benedict Andrews and Andrew Upton
Jamie Lloyd Company
Trafalgar Studios
–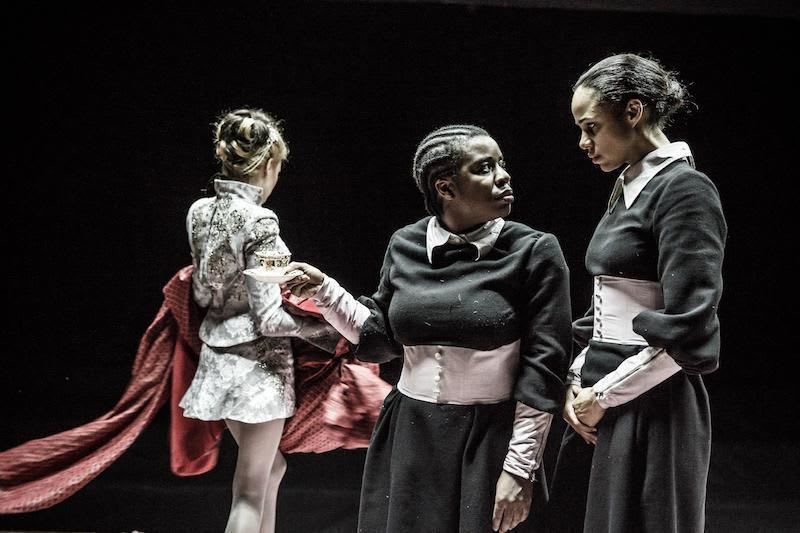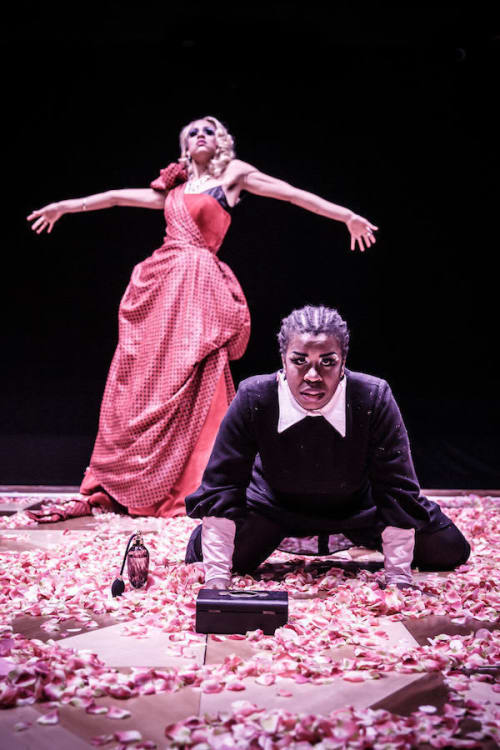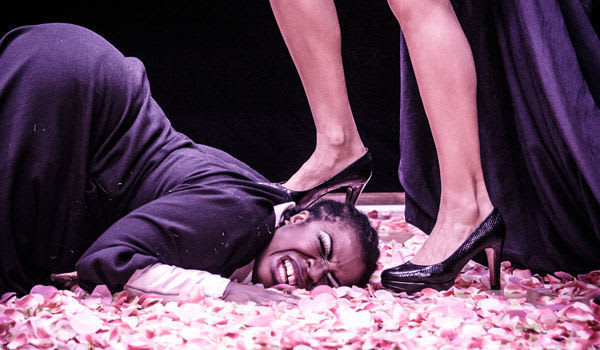 The Australian pairing of Benedict Andrews and Andrew Upton have put their collective imaginations into overdrive for this eccentric re-telling of Jean Genet's claustrophobic three-hander.
With all due respect to the trio of stars in this British première staged by the Jamie Lloyd Company, they will struggle to compete with the 2013 Australian debut for a "translation", which might more accurately be described as an adaptation that veers far from the original text.
Laura Carmichael, American actress Uzo Aduba and Zawe Ashton can between them boast credits in respectively Downton Abbey, Orange Is the New Black and Fresh Meat.
That should prove a significant draw for British audiences but many might have wished that the Sydney cast comprising Andrew Upton's wife Cate Blanchett, French film star Isabelle Huppert and Elizabeth Debicki had been shipped in to delight Londoners.
Soutra Gilmour's stage looks rather like a mausoleum with spectators on either side to witness an opening ankle-deep in petals.
Here, under Lloyd's direction, a loud, combative socialite with questionable manners humiliates her maid, sometimes even forgetting her name.
Both are black and have accents from America's Deep South, the servant eventually beginning to assert her own personality in a wild conversation that sometimes defies logic.
Zawe Ashton playing Solange has a fine time portraying a mistress unbounded by the constraints of polite society, getting noble support from Uzo Aduba as Claire.
Miss Ashton must be close to 6 feet tall, even before she ascends vertiginous high heels. Having done so, Solange flounces around like a flamboyant drag artiste, much to the amusement of the audience and her more prosaic but verbose sister.
A plot spoiler is now coming!
Those that are unfamiliar with the play will take an age to realise that things are not as they seem. It is only when alarm bells are ringing and exhaustion begins to set in that we discover the secret. The "mistress" is another maid.
Now, the bitterness of the almost enslaved underclass becomes apparent as the pair start to enumerate their woes.
Disappointment and dissatisfaction have got so much that they have reached breaking point and begun to take affirmative action. As a result, we do not meet the master at any point in the two breathless hours.
When Laura Carmichael as the real mistress arrives via the kind of limelight ordinarily saved for those who live their lives on the catwalk, the mood simultaneously changes and retains a familiar flavour.
The far from polished white lady, from New York or its environs judging by the accent, is a strange mixture of bullying and patronising (in both senses). Like her imitation, she is also way over the top.
This version of The Maids might be little too far from the original for many purists but does its best to catch the spirit of Genet's masterpiece, adding additional spice with the American racial dimension as a replacement for the French hierarchical setting that the playwright created.
Nobody could deny that the high profile team behind this version has created an evening filled with fruity language that is sharp and stylish. Whether the message becomes diluted by sometimes beautiful effects that will be more familiar to fans of film than the stage is more debatable.
Reviewer: Philip Fisher