The Manchester Project at Christmas

Monkeywood Theatre
HOME Manchester
–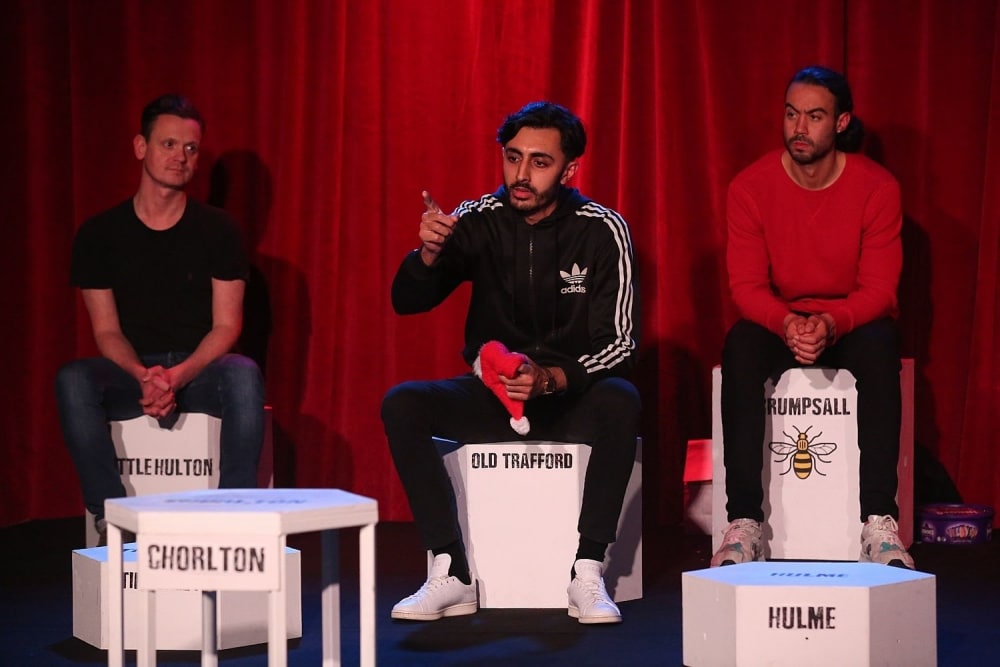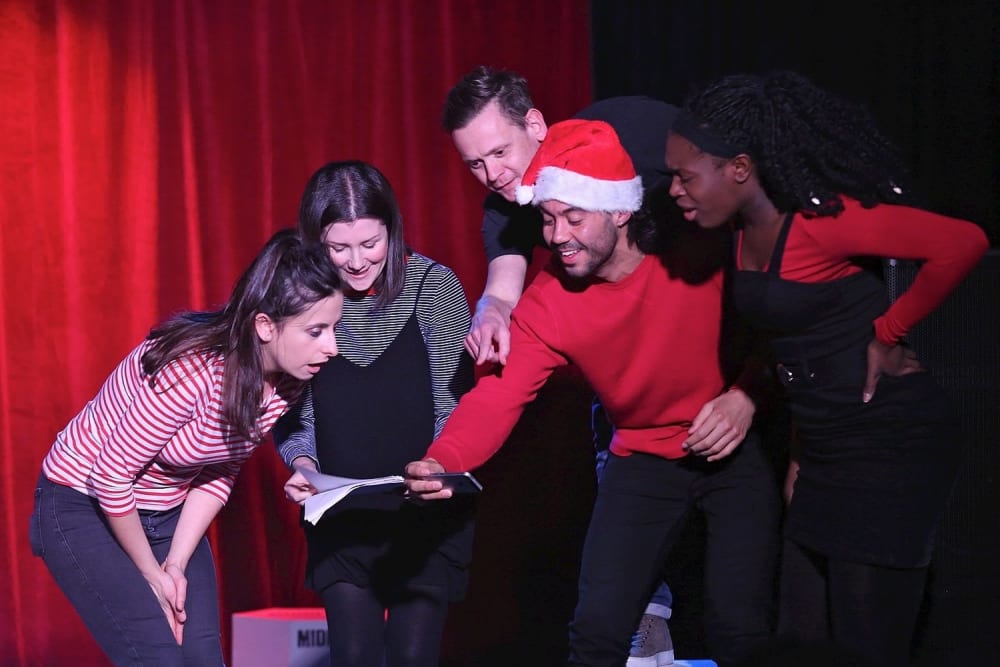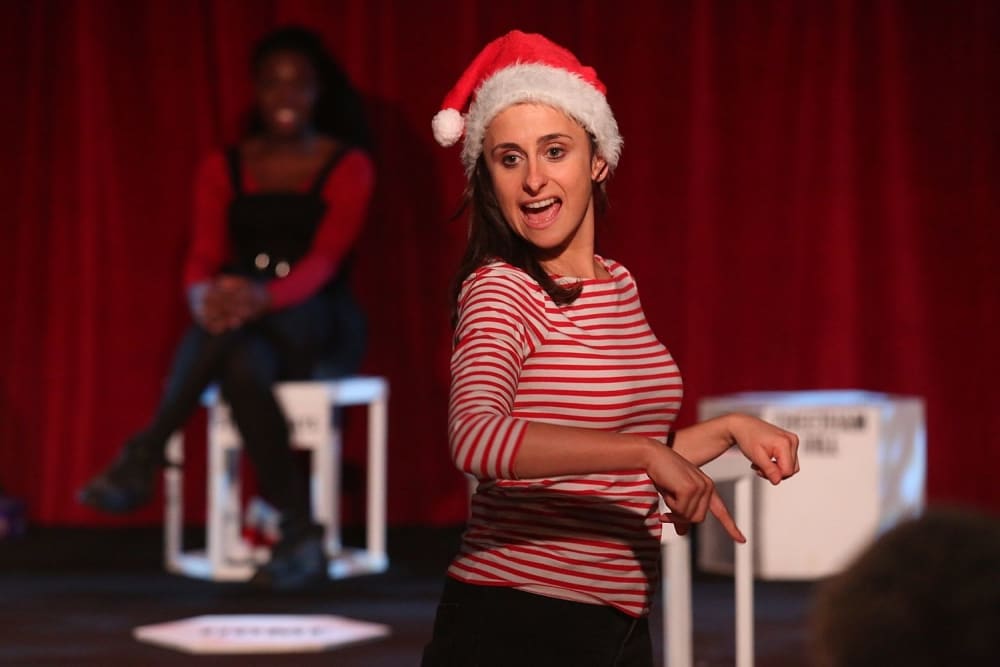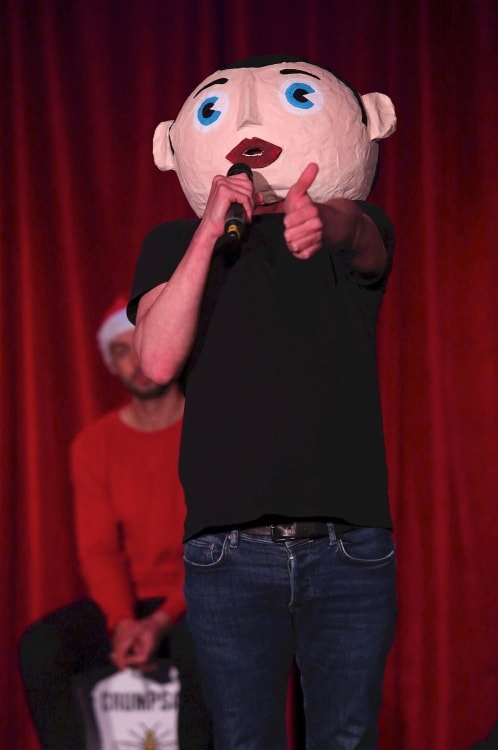 Unbelievably, it's almost two years since Monkeywood's original Manchester Project, featuring 19 different brand new playlets by different writers about the area of Greater Manchester from which they come, hit the HOME stage. Director Martin Gibbons hinted to me at the time that there could be more to say about Manchester if the first outing was successful, and finally it is here.
This batch of 14 plays is perhaps more about Christmas than it is about Manchester—some of them could be set anywhere with little or no modification—but there is a good range of long and short, funny and serious to have something for everyone. Some of the writers are the same as last time and so are set in the same areas, but they all deal with different subject matter.
HOME has transplanted the production from Theatre 2, where it was last time, into the ground-floor art gallery, which has been decked out to look like a cabaret venue with chairs and tables for the audience and a stage that looks better than those in many Edinburgh Fringe venues, which works perfectly for this type of show. If you want to make a night of it, after this 70-minute performance and an interval, there is more cabaret entertainment, which could be a drag show featuring Miss Blair or an hour of stand-up comedy, depending on which night you book.
The opening play, and one of the evening's highlights, is not about a town but about HOME itself in a piece written by Ian Kershaw as a monologue by the man who sells the Big Issue outside the venue and who previously did the same outside Cornerhouse before its merger with the Library Theatre to become HOME. I don't know whether it is all based on fact, but it is a moving story, beautifully written and performed with real heart by Andrew Sheridan.
Reuben Johnson performs his own a cappella rap piece, a family drama set in Little Hulton that I didn't entirely follow, before Chris Hoyle's Middleton story of a woman (Zoe Iqbal) who blames Santa (Gurjeet Singh) for her young son dressing up and performing musical numbers—this is a bit too drawn-out but subtly hints at the bits we don't see and has a great idea at the centre of it. Eve Steele's Strangeways takes us into the famous men's prison for a family drama that cleverly fits everything it needs to say into this short format while vividly painting the wider picture of their relationship.
A 14-year-old girl (Cynthia Emeagi) believes she has immaculately conceived the Second Coming in Crumpsall by Chanje Kunda, which I don't think gets the most from an interesting idea, then Cathy Crabb takes us back to Shaw where a rather complicated story about a practical joke with a ferret and a Christmas dinner won in a competition results in a moving assertion of a close friendship. Louise Wallwein's Hulme has an interesting character played by Iqbal who appears to be homeless but campaigning to prevent someone from being expelled from the country but it doesn't really go anywhere.
Keisha Thompson's Whalley Range is a piece I'd like to see more of, featuring a compelling performance from Emeagi of a character who I'm sure is much older than her, perhaps from the Windrush generation, talking about her past and what she sees of the present, until Singh's sympathetic police officer arrives with a torch to twist the plot into an unexpected direction. It gives the impression that there's a lot more to this story, and I would love to see where it could go.
Chris Thorpe brings his ex-couple to Chorlton for five minutes every year to relive their last happy Christmas before it all tragically fell apart, before Iqbal gives a storming comic performance as a persistent Pakistani clothing salesperson with great patter in Cheetham Hill by Punam Ramchurn, which has a comic twist at the end. Johnson shows his flair with comic facial expressions and timing in Curtis Cole's Moss Side takeaway and an unlikely eventual friendship with Sheridan's Polish Christmas partygoer over the TV gameshow Tipping Point.
Sarah McDonald Hughes, who fills in very effectively script-in-hand for Samantha Siddall throughout the evening due to illness, contributes as a writer with Wythenshawe, in which Emeagi's 16-year-old girl is having a Christmas Eve baby while rejecting the criticisms of her, including from her own mother, for getting pregnant. Old Trafford by Furquan Akhtar takes the simple idea of the disappointment of Muslim children when they find that the sweets they crave contain gelatine and develops it into quite a moving little mother-child story, before Andrew Sheridan, both as writer and performer in a Frank Sidebottom papier mâché head, takes us to Timperley (where else?) with McDonald Hughes dressed as a Christmas pudding in a disabled car shouting insults at him—to be honest, I've no idea what was going on, but it makes for a lively ending.
And that, other than singing along to "Fairytale of New York" as they took their bows, was that for Christmas in Manchester: a mixed bag, but some good laughs and some heartwarming stories that are certainly from the city and its surrounding areas even if they don't necessarily explicitly refer to it. But there are many more stories to tell, so roll on the next Manchester Project.
Reviewer: David Chadderton