The Mask of Orpheus
Composer Harrison Birtwistle, libretto Peter Zinovieff
English National Opera
London Coliseum
–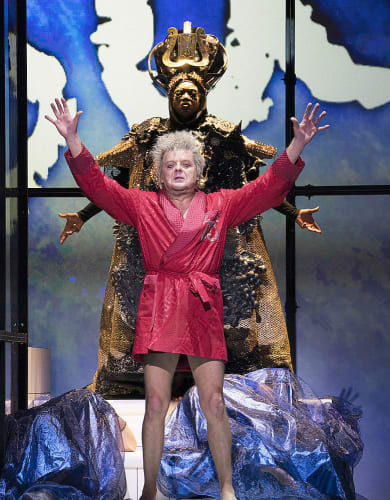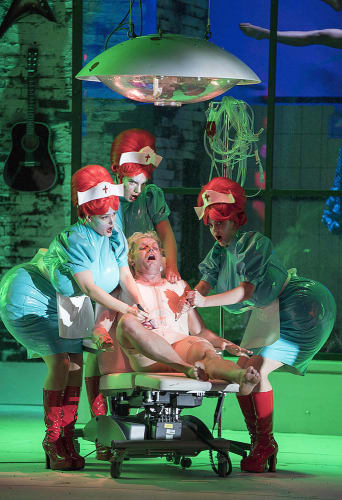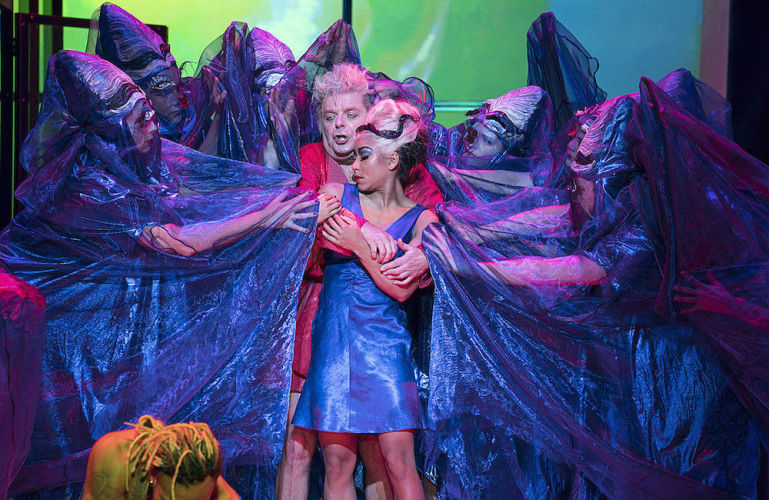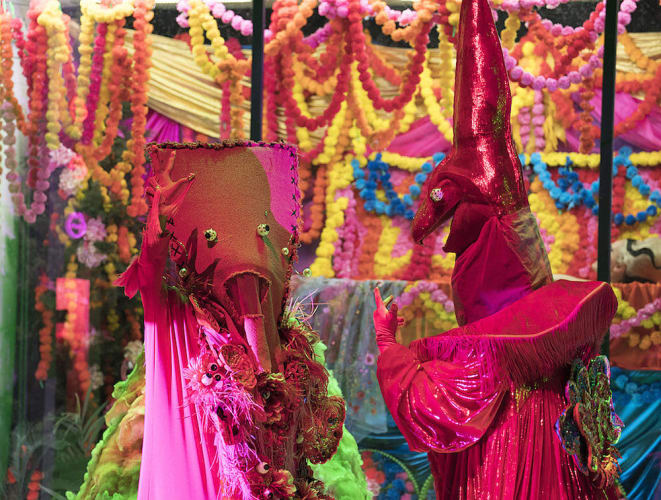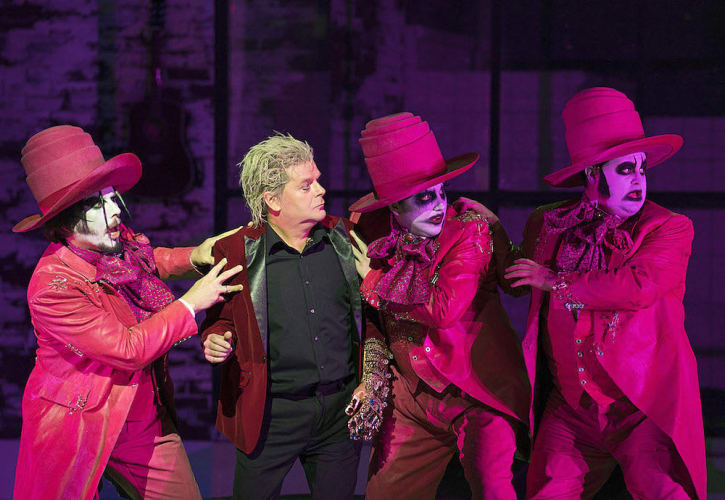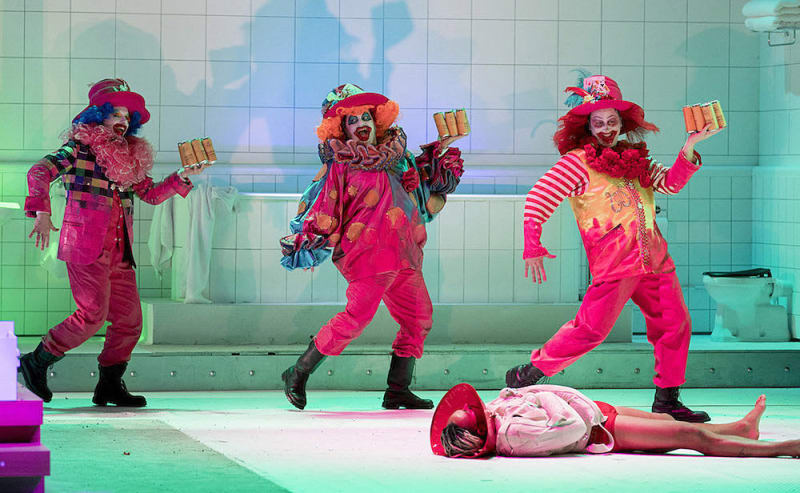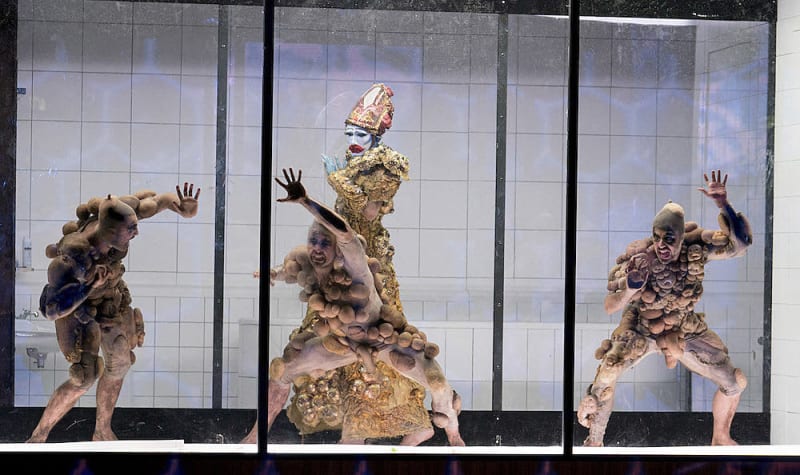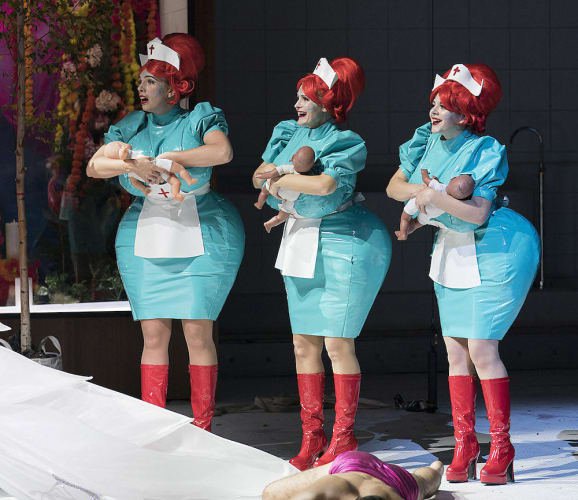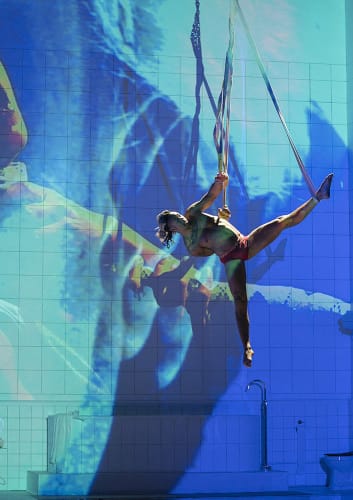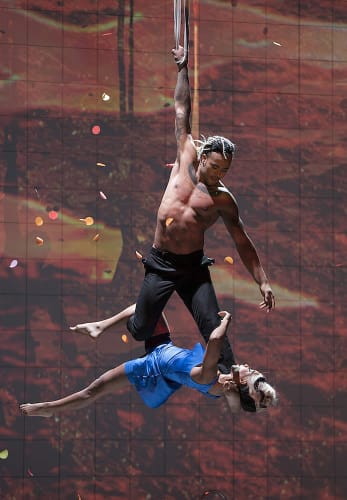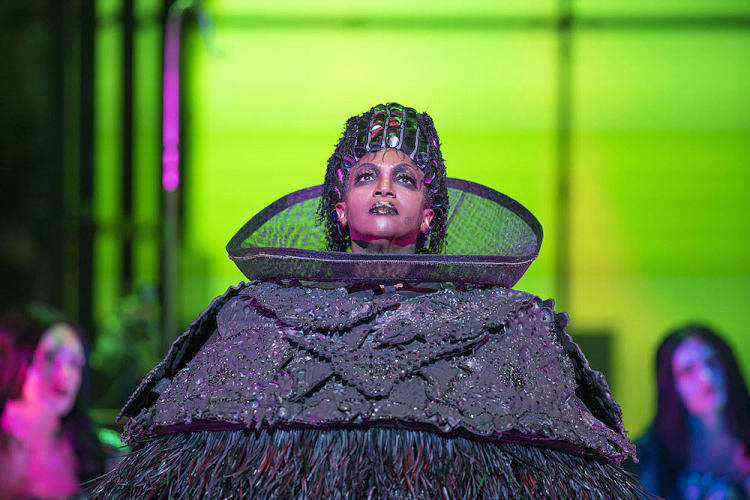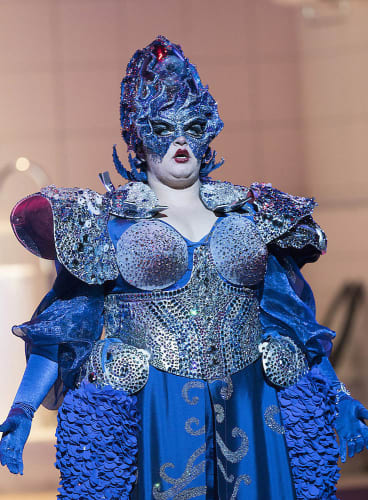 Daniel Kramer's new production of Harrison Birtwistle's The Mask of Orpheus, which was premièred by ENO in 1986, gets the full drag ball treatment—a Gothic Masque perhaps. Costume designer Daniel Lismore steals the show with 400,000 Swarovski crystals and fantastical gender and human transcending outfits, beyond surreal. A cross between Alice in Wonderland and shock rock Alice Cooper, the camp decadent design almost obliterates Birtwistle's austere music.
Not to everyone's liking I might say. And almost impossible to describe, this assault of the senses, a psychedelic morphine-induced trip to a freak show Underworld pre-time, pre-mythological time that permits the wildest of imaginations. The Surrealists have much to answer for. And The Magic Flute—Kramer has thrown up the whole contents of his conscious and subconscious mind in this orgy of creation, I fear.
Set by Lizzie Clachan is out of this world and Peter Mumford's lighting and video design complete the spectacular happening. Venus in Furs also springs to mind, there's something sado-masochistic in the air, and OTT sixties, seventies (Rocky Horror Picture Show) and eighties about it all.
Orpheus climbs out of his white bath (a bath that can lead to Hades, as does his bed) in his white-tiled bathroom and sings and speaks in pre-language sounds. Peter Hoare's (Orpheus The Man) tenor is clear as a bell. And our journey begins, taking us through many versions and many myths that slide on to the set in a glass vitrine, dumb-show injections into the sung storytelling. Layers upon layers, myths accruing like geological strata.
Orpheus is a Gary Glitter lookalike rock star—of course he is—with his lyre monogrammed on the back of his short red dressing gown and jacket. And two gold discs on the wall of his celebrity pad. There are three Orpheuses, The Man, The Myth (Daniel Norman who turns into a bee in one funny episode), The Hero (mime), and three Eurydices (mezzo-soprano Marta Fontanals-Simmons making a striking ENO debut as The Woman), and three beekeeper Aristaeuses (lots of bee hive imagery), similarly divided. And three babies nursed by three big-bosomed, huge-bottomed nurses with bee-stung lips (a joke?) in wet-look PVC. Three babies, dismembered and eaten by Orpheus's Dionysean 'Tiger Lillies' backing band.
Kramer and Lismore have gone full out referencing just about every club Heaven queen and some. There are Boy George outfits with his high-rise hats, Damien Hirst's diamond skull, cone breasts à la Jean-Paul Gaultier, Leigh Bowery homage, Frankenstein creatures with carbuncular costumes and brilliant Cirque du Soleil style aerialists (Matthew Smith, Alfa Marks, Leo Headman who play the silent Hero versions). Smith and Marks particularly outstanding as the despairing lovers in their flights of daring and strength—on 'vine creepers' which make me think jungles / tangles of the mind... Kramer's or mine, or both… Eurydice has the look of Elsa Lanchester in James Whale's 1935 film Bride of Frankenstein.
The many myths and variants of Orpheus and Eurydice are told in non-linear, circular style, always going back to the beginning (Adam and Eve creation myth, too) in Orphic poetic libretto by Peter Zinovieff, a libretto that makes me wonder if he's borrowed from the Russian Futurists beyond the mind ZAUM sound symbolist concept.
Trying to follow the retelling and the physical action keeps one on one's toes so much that one almost forgets to listen to the thrilling cacophony of sound amongst the shrill visual noise. Existential angst and serious intellectually challenging "bold, violent and primitive" music are being taken for a ride—for three and a half hours (two intervals). Modern, complex, abrasive, scouring the ear and stimulating the mind, The Mask Of Orpheus took ten years to write, its complex structure (one mustn't forget Barry Anderson's electronica contribution) a test for all.
A five-page synopsis takes some absorbing. Maybe it's best just to sit back and go with the experience. Act two's metaphorical seventeen arches are life's journey, and the various classical Ovidian allegories of metamorphosis trouble and confuse. Cryptic tales that try to explain our lives. And ward off death. Orpheus and Eurydice get to repeat their destiny with variations, embellishments of hopeful storytelling, memory, grief and loss, birth and rebirth.
Birtwistle and Zinovieff, both octogenarians, take the stage for the curtain call and get a standing ovation. ENO Music Director, and conductor tonight, Birtwistle specialist Martyn Brabbins and the ENO orchestra deserve one too for the phenomenal action in the pit, where they've been to Hades and back, several times. A transformative encounter...
Reviewer: Vera Liber