The Master and Margarita
Mikhail Bulgakov, Adapted by Simon McBurney, Edward Kemp and the Company
Complicite
The Barbican
–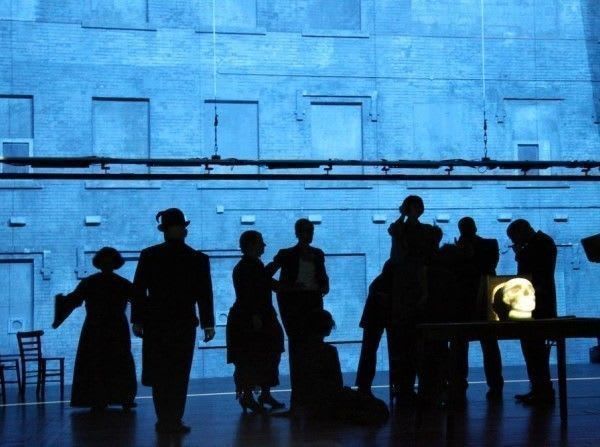 This really is an epic production in every sense. Across 3¼ hours, Simon McBurney and Complicite try their hardest to do justice to Mikhail Bulgakov's classic of magic realism and pretty much succeed.
The company has worked with Bulgakov before, at ENO where they turned A Dog's Heart into an opera and this staging shares many of the same high production qualities.
The evening is a multimedia extravaganza and more. To start with McBurney along with Edward Kemp and the company have adapted and mildly updated the text for the stage.
Throughout, they show a determination to keep to the spirit of the original and thanks to clever editing and doubling by cast members make complex concepts and the Russian writer's intricate multi-layering surprisingly easy to follow.
The original combines numerous plot lines and here, the four that intermingle most often are led by that of The Master and Margarita, both given strong physical performances by Paul Rhys as the blocked writer and Sinéad Matthews playing his besotted lover.
Almost as significant is Master's novelistic re-imagining of Yeshua (Christ)'s final days embodied in skeletal Cesar Sarachu, condemned to the horrors of crucifixion by Tim McMullan's Pontius Pilate and Henry Pettigrew as Judas.
More magical are the appearances in Moscow of sinister, Satanic Woland (a shared role) with his retinue, Angus Wright who is the evening's main narrator, Ajay Naidu and a Blind Summit puppet cat complete with shining red eyes.
The colourful quartet haunts assorted Muscovites, especially theatre folk from the thinly disguised Moscow Art Theatre. That is another hidden strand of the evening, as Bulgakov secretly satirises Stalin's Russia c.1939 and those that made the novelist/playwright's life so hard.
Since The Master and Margarita is such an iconic novel, many have tried to adapt it for the stage with varying results. As one would expect, Complicite with their experience, imagination and, to be frank, budget are better placed than most.
McBurney has a good cast of actors and supplements them with many staging techniques, ancient and modern thanks to the efforts of designers, Es Devlin for the set, Christina Cunningham: costume, Paul Anderson: lighting, Gareth Fry: sound, Finn Ross: video, Luke Halls: 3D animation and Blind Summit Theatre with their characteristic puppetry.
The company entertains its audience with computer-generated graphics, live film projections of activities on stage viewed from strange angles, puppetry, shadowplay, physical theatre and good, old-fashioned acting.
The visual fireworks are then complemented by an eclectic soundscape featuring the likes of Schubert, Schnittke, the Stones (but why "Gimme Shelter" rather than "Sympathy for the Devil"?), Tom Waits and inevitably a good dose of Bulgakov's contemporary, Shostakovich.
This all leads to a pure, joyous War Horse moment as freedom finally asserts itself to ensure that the evening ends on an optimistic note.
As with almost everything else at the Barbican these days, Complicite's version of The Master and Margarita is dramatically avant-garde and might not appeal to all but anyone with a love of the original and an open mind is likely to be blown away by it.
Reviewer: Philip Fisher