The Mentor
Daniel Kehlmann, Translated by Christopher Hampton
Theatre Royal Bath Productions
Vaudeville Theatre
–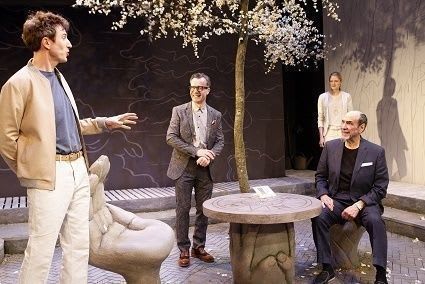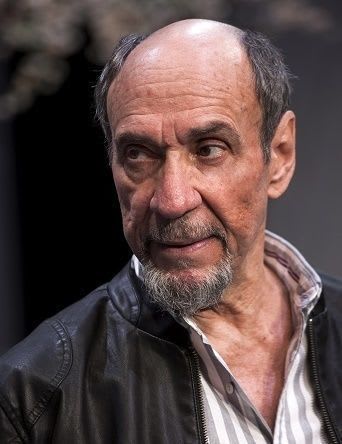 It is inevitable that this play from acclaimed German novelist Daniel Kehlmann, translated into English by Christopher Hampton, will be compared with one of the latter's greatest translating successes, Art.
Like Yasmina Reza's long-running hit, The Mentor explores the nature of abstract artistic endeavour, while touching on the borders of existentialism. It is also short, intellectually challenging, witty and, at times, hard to penetrate.
The bulk of the 80-minute play takes place in a suitably pretentious garden, designed by Polly Sullivan to include chairs that represent upturned hands and ephemeral walls with outlines of incomplete trees, overlooking a real flowering cherry that is on the wane.
Director Laurence Boswell, who premièred the British version in his Ustinov Studio at Theatre Royal Bath, has been lucky enough to attract American actor F Murray Abraham, known to different generations as Salieri in the film version of Amadeus and Dar Adal in the Homeland.
Belying his 77 years, Abraham energetically portrays Benjamin Rubin, a playwright who peaked too early, aged 24 and has ironically ever after been known for his only hit, "The Long Road".
He has been invited to share a retreat with Martin Wegner, a young Turk played by Daniel Weyman. The idea is that Rubin will mentor the tyro writer, with a view to turning the latter's latest piece "Without a Title" into a timeless masterpiece.
In reality, the main attraction for the much-divorced and impecunious older man is the €10,000 fee for five days of work. He also relishes a rare opportunity to act the big star, making the kind of laughably petty demands that would normally only come attached to a multi-million dollar movie contract.
Mediating between the pair is Jonathan Cullen's Erwin, the kind of artistic failure who is forced into arts administration on a temporary basis and never escapes. This facilitator certainly earns his own pay, once Rubin rubbishes a play that sounds as if it deserves all of the criticism he metes out.
The consequences are thought-provoking, sad and hilarious in roughly equal measures. Rather than merely throwing his metaphorical toys out of the pram, Wegner literally throws his typescript into a pond, along with his laptop, before departing in high dudgeon.
This brings together the old man and Mrs Wegner, Naomi Frederick as Gina, an art historian whose appreciation of her husband's work is less wholehearted than he might like.
The action in this drama is intended to amuse, while its real value lies in a series of robust debates about the nature of art, life and criticism today.
The Mentor will not be everybody's cup of tea but anyone who fell in love with Art or wishes to enjoy a debate about artistic merit and its relationship to fame and fortune should rush along to the Vaudeville.
Reviewer: Philip Fisher