The Merchant of Venice 1936
William Shakespeare, adapted by Tracy-Ann Oberman and Brigid Armour
Trafalgar Theatre Productions and Eilene Davidson Productions in association with the Royal Shakespeare Company
Watford Palace Theatre
–

Listing details and ticket info...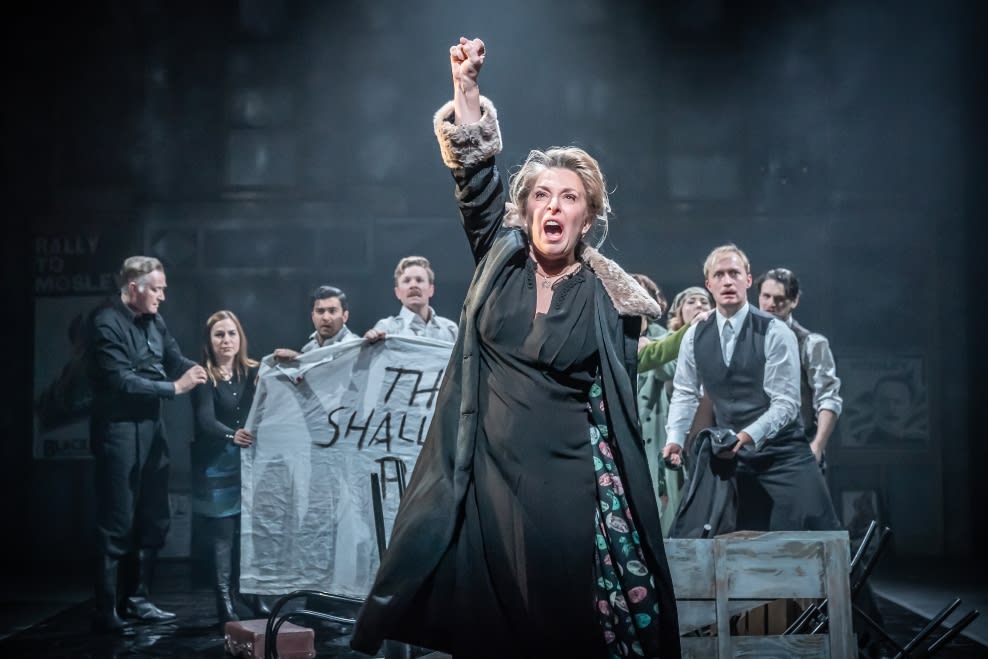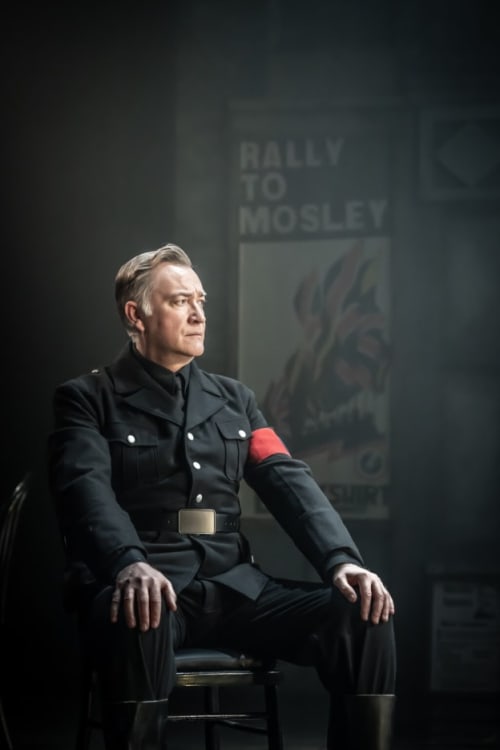 It's England 1936 in The Merchant of Venice as adapted by Tracy-Ann Oberman and Brigid Armour. The racist British Union of Fascists, claiming a membership of 50,000, is active on the streets of London trying to build its support.
This is a clear, engaging production that rarely deviates from Shakespeare's text and mostly keeps the rising fascist conflict as an atmospheric historical setting of costumes, posters, music and a brief uplifting Cable Street anti-fascist protest finish which Shylock joins.
Antonio is given a measured, impressive patrician performance by Raymond Coulthard. He sits perhaps in a gentleman's club with friends in evening attire trying to shift his mood. The arrival of Bassanio (Adam Buchanan) raises his spirits. He quickly agrees to borrow money from the female moneylender Shylock (Tracy-Ann Oberman) to finance Bassanio's marriage plans, playfully in the process almost getting to kiss his friend on the lips.
Gratiano (Xavier Starr) is the usual impulsively bad-tempered friend of Bassanio and in this performance faster than others to embrace the British Union of Fascists, wearing the armband with its emblem of a flash of lightning on a circle, and drunkenly turning up one night outside Shylock's home singing a fascist version of "Land of Hope and Glory" with lines like "land of dope and Jewry" and "land of Jewish finance". The song had been written on House of Commons notepaper by Maule Ramsay, a Member of Parliament from 1931 to 1945.
After urinating on their door, Gratiano slumps asleep nearby as Lorenzo (Priyank Morjaria) arrives to collect Shylock's daughter Jessica (Gráinne Dromgoole) whom he intends to marry. She takes with her a chunk of Shylock's wealth, but then effectively disappears from this production, which in giving a generally sensitive trimming of the text to a running time of two hours unfortunately ditches for instance the later scene in which she is a victim of the racist abuse of Launcelot Gobo.
Antonio arrives at the court scene dressed in the black uniform style of the BUF leader Oswald Mosley. He wears the fascist armband as a sign of his confidence that in this court, such indication of extremism would not count against him. Indeed, it seems in line with the huge Union Jack hanging at the back of the court.
Although Portia (Hannah Morris) disguised as the legal expert Balthasar makes her "quality of mercy" plea to Shylock, she shows no such quality a little later when she ensures Shylock loses all his wealth and is forced to convert to Christianity.
The production has modelled its depiction of Portia on the ruthless prejudice of the aristocrat Diana Mitford who married Oswald Mosley. We first meet her looking glamorous and self-possessed as a parade of men competes for her father's stipulations on a marriage partner, her aristocratic confidence leaving us in little doubt about the outcome of this exercise.
The smouldering, persecuted figure of Shylock sits on the edge of the stage during the final scene that includes Antonio and the thuggish Gratiano alongside the celebratory romantic reunion of Portia with Bassanio now joining others in wearing the fascist armband.
But that scene doesn't finish this production. Instead, we glimpse the angry community of the East End of London building a barricade on Cable Street that defeats the attempt by police and the Blackshirts to march provocatively through the area. In front of the barricade stands Shylock with others raising clenched fists in the air.
Should you want to hear more about those anti-racist protests from relatives involved in those struggles, arrive at the theatre thirty minutes before the performance when, at various points of the two bars, a number of them will be available to individually speak with you and illustrate things they say with suitcases of pictures and objects such as the marbles protesters threw under the police horses.
Reviewer: Keith Mckenna