The Merry Widow
Franz Lehár
Metropolitan Opera House, New York
–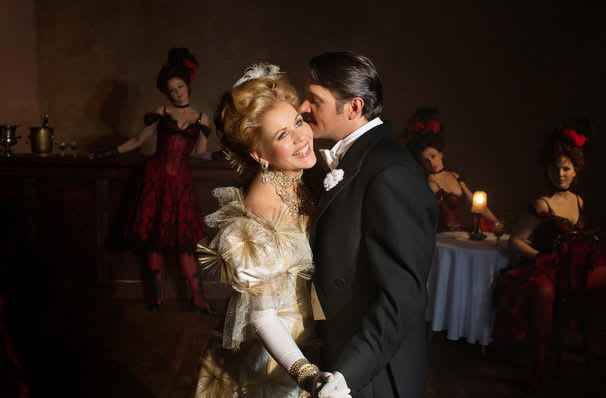 This dazzling new Anglo-American production of The Merry Widow was an almost unmitigated triumph for Broadway and West End director/choreographer Susan Stroman and her cast.
It only fell short due to a "fouled piece of scenery" which delayed the denouement by close to half an hour.
Even that kind of adversity brings the best out of performers, who tried their hardest to take the audience back into the opera with a combination of calmness and humour.
Despite the hiccup, this kind of visual and aural pleasure is the reason that the Met continues to flourish in an era of instant gratification.
A large cast, dressed in lavish costumes, performed on a spectacular set with a mixture of singing, dance and acting that is more usually seen on a Broadway stage than at this venue.
It may not be entirely coincidental that The Merry Widow was selected to launch the operatic career of musicals diva Kelli O'Hara. The actress sang as if an old hand and also injected the kind of acting and dancing skills that have generally passed by operatic stars at a long distance.
As a result, one can expect to see a great deal more of Miss O'Hara in operas going forwards, if Broadway can spare her.
However the diva that the punters came to see was local favourite Renee Fleming, ironically about to move in the opposite direction to take up a role on Broadway in the spring.
She played the title role to perfection in a delightful screwball comedy set in 1900 as a kind of Ruritanian fiefdom named Pontevedro seeks to survive despite financial problems that will seem all too familiar to viewers today.
Its old Parisian Ambassador Zeta, played with appropriate mock gravitas by Sir Thomas Allen, knows that the only hope is to harness the millions of his fellow countrywoman Miss Fleming's Hanna.
All kinds of obstacles get in the way of this worthy mission. His secret weapon, Nathan Gunn's Danilo plays Benedick to her Beatrice, refusing to woo the widow, even for the honour of their country.
Closer to home, Ambassador Zeta has problems too, not that he knows it, as his wife (Miss O'Hara) is carrying on an affair with a young Frenchman. Most of the fun comes as a result of her subterfuge and that of several other loose fin de siècle women.
The opera builds to a stirring final act at Maxim's risqué nightclub. There, a fantastic team of dancers goes overboard in Toulouse Lautrec style bawdiness before Mme Zeta is almost embarrassed into a divorce.
More importantly, Count Danilo eventually finds the blockage to personal happiness and the state's security removed in an instant to guarantee that this comedy ends as they all must.
In addition to the major players, it is necessary to highlight a lovely piece of character acting from Carson Elrod as Njegus the frequently hilarious comic fixer that such pieces need to keep the plot moving.
Behind the scenes, the British contingent plays a major part in this lively production. Jeremy Sams has written a slightly modern, slangy English libretto that catches the spirit of the original.
The magical design is courtesy of Julian Crouch and is gorgeously lit by Paule Constable. Finally, conductor Sir Andrew Davis continues the good work that he started with Hansel and Gretel at the head of the orchestra.
This is the kind of joyous comic operetta that would be a gentle introduction to the form for a youngster or Philistine. It is genuinely funny, looks beautiful and contains marvellous singing from some big names.
Reviewer: Philip Fisher