The Merthyr Stigmatist
Lisa Parry
Sherman Theatre and Theatre Uncut
Sherman Theatre, Cardiff
–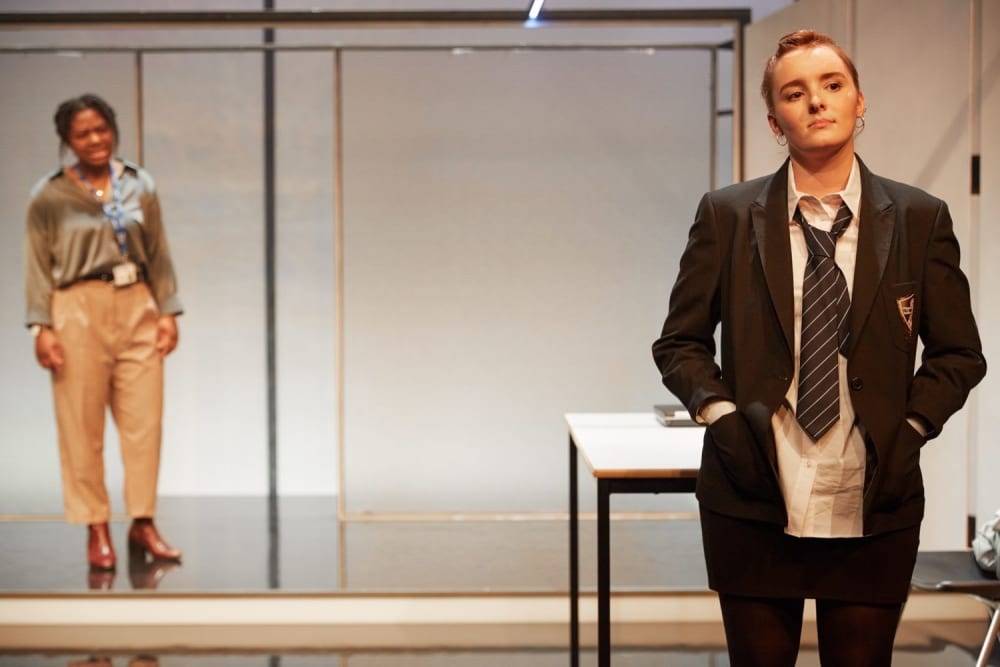 This 50-minute-long two-hander, which is the inaugural winner of the Theatre Uncut Political Playwriting Award and has been directed by the company's joint Artistic Director Emma Callander, flows from an intriguing initial premise.
16-year-old Carys, played by professional debutante Bethan McLean, is being held in Friday night after school detention by Bethan Mary-James as her understandably nervous science teacher Siân, both actresses playing their parts to perfection.
The offence perpetrated by the bolshie youngster from Merthyr Tydfil goes beyond the typical insubordination of almost any bored teen. Instead, she is literally being held behind locked doors in a classroom at her Catholic school as a result of claiming that wounds to her hand and feet, rather than being demonstrations of self-harm, are genuine stigmata. This raises the question as to whether Carys Christ might just be a new Messiah.
Already, she has become a hyped 21st-century influencer both on social media and amongst the younger children at the school, a number of whom are causing problems by emulating their heroine through indisputable self-harm. Perhaps unwisely, cynical Siân challenges her charge to enlist God's assistance to prove that the youngster really has a hotline to the supreme being.
Carys may not quite have divine omniscience but she quickly demonstrates impressively detailed knowledge of her pretentious teacher's history, thereby unsettling the older woman even more.
The pressure gradually increases as it becomes apparent that not only is the schoolgirl an inspiration for her peers but she has started to build a large mob of credulous disciples from across the town and virtually from across the world. Inevitably in the current climate, once a video of the stigmatist bleeding goes viral, the trolls jump in threatening the full gamut of unsavoury behaviour right up to rape and murder.
This off-beat drama investigates a number of important issues, often obliquely, as the wise youngster and her frustrated mentor discuss the nature of Catholicism, class, the deprivations of life in Merthyr (an appropriate town to welcome a prospective new martyr), and offers wry commentary on social media misbehaviour today.
The Merthyr Stigmatist is above all an affectionate, witty, warts and all hymn to Merthyr Tydfil and its community, which was ultimately Lisa Parry's goal.
Reviewer: Philip Fisher