The Methuen Drama Anthology of American Women Playwrights 1970–2020
Susan Yankowitz, Ntozake Shange, Beth Henley, Paula Vogel, Suzan-Lori Parks, Lynn Nottage
Released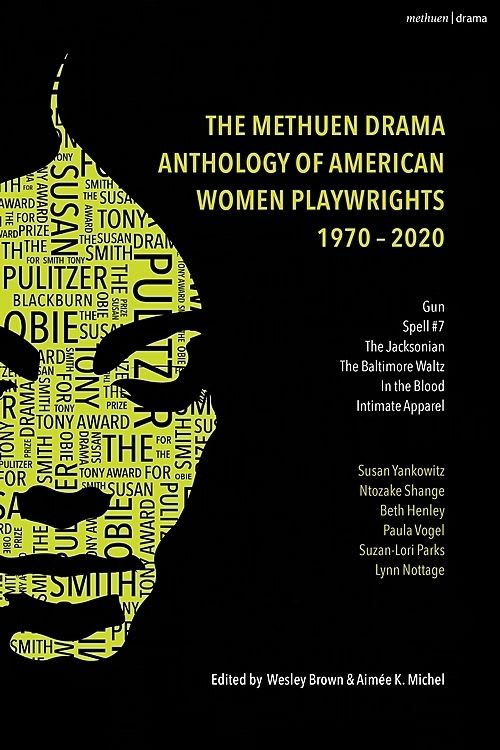 As the title suggests, this volume presents a selection of what the editors believe to be the best plays by the finest female playwrights from the last 50 years, although it is not the widest anthology featuring only six plays.
In addition to these and as an introduction, there is an essay charting the difficulties faced by female playwrights in America throughout history, focusing on some of those who manage to overcome prejudice to achieve a degree of success.
Gun by Susan Yankowitz
This gripping new drama focuses on the Holt family, ordinary Americans until the day when their 23-year-old son Donald inexplicably murders his state governor and prospective presidential candidate, as well as innocent bystanders.
Moving backwards and forwards in time Gun views the case from every imaginable angle, primarily exploring Donald's life and his interactions with his parents, respectively a high school history teacher and housewife.
On one level, the incident is just another of the numerous gun crimes that seem to take place in America on a weekly, if not daily, basis.
Looked at differently, it is the story of a lonely, bright misfit who loved music and played the violin, which tries to discover his motivations and explain how good parents can somehow nurture a murderer.
Spell#7 by Ntozake Shange
The works of Ntozake Shange do not make for an easy read, as she deliberately flouts the standard constraints of language including spelling, punctuation and capitalisation, to make a political statement.
In performance, the early scenes and dénouement are dominated by a huge, grotesque black mask, which must colour all that is said. This is compounded by the arrival on stage to join a magician of a crew of actors in black face (think of the Black and White Minstrels) masks.
The topic of Spell#7 is the iniquities that have been perpetrated on the African-American community in the United States over the centuries, viewed from a series of novel but frequently informative angles, with humour injected to lighten the pain.
The style lies somewhere between dream and stream of consciousness, as we attempt to follow the thoughts of a group of bar habitués, poetically jousting over issues of racial and gender stereotyping.
The Jacksonian by Beth Henley
Unnatural deaths seem to be high on the American female playwriting agenda.
Set in 1964 in the Deep South, The Jacksonian follows 16-year-old Rosy Perch at a time when her parents are in a trial separation.
Her unhappy dentist father has moved from the affluent family home in Jackson, Mississippi into the eponymous motel, naturally causing distress to all.
As the family drama unfolds, just along the street a black man, almost certainly innocent, is on trial for murder, with the townsfolk only debating whether he will even make it to execution rather than facing the KKK lynch mob.
The second unhappy duo in the play are Fred and Eva, the manager and waitress at the motel, whose engagement seems as flawed as the Perch marriage.
Building up the tension, Beth Henley indicates in the early scenes that a murder has taken place but interested parties will have to get far into the play before discovering the identities of perpetrator and victim.
Running backwards and forwards in time, this is an intriguing play that simultaneously explores interactions between mismatched couples and the sorry state of race relations in the southern states little more than 50 years ago.
The Baltimore Waltz by Paula Vogel
Paula Vogel describes The Baltimore Waltz as the journey to Europe with her brother Carl that she never took because he died of AIDS in early 1988. As such, it is a kind of twisted, semi-autobiographical homage, although, while Carl is given his own name, the sister here is Anna.
This satire starts as Carl leaves his job to take a European tour, following a terminal diagnosis for a new disease.
With dark humour, rather than attacking Carl, single elementary schoolteacher (the main category of victims of the affliction) Anna is diagnosed with the fatal Acquired Toilet Disease.
As a result, the pair take a European tour of a lifetime en route to a meeting with a potential quack, who might have a Nazi past but holds out hope for a miracle cure.
Along the way, the siblings enjoy a series of unlikely encounters with random characters who include twin stuffed rabbits, the fictional Third Man Harry Lime, the Dutch boy who put his thumb in the dyke and others invented by Miss Vogel.
With great humour and nods towards Graham Greene, The Baltimore Waltz is both a thought-provoking and a moving piece of drama.
In the Blood by Suzan-Lori Parks
Suzan-Lori Parks may have been inspired to write In the Blood by reading The Scarlet Letter but her contemporary Hester, La Negrita, is a long way from her namesake in Nathaniel Hawthorne's novel.
The African-American earth mother lives under a bridge in urban America, desperately trying to bring up her five children by five different fathers, every one of whom has deserted her.
Those that should offer support such as a doctor, a preacher and welfare officer have their own agendas, none of which are of benefit to the purported object of their charity.
Hester's closest connection with the original is a reading vocabulary that stretches to the letter "A".
While trying to live quietly and earn a crust, she is constantly badgered by do-gooders, those trying to take advantage and her amicable children, who behave far better than their background might suggest.
This is a powerful, if depressing, play about deprivation in America today, which hits every target on the bull's-eye, as it depicts the efforts of one of the invisible homeless to survive in a capitalist society that would be happier if she and the problems of her kind disappeared.
Intimate Apparel by Lynn Nottage
The final play in this anthology takes a tender look at the plight of women during the suffragette era. It centres on the work of African-American Esther, an expert seamstress in New York circa 1905.
On one level, we follow the 35-year-old's career and efforts to find a good man, with a limited choice of someone unattractive but available, a labourer in Panama whom she has never met but makes for a good pen pal and an orthodox Jew, with whom she has a great rapport but no realistic prospects.
In depicting Esther's hard life and plight, Lynn Nottage contrasts her with other representations of turn-of-the-century womanhood.
Her landlady is a nosy, practical woman whose marriage was more commercial than passionate. A white customer is kind and sympathetic, suffering from life with a promiscuous husband with whom she feels no connection. Finally, there is Mayme, a talented musician reduced to prostitution to make ends meet.
Intimate Apparel is a sensitive play that views issues of race and gender from an unusual perspective, offering hope when one considers some of the changes that have occurred in the intervening years.
Reviewer: Philip Fisher