The Methuen Drama Guide to Contemporary American Playwrights
Edited by Martin Middeke, Peter Paul Schnierer, Christopher Innes and Matthew C Roudané
Methuen Drama
479 Pages
Released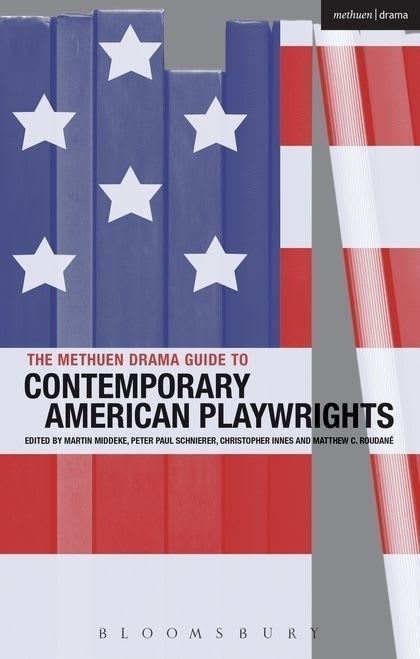 Following equivalents on contemporary British and Irish playwrights, Methuen Drama has now published this large volume covering the works of 25 American playwrights who have had success over the last 40 or so years.
The strengths and weaknesses are, perhaps not surprisingly, very similar to those of the earlier books.
On the plus side, 25 academics have produced often thoughandtful and intelligent sections of 20 or so pages each on writers of the calibre of Arthur Miller, Edward Albee, David Mamet and August Wilson at one end of the scale down to the far lesser known Luis Valdez and William S Yellow Robe, Jr.
For each writer, there is an introduction, some critical analysis of around five plays and a conclusion, as well as notes. The exception that proves the rule is August Wilson, with a single essay by Sandra G Shannon encapsulating all ten plays of the Century Cycle.
Clearly, the individual authors have been allowed licence to decide how many words are devoted to each of these separate sections, meaning that some plays are covered in far greater detail than others, while information on the residual works and life history will differ considerably in length.
The writing and accessibility are extremely variable, some of the academics clearly being massively experienced and deeply in love with the works at which they are looking, while others appear to be treating them purely as exercises in information gathering and dissemination.
At their best, for example James Fisher on Tony Kushner, Ken Urban covering John Guare or Susan CW Abbotson on the later works of Arthur Miller, these are a joy to read. On other occasions, obvious plays have been missed out and the writing can be unintelligible favouring academic gobbledygook with those legendary invented words.
This is often not assisted by the absence of any suggestion that, despite having four named editors, any one of them has bothered to read the book and edit it. Almost every section is liberally littered with typos and there is that unfortunate tendency of writers whose native language is not English to use words and constructions that do not come from any part of the English speaking world.
All in all though, the American offering is probably the best book so far in this series thanks to the overall quality of the writing and it is just a little unfortunate that, in trying to pander to minority interests, exceptional playwrights such as Tracy Letts, Stephen Adly Guirgis and Horton Foote have been neglected. Perhaps they will make a second edition?
Reviewer: Philip Fisher