The Mistress Contract
Abi Morgan
Royal Court Theatre Downstairs
–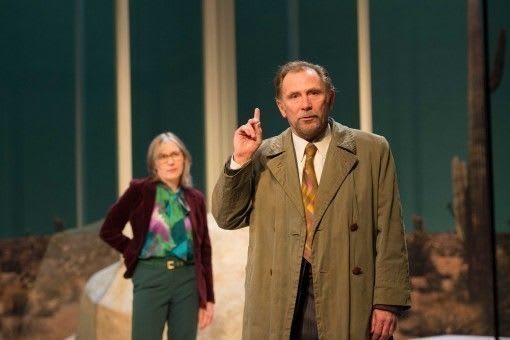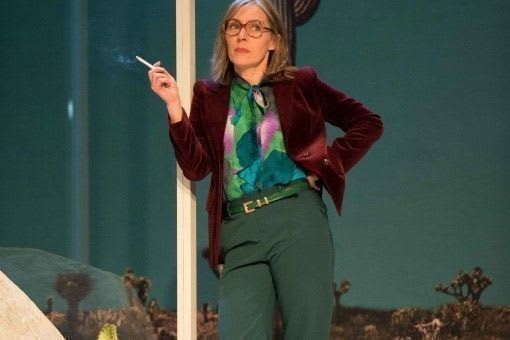 Abi Morgan has largely given up the theatre for a very successful career in screen writing that has included Sex Traffic on TV and the films Brick Lane and The Iron Lady.
The Mistress Contract has been adapted from a dual memoir apparently written by an American couple now respectively aged 93 (He) and 88 (She).
From our perspective, their story begins in 1981, although the lovers had first met in college some quarter of a century before that.
In a stunning glass house designed by Merle Hensel on the edge of a beautiful desert scape, they move an affair to a completely new level after Saskia Reeves's She decides that it is time to codify the relationship in the titular contract.
By this point, almost as if they were watching a reality TV show (only far more real), viewers will already have begun to regard the pair as akin to friends whose behaviour they know and understand intuitively, following initial skirmishes in the murky waters of the battle of the sexes.
On the surface, they seem a classically mismatched couple, particularly in Reaganite America. He, played by Danny Webb, is an alpha male businessman, while his mistress is a feminist in thrall to the iconic writers of the era such as Andrea Dworkin and Nancy Friday and heavily dependent on regular group sessions with fellow travellers.
What seems like an experiment that is doomed from the start endures through thirty happy years because of that unfathomable factor, love.
The early jousts are almost exclusively concerned with the sex perfectly symbolised in the house by cacti so intrusive and penetrative that one literally grows through the glass ceiling.
Almost imperceptibly, the affair becomes much closer to a mature marriage as financial and family matters become as important as the sexual adventures.
The actors do a great deal to assist, really coming into their own in the later years and never more so, than when both are reduced to tears discussing the psychological and physical impact of a mastectomy.
Director, Vicky Featherstone also plays a part, managing to cover the relative lack of action in an engrossing 90 minutes by frankly depicting a thoroughly enjoyable and eventually touching exploration of lust, love and companionship that should appeal to visitors of all ages.
Reviewer: Philip Fisher