The Mountaintop
Katori Hall
Royal Exchange Theatre
Royal Exchange Theatre
–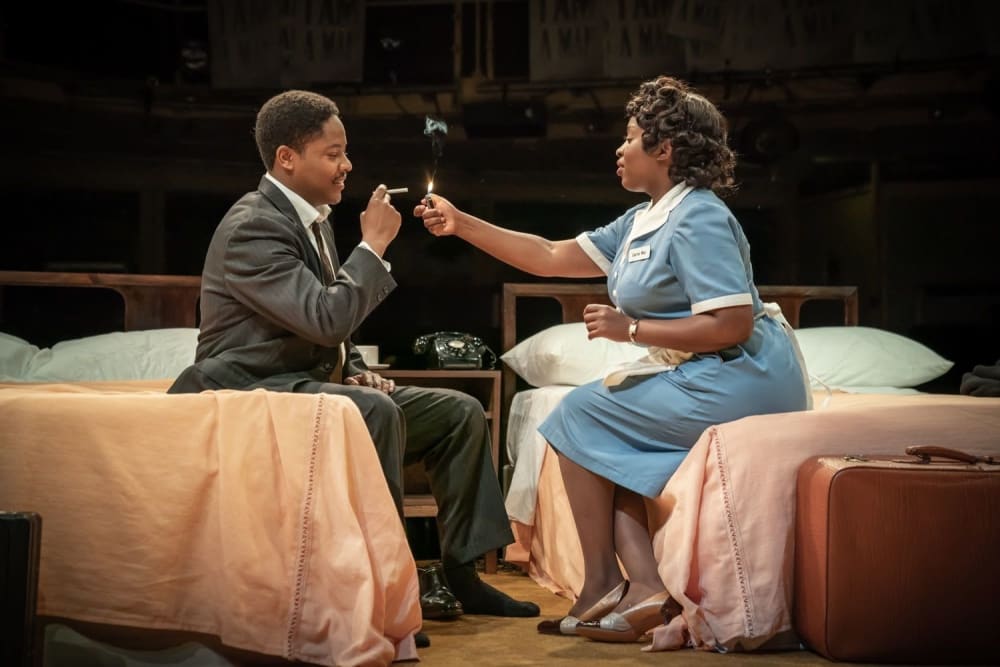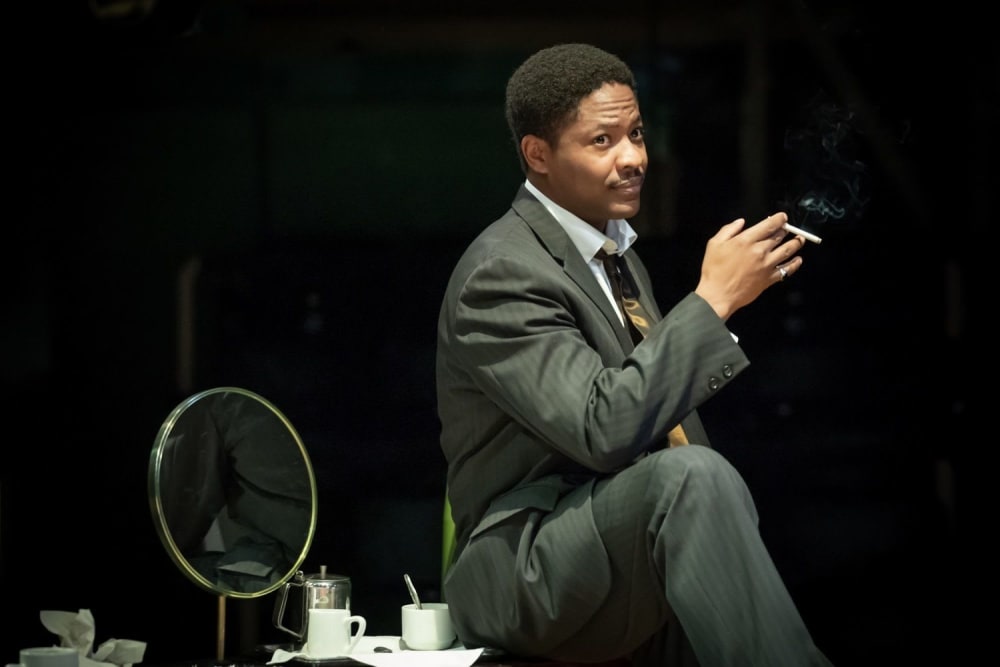 For its third production in its reopening season, the Royal Exchange has as many in the cast as the other two put together; following the innovations of Aeschylus in the fifth century BCE, Co-Artistic Director Roy Alexander Weise has put two actors on stage to revisit this powerful and still significant play in his Exchange directorial debut.
Designer Rajha Shakiry has placed an authentic looking '60s motel room onto a raised platform, where Dr Martin Luther King Junior (Adetomiwa Edun) was to spend his last days on earth in 1968. He arrives, kicks off his shoes and demands, shouting offstage, his cigarettes (Pall Malls) from his friend and fellow activist Ralph Abernathy, then orders coffee from room service. This is brought by Camae (Ntombizodwa Ndlovu), the sassy maid, in her first day in the job but not frightened of talking back to the great man—whom she recognises from seeing him on the TV in Woolworths.
As he struggles to write his speech for the following day—the play is named after the speech he gave the day before he was shot in support of the Memphis sanitation workers, popularly titled "I've Been to the Mountaintop", in which he refers to the civil rights struggle going on after his death—King and Camae share a few cigarettes and Dr King has some of his views challenged: on Malcolm X, on his attitude towards the working classes and a few other things. Then the play takes a supernatural turn as snow falls in Memphis in April and Camae reveals herself to be not at all what she seems.
On one level, writer Hall takes what King said in his final speech—he said, "I've been to the mountaintop," that he'd like to live a long life, but, "I've seen the Promised Land. I may not get there with you. But I want you to know tonight, that we, as a people, will get to the Promised Land."—and shows him, in one night, becoming resigned to this from earlier arguing, even to God in person, that he can't die yet as "I still have work to do." This idea culminates in Camae's poetic piece near to the end, accompanied by slides of news footage across the balconies, showing Dr King the future up to our present, with the repeated line, "the baton passes on". In this version of events, he makes that speech knowing he is about to die, but that the fight won't die with him.
The play doesn't shy away from a few of his human weaknesses, from his infidelities to smelly feet and a fear of thunder, which cracks sharply outside from time to time over the constant, ominous drumming of rain (nicely atmospheric effects from sound designer George Dennis, also from Lizzie Powell's lighting), but he acknowledges rather than explains both these and the views that are challenged by his companion.
Both actors turn in effective performances that come across a lot of the time as fairly subtle and low-key, even in the intimacy of the Royal Exchange. There is plenty of humour in the piece, but at times it is a little slow, with some of those conversations we see on stage but rarely in life where there is a pause for thought before every line.
Although this play debuted twelve years ago, it has renewed relevance since the rise of the Black Lives Matter movement and an event that is particularly haunting King—the fatal shooting of 16-year-old Larry Payne by a police officer—has renewed poignancy. It's easy to see why the director felt he wanted to return to this play as there is plenty to continue to explore in this portrait a person whose peaceful approach to protest was seen as weak even by some other activists in his own time but who has become a powerful symbol of a struggle that continues to this day.
Reviewer: David Chadderton