The Mystery of Irma Vep - a Penny Dreadful
Charles Ludlam
The Jack Studio Theatre
–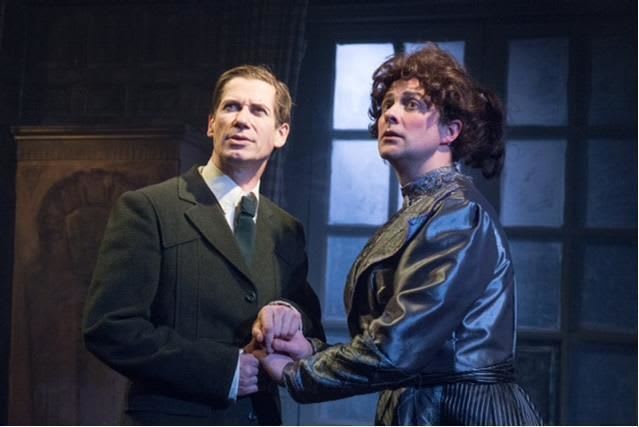 The Mystery of Irma Vep—a Penny Dreadful is the funny and joyfully quirky Christmas show at The Jack.
The avant-garde Charles Ludlum wrote Vep, as he did most of his canon, for presentation by the company he founded, the Ridiculous Theatrical Company, with a cast that included Ludlum himself and his long-time partner Everett Quinton. With this two-hander, he created one of those shows where the doubling or more of roles is key to the comedic action and by having two men play all the roles no opportunities for camping it up are overlooked.
In the programme for The Mystery of Irma Vep, in an advert for a play about Pablo Picasso, is one of his famous quotes: "good artists copy, great artists steal".
It is spookily apt because in writing this thriller-cum-farce Ludlam didn't just draw inspiration from the plots and themes of great literature, he charged about in a striped shirt carrying a bag with 'swag' on it, plundering locations, characters and chunks of dialogue.
As the great plot robber, he gives us a story drawn straight from du Maurier: widower Lord Edgar brings his second bride to live on the family estate of Mandercrest but the presence of Irma, his first wife, remains eerily about the place.
Jane Twisden, the Danvers-like devoted housekeeper, is disapproving of Lady Enid, whom she considers common, but Nicodemus Underwood is soft on her, notwithstanding his mucky overtures to Jane or his lowly position as adopted estate worker—and more than one Heathcliff bell rings here.
And so Vep continues, wittily and cleverly referencing all sorts—Edgar Allen Poe, the Dracular myth, Hammer House of Horror, even Jane Eyre's first Mrs Rochester and Ealing classic Kind Hearts and Coronets come to mind.
Ludlam is just as brazen with the dialogue—"There are more things in heaven and earth than are dreamt of in our philosophy Enid," says Lord Edgar, whilst a bosomy and plump Lady Enid gets to give it some Macbeth. The well-read will hear one echo after another, the less well-read will still enjoy it hugely and all will relish the final twist.
Like the best comedy, it is increasingly funny and that it carries you along as it gets more and more ridiculous is testament to both Ludlam's skill as a writer and Kate Bannister's skill as a director. The pace is well-controlled, the staging is lively and the cast are spot on: Jonathan Kemp and William Kempsell, work well together, share honed comic timing and excel whether in frocks or trousers.
So why wait? The Mystery of Irma Vep is one to book now—I predict a sell-out.
Reviewer: Sandra Giorgetti