The Nest
Franz Xaver Kroetz, in a new translation by Conor MacPherson
Lyric Theatre, Belfast and Young Vic
Young Vic Maria Studio
–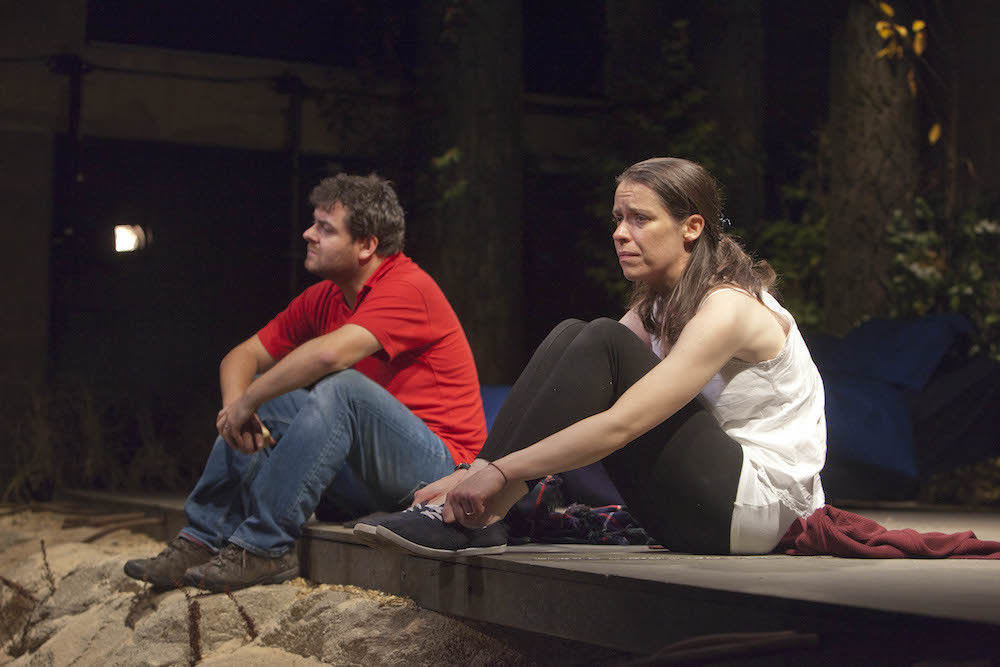 Franz Xaver Kroetz might well have a reputation as the High Priest of Misery. However, though this 1975 play is hardly a bundle of laughs and plumbs the emotional depths with cool accuracy, it also contains a degree of hope.
A new translation by Conor McPherson moves lorry driver Kurt and his pregnant wife Martha from Germany to Ireland, though the physical geography is less significant than its mental equivalent in an ecological morality tale that addresses a number of serious ethical issues, which are equally pertinent 40 years later, head-on.
Its opening is slow, using the couple to show how poverty can be insidious, especially when your first child is on the way. Cleverly, when he arrives, young Stefan takes the form of an invisible Bunraku puppet, tenderly worshipped by both of his loving parents.
Before that, Martha does her best to make a few Euros cold-calling the unwilling, while proud Kurt, eager to ensure a good start in life for his son, laughs at colleagues who restrict their working hours to a mere 56 each week.
What shines through is their love, apparent not only in a depressingly shabby flat but also their allotment, a source of joy even when the sums don't add up.
What should have been a tale of happy families suddenly transforms into an ecological horror story that coaxes staggeringly good and deeply moving performances out of both Caoilfhionn Dunne and Laurence Kinlan, aided in this co-production between the Lyric Theatre, Belfast and the Young Vic, by the patient but almost infallible direction of Ian Rickson.
Love swiftly turns briefly to hate, before a series of tough decisions threaten the family's happiness forever.
Somehow, in the face of almost insuperable challenges, chillingly culminating in a wonderfully comical scene when hapless Kurt desperately seeks escape from his responsibilities, hope for society, as represented by this nondescript Everyman and Everywoman, becomes a genuine possibility.
The evening, set on Alyson Cummins's symbolic set, which depicts not only the couple's grim home but also its sinister, rocky underpinning and surrounding woods, is immensely enhanced by a super, edgy soundscape, composed by the deservedly idolised P J Harvey.
Anyone who attends a performance of this 100-minute drama will discover a challenging but satisfying play, which combines the savagery that is characteristic of both Kroetz and McPherson, with a least a little of the dark humour that is always central to the Irish playwright's work.
The impression that viewers are likely to take away from this intense evening will be of two outstanding performances under a fine director who has a great affinity with the piece.
Reviewer: Philip Fisher