The Night of the Iguana
Tennessee Williams
Noël Coward Theatre
–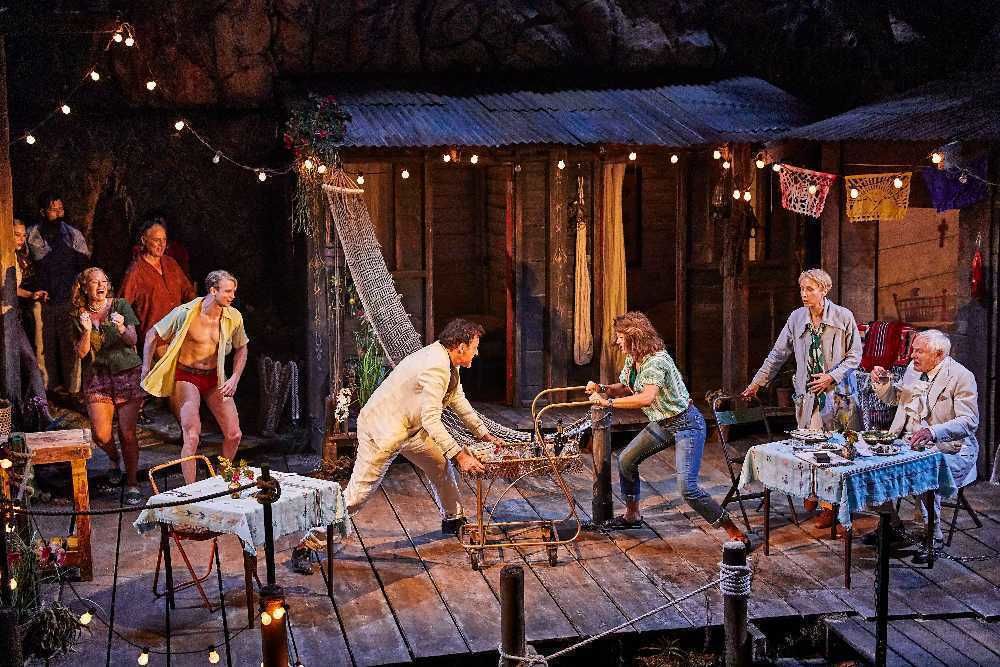 What have Richard Burton and Woody Harrelson got in common? The unlikely answer is that, like Clive Owen in this production directed by James Macdonald, they have portrayed Tennessee Williams's whisky priest, Shannon.
Owen gives a heartfelt performance as the playwright's speciality, a deeply troubled man wrestling with internal demons.
The screen favourite makes a welcome return to the London stage, taking his place at the centre of a strong cast on a claustrophobically packed Rae Smith set depicting a group of isolated shacks bordering a cliff face in the Mexican rainforest.
Almost unbelievably, certainly to some of her putative guests, this is the hotel run by the recently widowed Maxine Faulk, wittily played by Anna Gunn best known to British audiences for her award-winning performances in Breaking Bad.
An evening that stretches to three gripping hours starts like something out of a screwball comedy, as the priest taking a long "sabbatical" as a tour guide attempts to escape the screeching attacks of Finty Williams playing Miss Fellowes. Her main beef, very reasonably, relates to his law-defying sexual relations with a minor under her stewardship.
Shannon is as complex a character as you could hope to meet on a stage, desperately trying to juggle his own passions—primarily for young girls and his religion—with the need for a quiet life and continued employment in the last job ever likely to take an alcoholic barely on the right side of insanity.
Ignoring a bunch of tediously rowdy German tourists, the catalyst for much of the drama is the arrival of a penniless artist, Lia Williams's Hannah Jelkes, wheeling Julian Glover as her 97-year-old poet grandfather, Nonno.
It quickly becomes apparent that the two women are polar opposites, possibly intended to convey different sides of Shannon's character and by extension that of the playwright.
Maxine is rowdy and passionate, loudly speaking her mind and always happy to jump into bed with her Mexican gigolo staff members.
By way of contrast, Hannah is quiet, reserved and endowed with the ability to unlock the priest's psyche with expert precision.
What could have been a battle between two women who grow to love a handsome but deeply troubled bachelor inevitably drifts into a team game during which they work together to save their friend from "The Spook", which haunts him and the increasingly likely prospect of return to the local Mexican "casa de locos" or madhouse.
The Night of the Iguana is a heady mix of humour and horror combined with deep psychological analysis that says much about the human spirit and has barely dated since the play was conceived in 1940 or first saw the light of day 21 years later.
James Macdonald has created a rich and rewarding revival of a fine play. As well as giving excellent opportunities to all of the main actors, every one of whom steps up to the mark with consummate ease, led from the front by Clive Owen.
The summer of 2019 is proving to be a rich time for the London theatre and this beautifully judged production takes its worthy place on constantly growing and increasingly vibrant list.
Reviewer: Philip Fisher