The Nightmare Room
John Goodrum based on the short story by Arthur Conan Doyle
Tabs Productions and Theatre Royal Nottingham
Theatre Royal Nottingham
–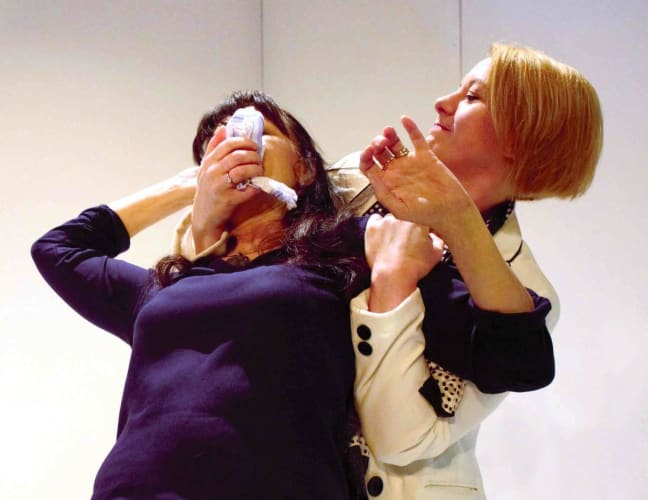 Sir Arthur Conan Doyle was a prolific writer known for producing fantasy and science fiction as well as coming up with one of the most memorable detectives of all time, Sherlock Holmes. He also penned a huge number of short stories, including the little-known tale about two men fighting over the most famous dancer in France, The Nightmare Room.
John Goodrum from Rumpus Theatre Company has taken the story and changed it so that it's hardly recognisable from the original. His version involves two women who have both fallen for a Hollywood star; one marries him, the other has an affair with him. Catherine the wife decides there's only one way to decide which one of them should keep Michael: the two of them are in a locked room with a bottle of poison and a game of chance will decide who swallows the contaminated drink.
I've previously mentioned that a couple of the plays in this year's Colin McIntyre Classic Thriller Season could hardly be described as classics but The Nightmare Room is an outstanding piece of theatre.
Goodrum wrote the opus 13 years ago. He directs and designs this revival which has had the advantage of being honed in a couple of venues before reaching the Theatre Royal.
The Nightmare Room opens with Helen, blindfolded with her arms tied behind her back, sitting on a chair in a soundproofed room. Catherine, dressed in a white trouser suit on a blindingly white set, addresses the other woman who has stolen her husband: "one of us has to go." She says one of them has to become a dead memory.
The stage goes dark and a thudding chord crashes in at the end of each scene, racking up the tension and unsettling some members of the audience. An elderly woman next to me was visibly shaken every time the PA speaker near us blasted into life.
Flashbacks are used to show how the two women's relationship started to fall apart before Catherine realised that poison was the only way to sort out their differences.
Sarah Wynne Kordas, who was impressive as nurse Paisley in Tabs Productions' presentation of Anthony Horowitz's Mindgame at Chesterfield Pomegranate in 2016, is remarkable as Catherine. She may look pure in her white outfit but it hides an evil streak as she plays mind games with the woman who betrayed her.
Another actor who has appeared in previous Tabs shows, Angie Smith, gives a stunning performance as Helen. Initially full of fright after realising the extent of her predicament, she eventually takes delight in telling Catherine how misguided she is to think Michael would remain faithful to her.
The pair bounce off each other superbly, one a high-flying, ambitious executive, the other a more down-to-earth, laidback character who accepts what life throws at her.
The second half fills in the back-story of how the two became best friends. Both actors go through a comprehensive range of emotions—but to reveal anything else would spoil the impact of a show which has more twists than a corkscrew.
It's chilling, thrilling stuff that keeps you guessing right until the end. Definitely one of the highlights of the year so far for me.
Reviewer: Steve Orme