The Nutcracker
Choreography by Peter Wright, Lev Ivanov, Vincent Redmon, adaptation by David Bintley
Birmingham Royal Ballet
Birmingham REP
–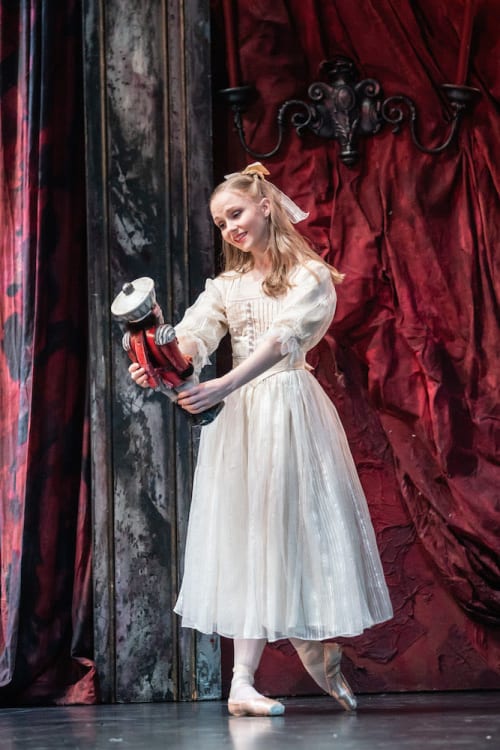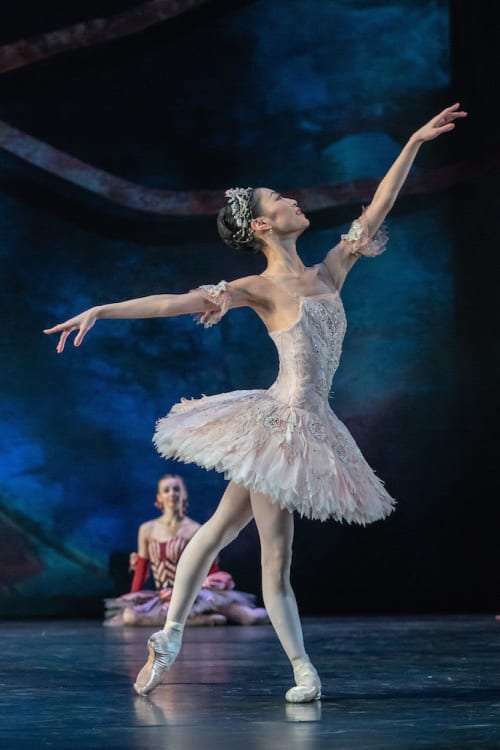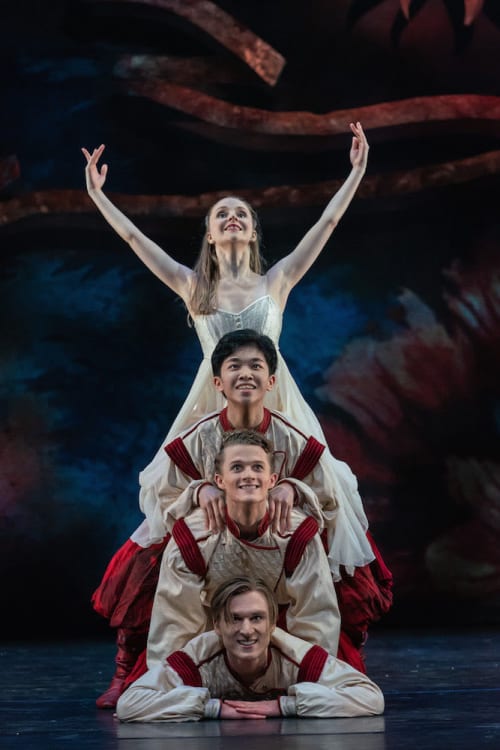 Not one to be daunted or tripped up by obstacles, and has Carlos Acosta, the new artistic director of Birmingham Royal Ballet, had obstacles in his path since taking up the post… plans dashed by ever-changing government COVID regulations. BRB's Nutcracker was to have come to London's Royal Albert Hall; now it plays in an abridged format at Birmingham Rep Theatre to an online audience.
Acosta and Birmingham Rep's director Sean Foley take joint credit for this special 90-minute version using Peter Wright's choreography, which was adapted by David Bintley for the production that came last year to the Royal Albert Hall. A shrunk production in numbers but not in spirit, and John Macfarlane's painterly designs, assisted by Nina Dunn's video projection, are fabulous.
The camera steps through a picture frame into the orchestra pit, where Paul Murphy leads the Royal Ballet Sinfonia performing Tchaikovsky's score in Rowland Lee's arrangement. The curtain opens and we are in a grand nineteenth century square, where two boys are pulling a sledge and throwing snowballs. The scene is set. Grandmother slips on the icy path, and suddenly we are in a grand drawing room—the magic of cinema.
But, it's not a busy crowded party. Drosselmeyer (Jonathan Payn) in glorious cloak and his assistant (Kit Holder) liven up proceedings, but Fritz has only one friend to share his fun, there are only three couples in addition to Clara's parents (what a dazzling red couture gown and necklace on her mother), a couple of servants, and three cadets. Grandparents give Fritz a pack of soldiers and Clara gets ballet shoes. It seems she is a ballet student and her mother a former ballerina.
There are clockwork rats, and lovely dancing from Karla Doorbar's sweet Clara and superb partnering from cadet Max Maslen. Entertainment is provided by the Sugar Plum Fairy Doll (Momoko Hirata), a Nutcracker Doll (Gus Payne), presaging what is to come in act two, and Tzu-Chao Chou is perfect as Jack-in-the-Box. I wonder if his springy, coil-pleated trouser design is influenced by Oskar Schlemmer's Triadische Ballett. I'm quite taken with both his performance and costume.
Four soldiers and Fritz fight with six rats and Rat King, the repaired Nutcracker comes to life, snow falls, twelve snowflakes under the command of the Snow Fairy twirl beautifully, and four Winds whisk the couple off to a misty dreamland, the Kingdom of Sweets. King Rat and two tiny rats follow, but who are all these masked mannequins? Ah, we are in Drosselmeyer's Nuremberg workshop; they are his automata.
A miscellany of dances follows: four Mirlitons dance with Jack-in-the-Box, three Russians leap, two Chinese tumble, three Spaniards sizzle, and isn't that Clara's mother (Eilish Small doubling) being carried like Cleopatra by four Arabs? The little rats are carted off, and King Rat is put in a cage. Phew. Finally we come to the grand pas de deux from the Sugar Plum Fairy and her Prince (César Morales). Fine, delicate dancing, but larger-than-life personalities are needed to burst through the screen.
It must be nerve-wracking as the camera can pick up the tiniest flaw, and I'm pleased to say the company is in fine fettle. The music crescendos, curtain call and silence… where's the applause? Don't TV comedy shows have fake laughter, or is this a thing of the past? They need applause; we the audience need to hear our demonstrative approval and pleasure. I also wish I were watching with my two little granddaughters.
This charming production makes me glad and it makes me sad. Glad to be able see a traditional Nutcracker—doubly glad as unfortunate circumstances made me pull out from reviewing The Royal Ballet's version at Covent Garden—to have a dose of Tchaikovsky's magical score and watch some glorious dancing up close. But, sad for the valiant dancers taking their bows to silence... That can't be right.
Presenter Shireenah Ingram hopes it's putting a smile on our faces. It does, as do the interesting interval interviews. This production is dedicated to Marion Tait, one of the interviewees, stepping down from her fifty-two years as assistant director. A wonderful dancer—three generations have seen her dance.
You can watch on demand from Saturday 19 December at 7:30PM through until midnight on Christmas Eve; tickets cost just £15 (worth every penny) and booking closes at midnight on Monday 21 December.
Reviewer: Vera Liber