The Nutcracker
Choreography and scenario by Peter Wright after Marius Petipa and Lev Ivanov / Music by Tchaikovsky
Royal Ballet
Royal Opera House
–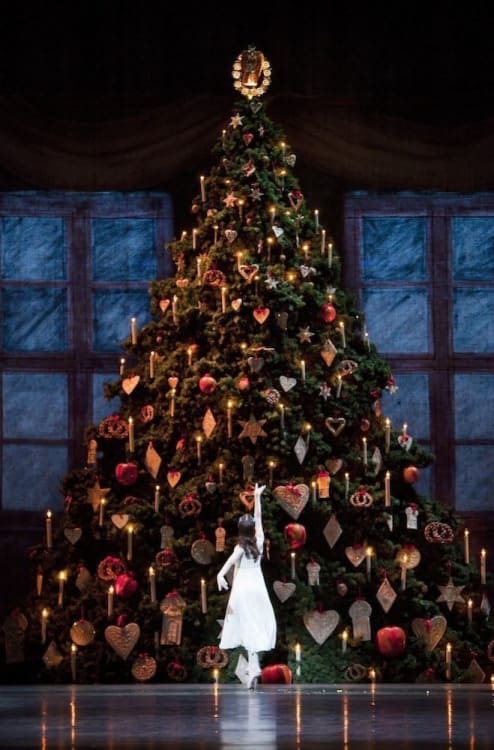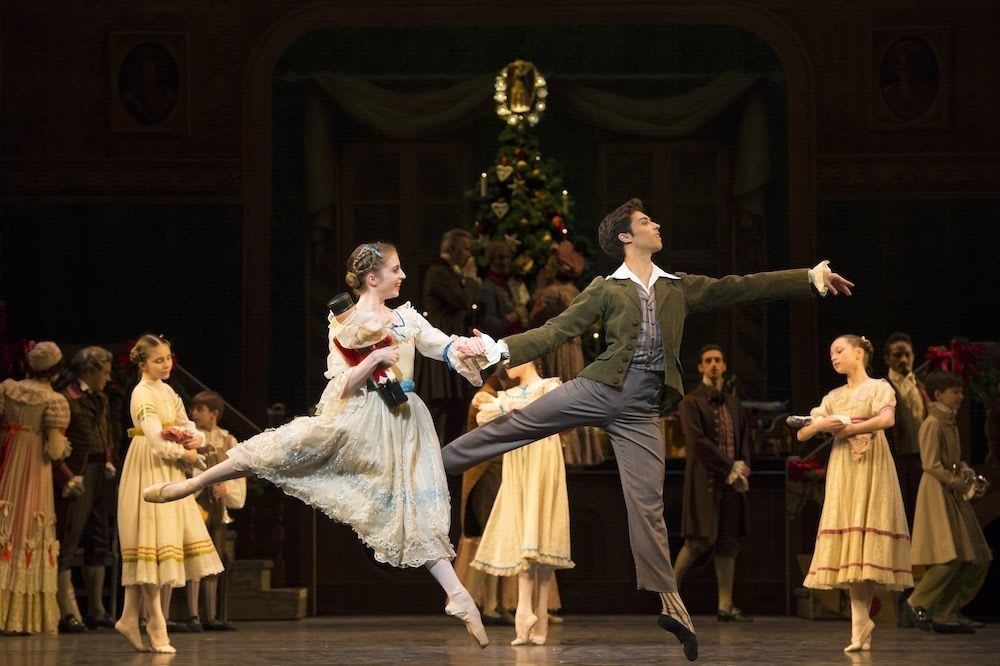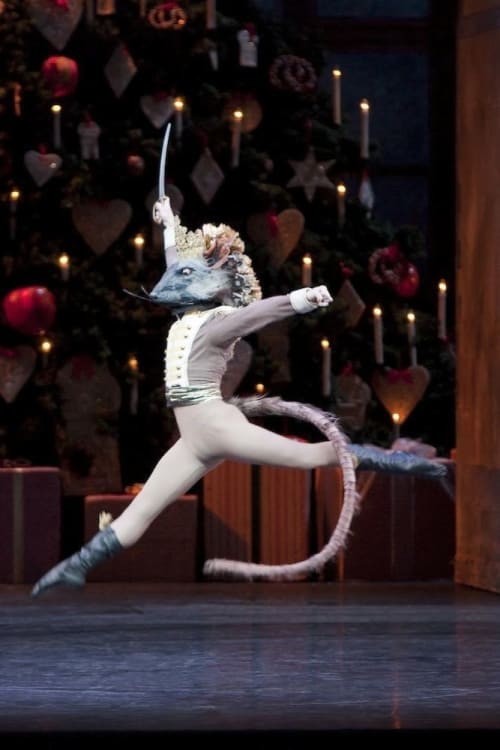 Even after a glut of Christmas treats, however many times one sees The Nutcracker in all its grandiose glory, its sense of special seasonal occasion never dims and Tchaikovsky's music never fails to impress with its instrumentation and orchestration, its attention to detail.
The Royal Opera House was buzzing on this thirteenth night in the sold out run of nineteen. Well-behaved children and their escorts, taking photos of each other in the glittering auditorium, infectious excitement was in the air.
The magic of ETA Hoffmann's supernatural tale, the sparkle of Peter Wright's production, now nearing three decades, the late Julia Trevelyan Oman cluttered period designs, and the two comfortable halves of fifty minutes each with a good half hour interval make for a very gemütlich night out.
The grand haute bourgeois Burgher home setting, the traditional lavish party with St Nicholas and his two devils rewarding good children with a scattering of sweets and presents, a doll's house, a toy fort, and a Christmas tree that grows and grows, with a treetop Nuremberg marzipan angel that comes to life and multiplies.
A little boy in my row was amazed at how the giant tree 'makes everyone seem so small'—there's a lesson in perspective. And time. The mysterious maker of mechanical toys and clocks, Herr Drosselmeyer, in Mozartian powdered wig, Romantic cloak, from which he pulls magic tricks and star dust, stops time for Clara, the eldest Stahlbaum child, and in the second act shows her the power of Romantic love, which will save his nephew from an evil spell cast by the Mouse King.
German Baroque with Rococo flourishes, Central European culture, Romantic Russian music, and Imperial dance sustain a children's ballet, in which adults can have a Proustian madeleine moment, too.
My madeleine moment was Alina Cojocaru now dancing the Sugar Plum Fairy with Johan Kobborg, as in real life, her Prince partner. I remember her a decade ago dancing Clara with a heart-stopping delicacy. Cojocaru is not a showy dancer, but a lyrical one, not one who relies on technique, but whose face reveals her soul, and her body the music's mystery.
The young Clara and her Nutcracker tonight are a partnership that looks very promising: Soloist Emma Maguire and First Soloist Alexander Campbell, recently seen in Jerome Robbins's In the Night.
Looked after by an avuncular Christopher Saunders as Clara's godfather Drosselmeyer, they are taken to the Kingdom of Sweets via the Land of Snow. Saunders, a great Dr Stahlbaum, and Gary Avis, a more sinister dynamic Drosselmeyer, seem to have swopped roles.
Dry ice, a golden sleigh, angels lighting the way through the snowflakes, they alight in a silver and gold Sanssouci palace, where Mirlitons play and Flowers dance, where fiery Spanish, inscrutable Arabian, tumbling Chinese, and leaping Russian dancers entertain them. James Hay and Paul Kay dance the Trepak with aplomb, whilst Melissa Hamilton is deliciously supple in the exotic Arabian.
Some timeless midnight hour this is. Fifty minutes of dance and mime. The Nutcracker tells his story in mime that even very young (5+) children will understand, and both he and Clara get to join in the dance. We can only dance with them in spirit, and the spirit so wants to dance.
Dance is love, as is the music, tugging at body and soul, its melodies so familiar yet so rewarding in each re-appraisal. Koen Kessels and the Royal Ballet Sinfonia get a well-deserved loud curtain call cheer.
Fabulous dance and innocent love break the spell and Drosselmeyer's beloved nephew is returned to him safe and sound. He and Clara meet in passing, a flicker of some past memory crossing their faces.
What are the chances they will meet again? Clara fingers the necklace the Sugar Plum Fairy gave her. She still has it. Not everything we dream about disappears.
And the Russian Orthodox Christmas is still to come: Christmas Eve January 6th. So, a Happy Christmas and a Joyous New Year from the Royal Ballet's fairy dusted Nutcracker straddling the old and new years.
Reviewer: Vera Liber