The Oberon Anthology of Contemporary French Plays
Edited and Translated by Chris Campbell
Oberon Books
Released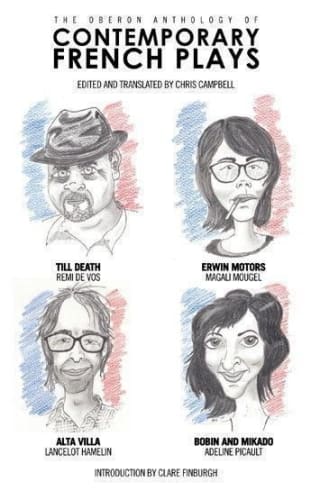 This varied volume will immediately bring home to readers the insularity of the British theatrical community.
While we are clearly familiar with home-grown plays and work from some other English-speaking countries, particularly Ireland and the United States, very little work comes over from the continent and even seasoned theatregoers might struggle to name any current French playwrights apart from Yasmina Reza.
Therefore, this fresh venture by Oberon Books, which owes much to the dedication and skill of translator Chris Campbell, is a welcome opportunity to get a brief taste of what is making waves on the far side of the channel.
Till Death by Remi De Vos
The opening piece is an unexpected pleasure. Till Death is a black farce that is both unsettling and extremely funny.
Its premise is simple enough. Following his grandmother's death at the age of 92, Simon makes the first visit to his mother Madeleine in a decade or more.
Their incipient hatred is soon apparent and is exacerbated by the appearance of one of Simon's old flames, Anne.
The comedy is generated when the young pairing begin to get a little friendly and, in what is hardly an excess of passion, drop and break the urn containing grandma's ashes.
The remainder of the play follows their attempts to cover up this heinous crime from unbending Madeleine.
Erwin Motors by Magali Mougel
The French economy seems to be faring little better than our own, judging by the subject matter of Erwin Motors.
It features the interactions between nightshift worker Cécile, who is desperate to keep her job at the titular company's factory, and a trio of others.
The bane of the young woman's life is her manager Talzberg, whose interest in her performance and well-being is suspiciously unhealthy. His encouragement also ironically diminishes her output, threatening the worker's livelihood but also possibly that of a company whose long-term presence might require a transfer lock, stock and barrel to Poland.
Cécile's husband begins to kick up a fuss about her nocturnal activities and ever-increasing workload, eventually taking issue with the factory superintendent, a woman who takes no prisoners.
This is a fascinating, small-scale exploration of interpersonal relationships but also economic imperatives in France, which almost certainly mirror those in much of the rest of Western Europe.
Alta Villa by Lancelot Hamelin
Alta Villa is the least penetrable of the plays in this volume. It is structured like a film or TV show and follows the fortunes of the owner of a bar/hotel, his two sons, one of their girlfriends and an assortment of often eccentric personalities.
The father is a harsh, unpleasant man whose life may have been changed irreparably by a spell with the Army in Algeria.
The sons could hardly be further apart in terms of personality, Frank seeming to be a chip off the old block but Manu a simple soul, possibly with a mental age that might have stopped somewhere in the early teen years or even before.
The play depicts a series of incidents, the most significant of which is triggered by the friendship between Frank's girlfriend Faïza and the new waiter Karim.
There are also a gang of renegade Turks, a hunter and a woodcutter to ensure that this poetic work is packed with incident.
Quite what the intended message might be could be open to interpretation, although the difficulties that African immigrants still find when coming to France is an important theme.
Bobin and Mikado by Adeline Picault
The final play in the collection is a dark, Gallic love story about the oddest of ménages a trois.
Bobin is the kind of impossible beauty who is compared with Marilyn Monroe, Audrey Hepburn and Brigitte Bardot. As such, she inevitably turns every head in every bar, including that of muscular theatre director Mikado.
Much of the drama is injected by the narration of Bobin's husband Jim, who appears to be in the kind of relationship where he does little more than rent a portion of the lady's love, body and heart.
However, as so often in these situations, when she is seduced by Mikado, Jim suffers terribly. The play then follows the consequences of the new relationship, which can be painful for all concerned.
Reviewer: Philip Fisher