The Old Man and the Old Moon
PigPen Theatre
PigPen Theatre
The Gym at Judson, New York
–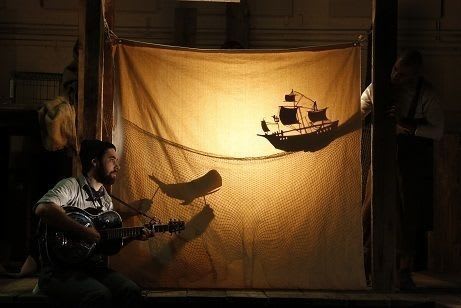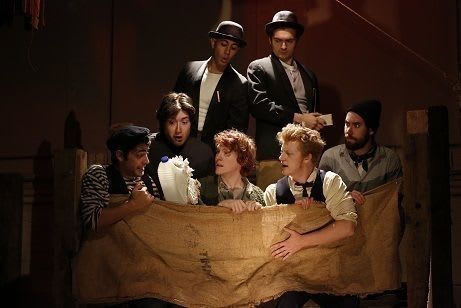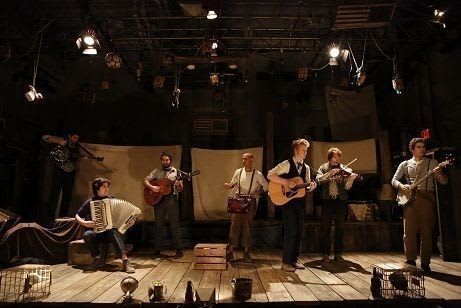 PigPen is a new company comprising seven young men, all recently graduated from Carnegie Mellon University.
Nobody could fault them for their enterprise or imagination, which is the source of innumerable concepts that come together in this romantic modern folktale or fable.
The pre-opening could win awards on its own, as the group proves that not only can they write and act but also make up a classy folk / country band with every member an instrumentalist as well as singer. As the show progresses through its 2½ hours, this talent is brought into use repeatedly to accompany the storytelling.
The variety of approaches utilised becomes both the ensemble's greatest strength and weakness.
It really scores as they use a rich selection of techniques to tell what is intrinsically a simple story. In addition to narration and dialogue, there is puppetry and superb shadow play, which at one point becomes quite unsettling, so well is it done. There is also song and comedy and all of the performers are so likeable.
The presentation can be atmospheric with a carefully constructed wooden set, sheets strewn around for the silhouettes and lighting that is often consists of no more than flashlights shone from odd angles.
This all helps to advance a story announced as being without beginning or end, with its protagonists, an old man and an old woman with Irish accents, suggesting the tale's provenance.
The drama starts when the latter deserts her husband of uncounted decades, leading to a picaresque adventure that actually threatens our planet.
That is because this old man, played by young Ryan Melia, just happens to be the one who refills the moon whenever it leaks. Once he neglects his duties, the consequences are predictable and almost biblical: darkness, tidal waves and disappearing stars.
The old man himself suffers from a series of dream- or nightmare-like experiences until equilibrium can be re-established.
The whole experience is charming and intermittently far more but doesn't come off nearly as well as it should have.
It comes as no surprise to see that the show is credited with no director. This is the kind of brilliant mind dump that would have benefitted from its own old man to prune and steer it towards much greater lucidity and directness, cutting scenes that merely seem to be present to demonstrate someone's virtuosity or try out an idea rather than advance or illuminate the plot.
This is a very talented group who work really well as a unit and from whom we are likely to hear much more. Before that, it would be good for them to meet a strong director or dramaturg.
Reviewer: Philip Fisher