The Oresteia
Aeschylus
Shakespeare's Globe Theatre
–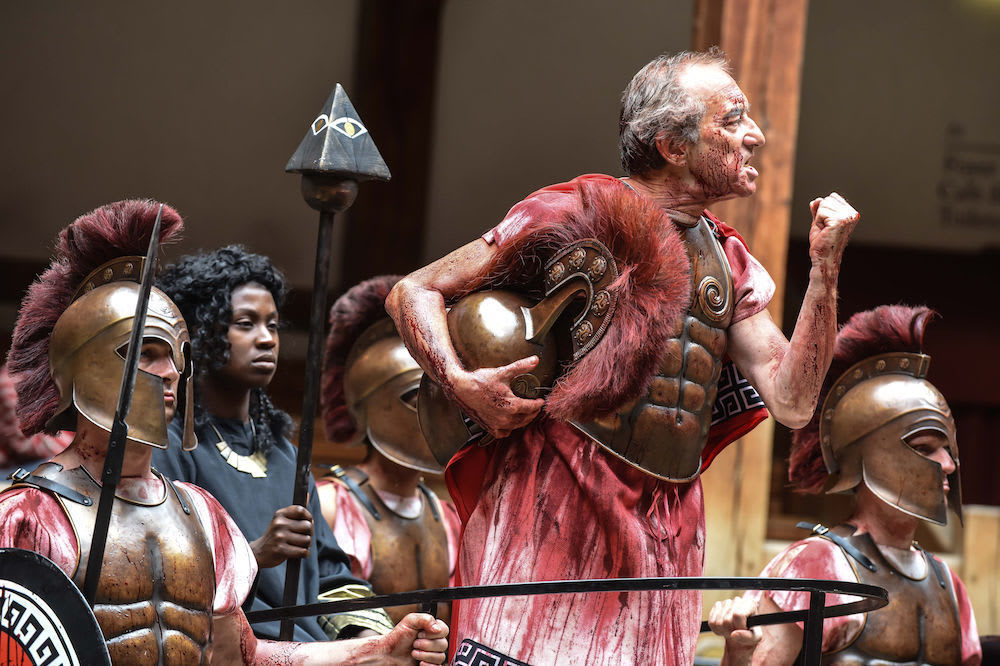 When you went to the theatre in Ancient Greece, you would see three plays followed by a satyr play. The Greek audiences had stamina.
Aeschylus won first prize for his Oresteia in Athens in 458BC. The audience would already know the story and would want to see his interpretation.
Agamemnnon, you will remember, sacrifices Iphegnia for a favourable wind to take his war ships to Troy. In his absence, his wife, Clytemnestra, takes a lover, Aegisthus. On his return from the wars, she murders him. Her son, Orestes, murders her on the corpse of her lover.
How is this nightmare cycle of murder and revenge to end? Orestes, pursued by the Furies, takes his case to the highest court in the land, presided over by the goddess Athena who casts her vote in his favour. She argues that matricide is not as serious as patricide; and who, in Ancient Greece, would disagree with that?
There are now two radical versions of Aeschylus'' trilogy running in London at the same time, and they are radically different.
If I have to make a choice between the two productions, Adele Thomas''s production at Shakespeare's Globe is the one I prefer. I prefer it because in Rory Mullarkey''s adaptation you get the Chorus, the Furies and Aegisthus.
In Robert Icke''s version at Trafalgar Studios, which he also directed and which was originally seen at the Almeida, they have been cut.
Katy Stephens''s Clytemnestra is splendid and especially when she is expressing her utter contempt for Agamemnon, when he returns from the Trojan War after a 10-year absence.
She is not a woman to be mucked around with. She has already driven poor Aegisthus (Trevor Fox) to drink and presumes that if she reminds Orestes that she is his mum and bares the breast that gave him milk that he won''t murder her.
How little does she know her son! Orestes (Joel MacCormack) is not the sort of guy to shirk his duty.
The Chorus, in modern dress, is particularly effective, vocally and musically. Nanna Agyel-Ampadu''s mad Cassandra gets quite operatic.
The three plays last two-and-a-half hours and that includes two intervals, a doddle by Ancient Greece standards. Adele Thomas''s production of the first two plays is one of the best things I have seen at Shakespeare's Globe.
The third play is notably weaker. The Furies, who pursue Orestes, overdo it terribly. They look absolutely bonkers. They would not be out of place in a zombie film. Athena''s diction is frankly just not good enough.
In the curtain call, paying acknowledgement to the satyr plays of old, an enormous phallus is brought on and paraded with pride through the audience by the cast, much to the delight of the groundlings who haven''t seen a giant penis—on stage that is.
The last time I saw a giant penis on stage was in 1968 in Peter Brook''s production of Seneca''s Oedipus at the Old Vic with John Gielgud in the title role. Actress Coral Browne's audible comment from the stalls—""Nobody we know, dear""–—has passed into theatrical legend.
Reviewer: Robert Tanitch