The Painkiller
Francis Veber, Adapted by Sean Foley
The Kenneth Branagh Company
Garrick Theatre
–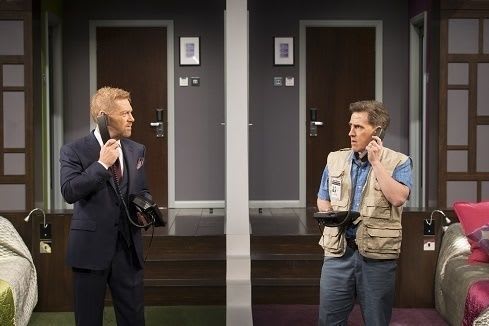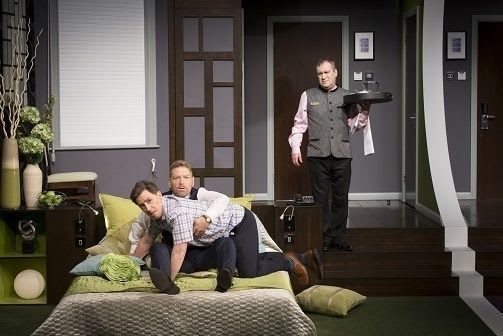 The Painkiller, first seen in this version at the Lyric Belfast in 2011, is an implausible frothy French farce, transported by director/adaptor Sean Foley to London.
Its main draw cards will undoubtedly be the unlikely pairing of classical actor Sir Kenneth Branagh and comedian Rob Brydon, who respectively portray a ruthless hitman and a sad, suicidal Welsh loser thrown together by circumstance.
The duo meets in a hotel, as dignitaries are arriving for a major event over the road. They are seen simultaneously in matching rooms, thanks to Alice Power's cleverly conceived set.
Sir Kenneth's Ralph (aka John Smith) is attempting to shoot an unidentified mark, while his next door neighbour, Brydon as Brian Dudley, is trying to do something similar but with a press camera rather than a precision rifle.
Having been welcomed by Mark Hadfield having great fun as a comical Porter, they are thrown together by events, when Brydon's irritating Brian ineffectually tries to kill himself, forcing Ralph to show a semblance of compassionate interest, if only to get on with his job.
Whining Brian, the kind of hapless character played by Norman Wisdom in so many films, causes such a fuss that his ex-wife, Claudie Blakley as upwardly mobile Michelle, is obliged to make an appearance and beg him to leave her alone.
By the time that she arrives on the scene, Michelle has already been foreshadowed by her new man, a neurotic and confused psychiatrist called Dent, played by Alex McQueen, complete with oversized and over-used hypodermic syringe.
It is not easy to see why such a lightweight piece has been included in the inaugural season of the Kenneth Branagh Company, although the man himself clearly has fun tottering drunkenly around. However, too often mad antics are required to cover a thin plot and dialogue that struggles to sustain a sub-90-minute running time.
The two stars inhabit their roles well though, one playing a confident man of the world frustrated by both his new friend and circumstance, the other taking on the role of an unfortunate who is completely unable to see the distress and annoyance that his own unhappiness causes. In particular, Brydon manages to avoid taking things too far over the top when the temptation to do so must have been great.
The evening is intermittently extremely funny but viewers will have to accept some extended longueurs between the comic peaks for this to be regarded as a great night out.
Reviewer: Philip Fisher