The Play What I Wrote
Hamish McColl, Sean Foley and of course Eddie Braben
David Pugh and Theatre Royal Bath Productions in association with Birmingham Repertory Theatre
The Lowry
–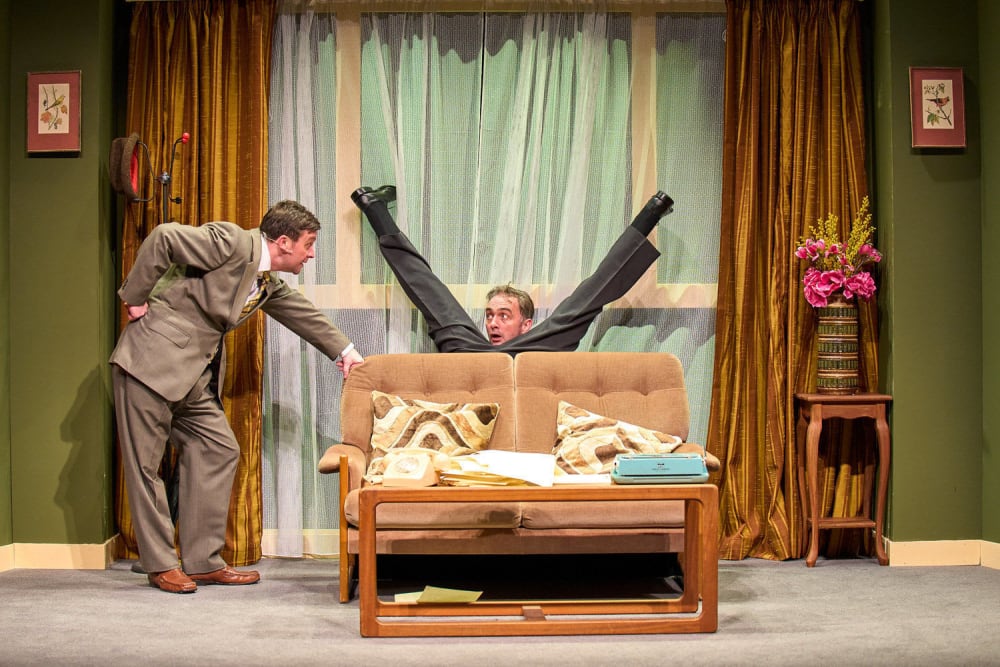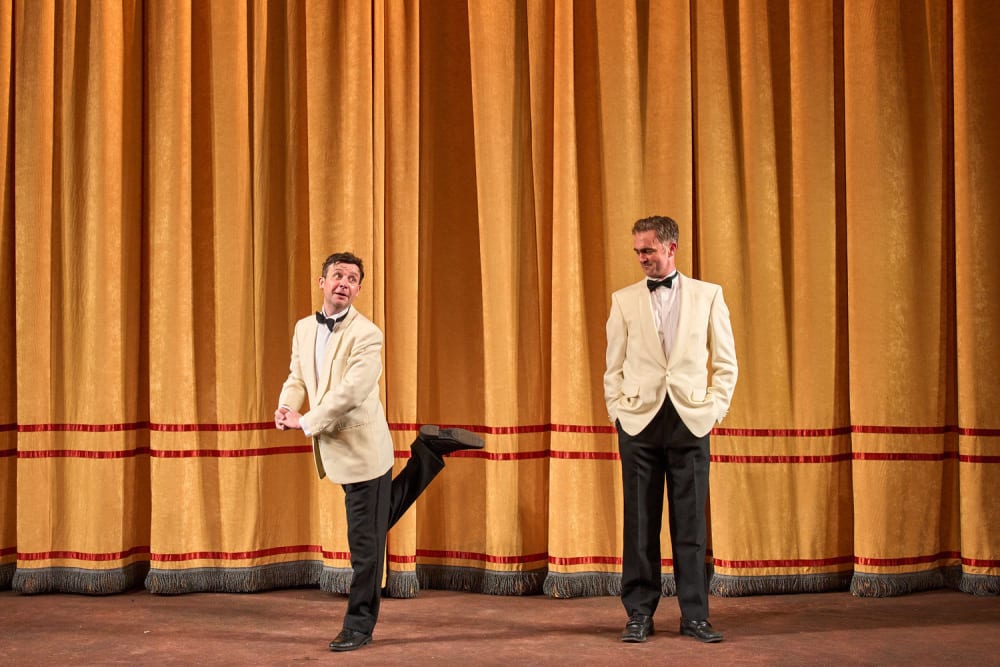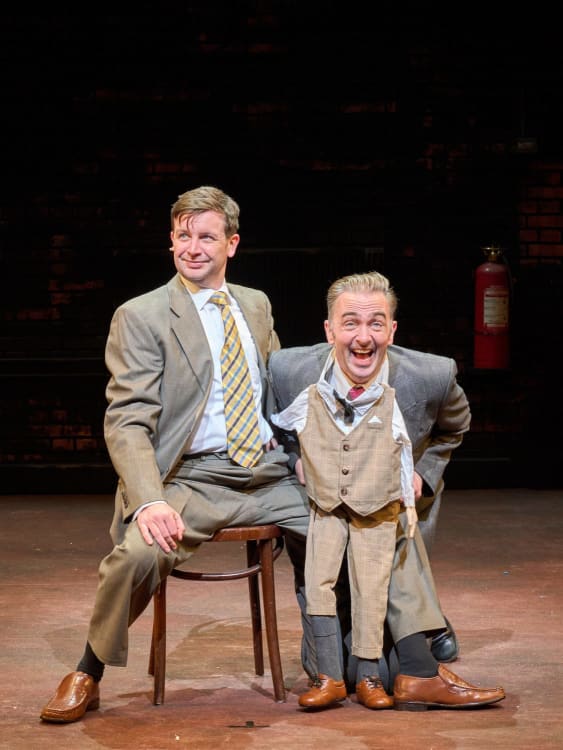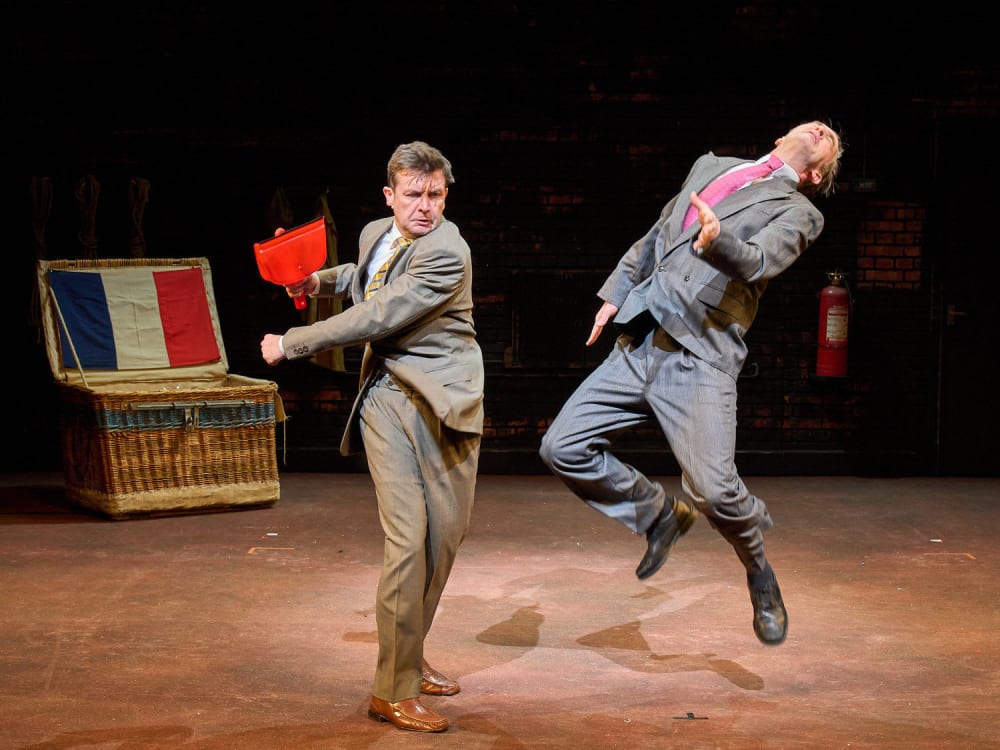 It was more than twenty years ago when I saw Sean Foley and Hamish McColl, aka The Right Size, open this new show at Liverpool Playhouse. At that time, Toby Jones joined them, not as the surprise guest star but as the dogsbody playing all the other roles (I'd seen his father, Freddy Jones, starring with the duo in Bewilderness at The Lowry not long before). I'd been a fan since seeing Do You Come Here Often? on the Edinburgh Fringe, still probably the funniest and most inventive thing I've ever seen on stage.
The show came to The Lowry on a previous tour in 2003 with Ben Keaton, Joseph Alessi and Toby Sedgwick. For this revival, Foley has taken over as director (Kenneth Branagh directed the original) and Sean and Hamish are now Dennis and Thom: Dennis Herdman and Thom Tuck. Mitesh Soni is Dennis's electrician mate Arthur who has to pretend to be everyone else, including producer David Pugh, a quite disturbing Scarlett Johansson and a rather frisky dog, but all he really wants to do is play his harmonica on stage for his old mum.
We have been lured to the theatre with the promise of a show about Morecambe and Wise, but Dennis has told Thom that producer David Pugh is interested in performing a French Revolution play 'what he wrote' called A Tight Squeeze for the Scarlet Pimple starring Sir Ian McKellen, but Sir Ian is still in the pub. (Didn't Filter say the same when he wasn't in their Midsummer Night's Dream? He seems to have a reputation for this.)
So the first half of the show is about Thom refusing to do a Morecambe and Wise show through scenes that have lines and routines from Morecambe and Wise scripts cleverly woven through them, courtesy of the famous duo's great comedy writer Eddie Braben, who worked with Foley and McColl on the original show (and apparently insisted on being paid per gag for his new jokes) but died in 2013. Thom is also upset that Dennis gets all the laughs—a common complaint, I believe, of the 'straight man' in a double act.
A flashback takes us into a living room set exactly like the one they used on TV; Dennis enters at one point in a brown overall jacket carrying a shopping bag; the front curtain is yellow with red stripes across it; and of course there is the trick with the paper bag and occasional cries of "Arsenal", which probably mean nothing to a lot of the younger members of the audience. Then of course there's the terrible play in act 2 with a guest star made to look a fool and a final scene of them in bed together, before a finale in top hat and tails on the white steps singing "Bring Me Sunshine".
There is another Morecambe and Wise show touring at the moment which just recreates famous sketches and routines, and does it very well, but this is something more. There is the nostalgia for older audiences—especially those of us who were among the astonishing 28.8 million who watched their 1977 Christmas show—with moments where they laugh at the memory more than the humour, there are the Sunshine Boys disputes of the long-time double act and there is plenty of great comedy, from the madcap to the clever wordplay, that still works for those in the audience who were born long after Eric's death in 1984. The final bedroom scene is actually quite moving.
Not everything works perfectly; there are lulls in some scenes where the comedy is mistimed or just doesn't work quite as well as it did for Morecambe and Wise—or for Foley and McColl. To be honest, it took a little while for me to warm to this particular duo during their silly opening routines (and the harsh sound on the mics didn't help), but once they get going, they do make the material their own and get the laughs from the audience—and Soni is exhausting but impressive to watch as Arthur etc.
We weren't told to keep the guest star secret, but if you don't want to know, look away now: it was Charles Dance, who had the deadpan gravitas and a great actor's voice, but he said when he first came on that he hadn't played much comedy, and sometimes it showed.
This is a great fun night out with lots of laughs for all the family that gives audiences a bit more than a 'tribute' or impressions show while still bringing the essence of the greatness of Eric and Ernie. But after this discussion of keeping double acts together, I'd love to see a reunion of Sean and Hamish—perhaps trapped in a bathroom for 26 years?
Reviewer: David Chadderton