The Plough and the Stars
Sean O'Casey
Abbey Theatre, Dublin
Lyric Hammersmith
–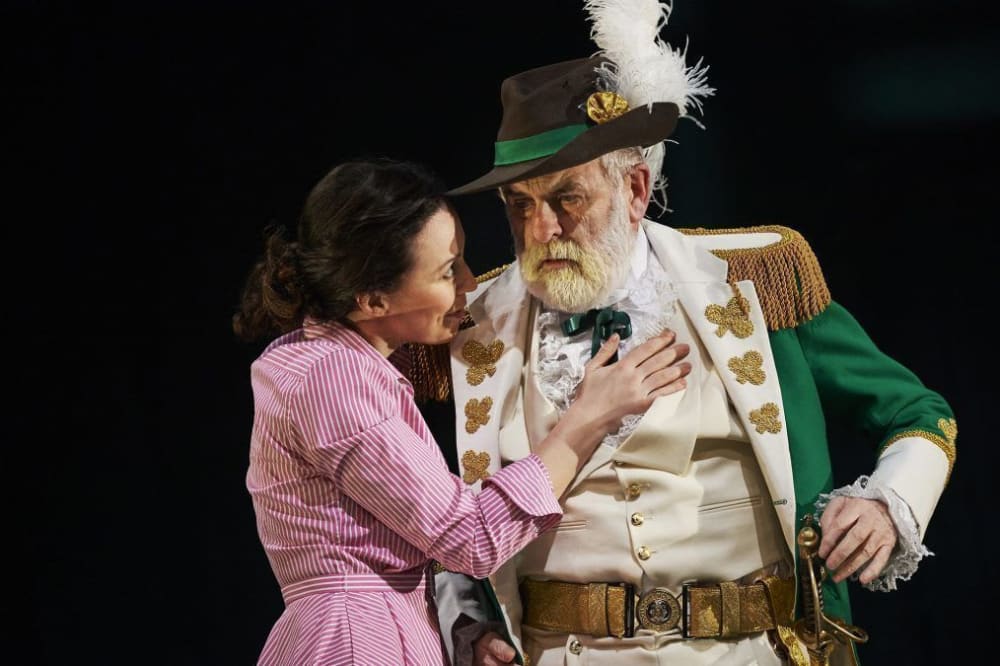 It has taken a couple of years, but one of the Abbey Theatre in Dublin's many productions commemorating the centenary of the Easter Rising of 1916 has crossed the Irish Sea for a run at the home theatre of its director Sean Holmes.
Since Holmes is one of the most enthusiastic advocates of modernising classics and then adding a harsh, non-naturalistic veneer, it comes as no surprise to find a most unorthodox reading of the final play in Sean O'Casey's classic Dublin Trilogy.
Rather than a traditional, dilapidated tenement, designer John Bausor uses a minimal collection of props in a space that looks suspiciously like a rehearsal room but does introduce a three-storey scaffolding structure, which becomes integral. With the exception of soldiers from both the Citizens Army and its British oppressors, the characters are dressed in 21st century leisure gear, looking incongruous in a story that has very specific time and place. The only spectacle is introduced when Niall Buggy's veteran Peter puts on his carefully maintained dress uniform in ceremonial sword to great comical effect.
The 2½-hour evening opens with a striking prologue in which Julie Maguire playing Mollser in a Manchester United jersey but symbolising the whole Irish nation starts to sing before showing obvious and quite distressing symptoms of the latter stages of consumption.
The first two acts are then almost entirely filled with domestic arguments. Whether it is the impressive Kate Stanley Brennan as Nora Clitheroe begging husband Jack to look after her rather than going off to fight the British who are trying to suppress his revolutionary comrades or bickering neighbours, nobody in this Dublin tenement is ever happy.
This allows plenty of scope for good character actors to thrive. Hilda Fay as Bessie Burgess jousts with Janet Moran playing Cissie Gogan to great effect, as does Buggy having hissy fits as he is taunted by Ciarán O'Brien having great fun in the role of mischievous The Young Covey.
After the interval, civil war rages the gunfire gets closer while the comic working class stereotypes somehow acquire the cloak of heroism, enemies collaborating for the greater good and risking their own safety to help those with whom they had been at loggerheads hours before.
The Plough and the Stars is a great and almost perfectly constructed play. As such, one must question the need to re-construct it as a contemporary piece. While some of the relationships work well enough in this new guise, others are confused which might make life difficult for viewers who do not already know the play and this style of presentation takes away both atmosphere and coherence without offering any great insight in exchange.
Reviewer: Philip Fisher