The Promise
Alexei Arbuzov, translated by Ariadne Nicolaeff in a new version by Penelope Skinner
Donmar Warehouse
Trafalgar Studios
–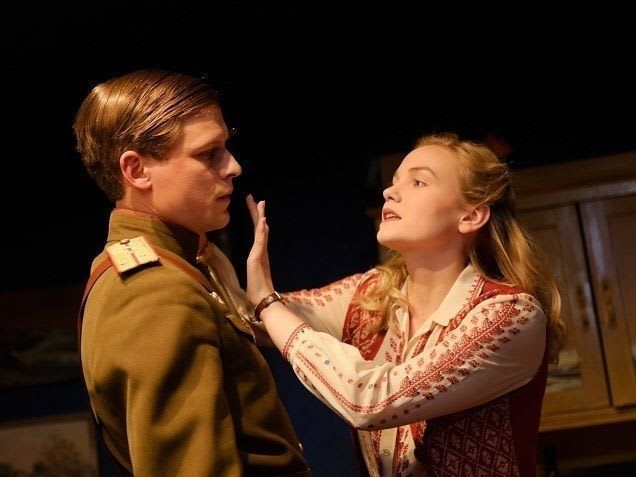 The Donmar Trafalgar Season has got off to an absolutely storming start with this deeply moving Russian tale of a wartime love triangle that strongly echoes Jules et Jim.
The Promise, which plays in the small thrust Studio 2, is unforgettable and has set the bar at an Olympian level for the other plays in the third season showcasing younger directors.
Josie Rourke has cleverly managed to bring together a gripping play that sounds grim but contains a surprising amount of humour. Originally written in 1965, the production benefits from a splendid new version from Penelope Skinner.
The text is then enhanced by Alex Sims's really sharp directing and exceptional performances from a trio of highly promising young actors.
The opening scenes take place in a depressingly dank, derelict, Mike Britton-designed flat during the Siege of Leningrad in the winter of 1942. So convincing is the design that you can almost smell the dampness and see the rats that must inevitably be residing in the once-comfortable apartment.
There, Joanna Vanderham's 15-year-old piano prodigy Lika barely staves off starvation and has to burn the furniture and books (except Turgenev), eventually doing much worse merely in order to survive.
She finds company in the form of the owners' son, Marat played by Max Bennett, and affection soon develops. However, before love has time to take its inevitable course, a new arrival appears in the shape of Gwilym Lee's almost dead Leonidik.
From that time on, an uncomfortable three-sided relationship develops which can never be satisfactorily resolved, even when the war ends.
After the interval, the play's clock moves forward to 1946, by which time Lika is elegant and well-fed and before too long her two men reappear, though Leonidik has by then lost an arm.
This is a time when hope of Stalinist communal happiness builds following the defeat of Hitler so that each can imagine fulfilling wartime dreams to become a pianist (or doctor), an engineer and a poet.
Once again, Lika is force to choose between her would-be husbands and viewers only discover whom she has married during the Soviet era thirteen years later, in the same flat.
As we realise, whenever Lika and one of the men are together in relative harmony the other will reappear to cause dissension, albeit unintentionally, and the same happens in The Promise's devastating final scene, which makes everyone both on- and off-stage re-evaluate all that has gone before.
This really is a splendid piece of writing that combines love and war in a truly meaningful and unforgettable fashion.
It marks out Alex Sims as a talented director and all three actors as future stars, with Joanna Vanderham perhaps primus inter pares in what turns into a superbly assured and winning stage debut.
Do not miss out on what deserves to be one of the hottest tickets in town.
Reviewer: Philip Fisher