The Prudes
Anthony Neilson
Royal Court Theatre
–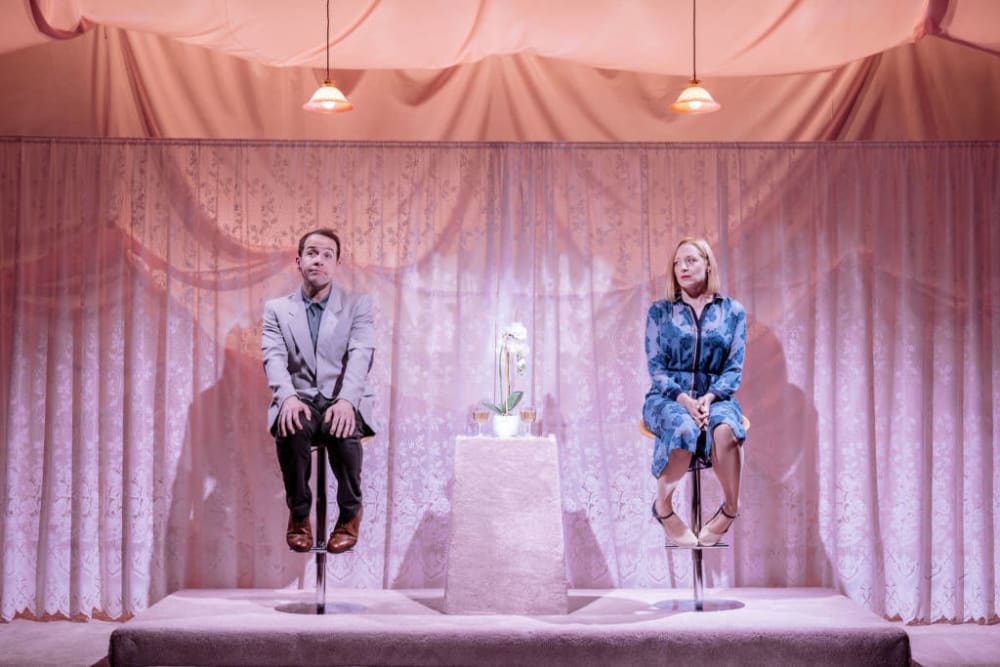 Over the last couple of decades, Scottish playwright Anthony Neilson has moved on from in-yer-face through dreamy fantasies and now landed in the world of devised theatre.
For his latest attempt at the genre, the writer-director has enlisted the assistance of actors Jonjo O'Neill and Sophie Russell to create Jimmy and Jess, an ordinary couple on the verge of middle age who are worried to distraction about sex, or the lack of it. They do so from stools and pillows in a thick-pile, well-cushioned boudoir that stretches to encompass the audience and has been lavishly designed by Fly Davis.
Given that the couple's last attempt at connubial bliss occurred 14 months and 4 days prior to this invitation to share their thoughts and feelings, the obsession with this tricky and potentially comical topic should not come as too much of a shock.
Initially, the well-spoken man and woman agonise about the subject at great length and relate a few unlikely tales from their shared past and before they met. While some of the sex acts might seem novel and extreme, the duo's own issues are predictably middle class and run of the mill.
There is a late attempt to inject some kind of depth and meaning via sad stories from personal history, but to some viewers these might feel bolted-on to what had previously come over as little more than a stand-up comedy double act.
The late appearances of uniforms more commonly worn by pornographic nurses and Wonder Women are unlikely to add much spice to those who are not turned on by such gear.
The performance largely misses its imagined purpose since the conversations do not even provoke a very serious debate about sexual politics, though this is an issue that is at least acknowledged at a surface level.
For the most part, what sets out to be daring and original comes across as far too close to a series of limp jokes (even given the one about Viagra) and well-worn clichés, partially masked by efforts to mimic the latest taboos.
Reviewer: Philip Fisher