The Quality of Mercy - Reflections on Shakespeare
Peter Brook
Nick Hern Books
Released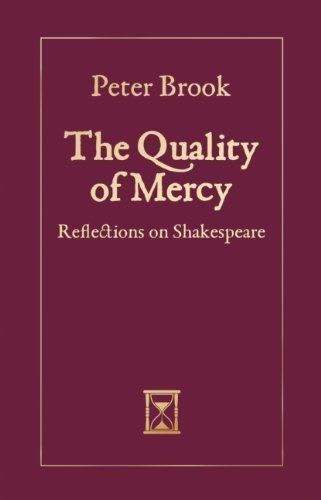 The Quality of Mercy—Reflections on Shakespeare may be a very slim volume but it makes up in quality for what it lacks in quantity.
For not far short of 70 years, Peter Brook has been at the very least one of the most significant theatre directors anywhere in the world. Therefore, his reflections on Shakespeare should be required reading for any aspiring young directors and actors but also all serious theatregoers.
The nice thing about Brook is that he is practical and has a good deal of common sense. This is well demonstrated in the first piece, debunking the industry that has been built around the proposition that the plays of Shakespeare are not really the plays of Shakespeare but those of somebody else. Queen Elizabeth, Christopher Marlowe (from the grave) or maybe Francis Bacon could just be the one amongst dozens of other pretenders to the throne?
By the end of 15 pages, few can doubt that these myths are no more than that.
Just as perceptive are thoughts on the best way of conveying Romeo and Juliet and Titus Andronicus to modern audiences despite the fact that when Brook came to look at them soon after the war, the former was too well-known and the latter believed to be too difficult and violent to stage.
Brook's production also featured the stormy pairing of Laurence Olivier and Vivien Leigh just as she was beginning her sad decline.
The chapter entitled "A Cook and a Concept" is also particularly strong, demonstrating Brook's conviction that productions should be developed organically rather than merely as a result of a director's whim which all too frequently has the effect of plotting out the original work that he or she is supposed to be bringing to the stage.
King Lear and A Midsummer Night's Dream also get the treatment, the latter particularly informative for those that did not have the good fortune to see what is generally regarded as one of the most innovative theatrical productions of the last century.
As one might expect, the writing is a model of clarity, the ideas challenging but sensible and therefore, although this delightful hardback is hardly weighty, it should be on every reader's bookshelf.
Reviewer: Philip Fisher