The Radicalisation of Bradley Manning
Tim Price
National Theatre Wales
Pleasance at St Thomas of Aquin's High School
–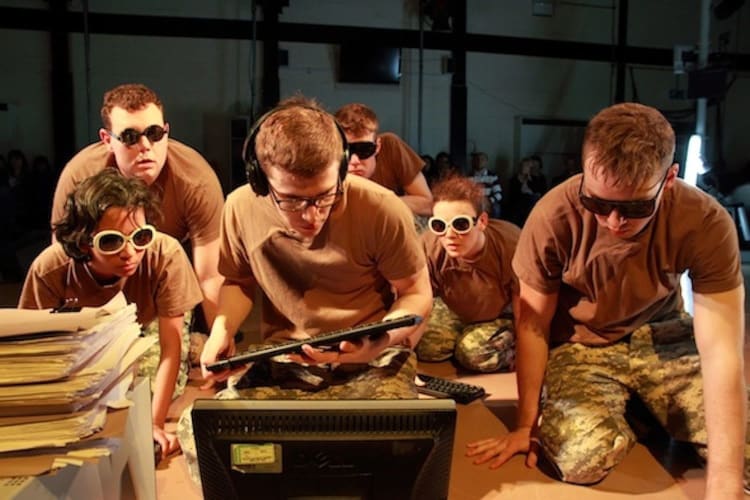 It is good to see National Theatre Wales playing outside the principality and Edinburgh comes at a good time for this play, since American soldier-turned-spy Bradley Manning has been in the news very recently.
Everybody now knows that the security expert passed incredible volumes of data to Wikileaks and now faces a lifetime in prison.
Tim Price's play seeks to understand what makes someone rebel against the establishment and risk permanent incarceration for a principle.
The Welsh connection comes through Bradley's mother, who hails from there and, after a separation, brought the lad across the Atlantic to complete his schooling.
Soon enough, the tiny, bespectacled Welshman with the American accent is bullied, though he also took on board his teacher's favoured examples of radicalism from the country's history.
School scenes are interleaved with those from army life at different periods. The common thread is bullying, the bright boy with a taste for computer programming facing degradation from comrades at every turn.
Though the links are not always fully proven, Bradley is eventually driven mad by his treatment as well as being frustrated about the injustices perpetrated in Iraq, eventually cracking and sharing military secrets with the world.
We may not yet know the final outcome of the legal case against Bradley Manning but after attending this 100-minute drama viewers will have a better understanding of his motivations.
This owes much to Tim Price's script and also John E McGrath's stylish, pacy production in which all six ensemble members play the protagonist at different times.
Reviewer: Philip Fisher