The Rage of Narcissus
Sergio Blanco, translated by Daniel Goldman
Tangram Theatre and the Pleasance
Pleasance Theatre (Main House)
–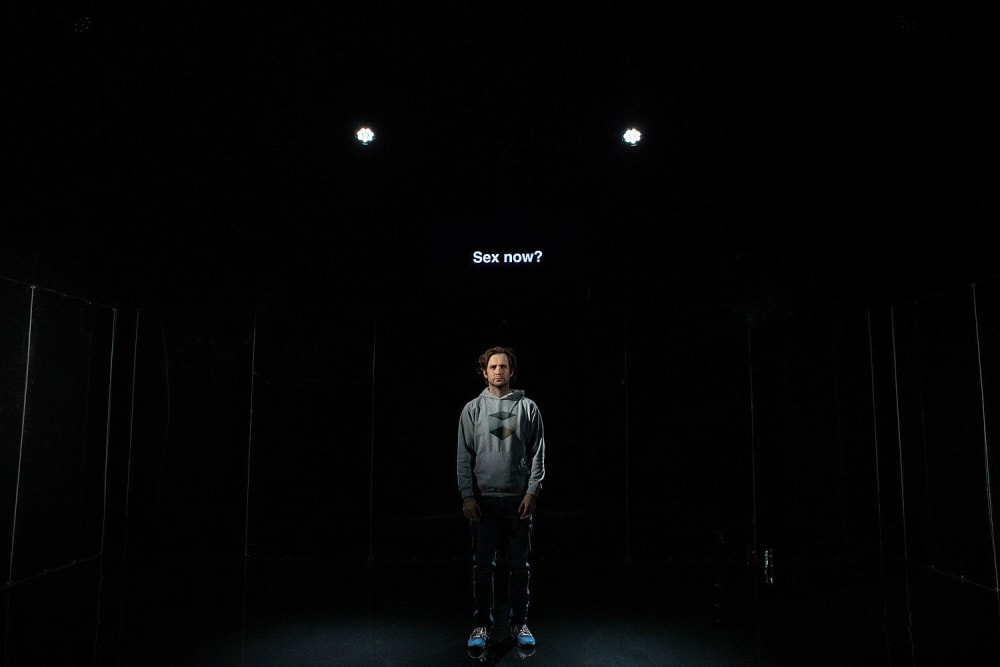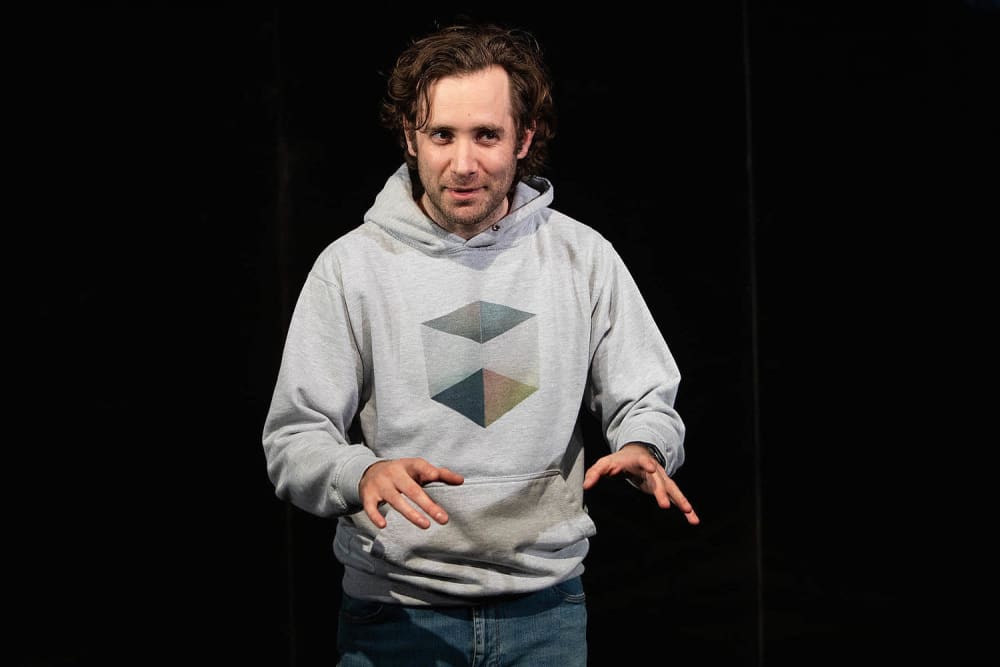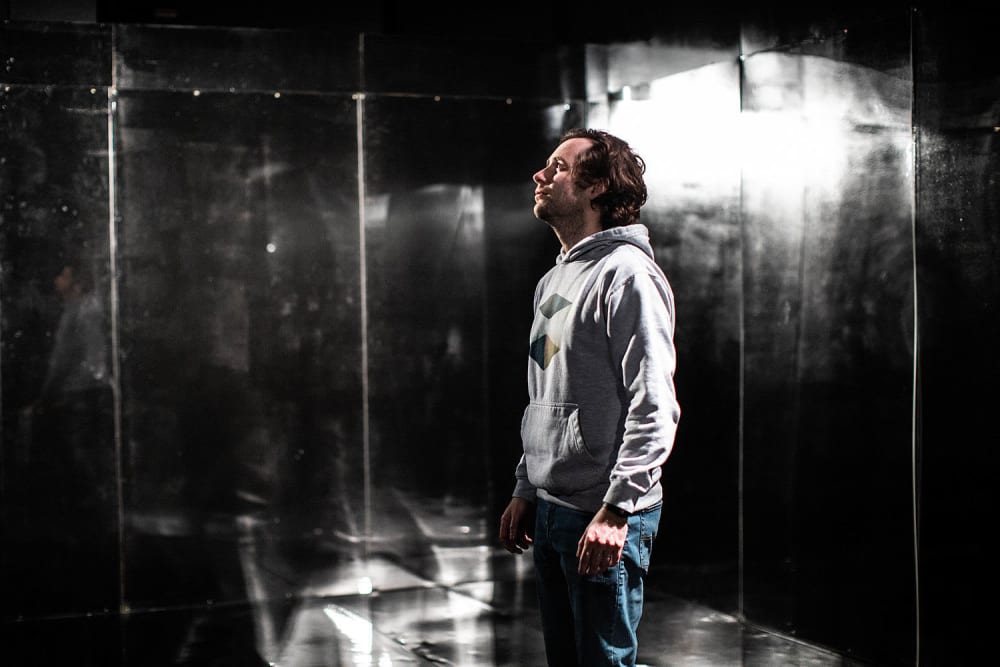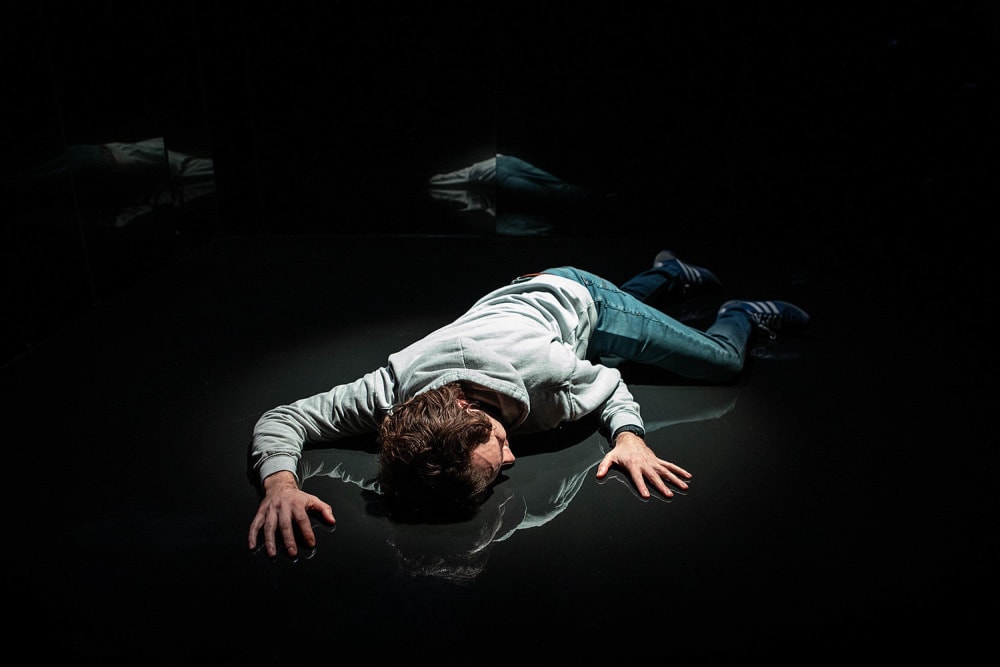 A youngish man is on stage waiting for the audience to assemble, perfectly presentable in a hooded tracksuit top. It is actor Sam Crane who is going to perform character Sam Crane performing Sergio Blanco in a solo piece that was written by a writer calling himself Sergio Blanco. It is a piece of what the dramatist calls auto-fiction. Maybe it happened to him but maybe it didn't.
It's an intriguing hypothetical situation. There's a Sergio Blanco on Wikipedia who is a Uruguayan footballer but a Google search also produces a Uruguayan dramatist born in Montevideo who has lived in France since 1998. He seems to have won prizes for his plays and been published in English translation by Oberon. Someone using the same name was credited with a play called Thebes Land that was on at the Arcola a few years back with Daniel Goldman credited as translator and director, just as is this one. We are being asked to question reality—and there is an extra twist: when leaving this British première, the audience are handed a credits sheet that says they've been watching a play called The Mammoth's Caress.
Before he starts being Sergio, Sam tells us how he got a phone call and an e-mail from Sergio who said he was in Ljubljana. He was there to give a talk on Narcissus at the University, that he is going to write a play for Sam inspired by this city.
Sam explains that this isn't a monologue or a soliloquy but a story; a tale that won't always be dramatic but rather very often narrative—and then narrates it as Sergio.
He tells us he's in room 228 in the City River Hotel, in Ljubljana. This room. The men here, he says, are amazing and tells how he opened a dating app, chose a man only 300 metres away and sent him a message. He came to the hotel.
After that first of his encounters with sexy 35-year-old Igor, Sergio slept; but says he woke at 2AM with a strange feeling. It was then he saw stains on the carpet, bloodstains.
I won't spoil things by telling you the details as Sergio prepares for his lecture and finds out what happened in this room, has more sex with Igor, is impressed by a mammoth in the Natural History Museum and delivers his paper on the Gaze of Narcissus.
Room 228 is represented by a reflective wall, while a video screen overhead adds occasional images, brief online exchanges and dialogues. Natalie Johnson's design and Richard Williamson's lighting help to make the audience part of the story. A Bach cello suite and Kieran Lucas's sound design heighten and contrast with what happens. It is a pared-back presentation that is precisely managed, script, production and Sam Crane's beautifully modulated performance holding the attention for a full ninety minutes.
As the mystery gradually gets explanation, you may make a good guess at where it is going but when its forty numbered scenes have reached their grizzly conclusion there's an epilogue, another twist to the story in a play that is often poetic and witty as well as intriguing theatre.
Reviewer: Howard Loxton