Thebes Land
Sergio Blanco, translated and adapted by Daniel Goldman
CASA Latin American Theatre Festival
Arcola Theatre
–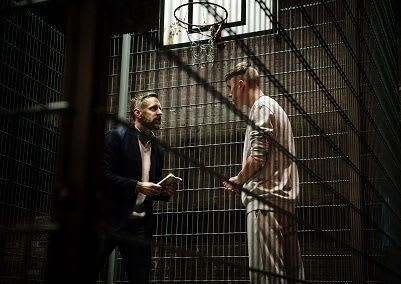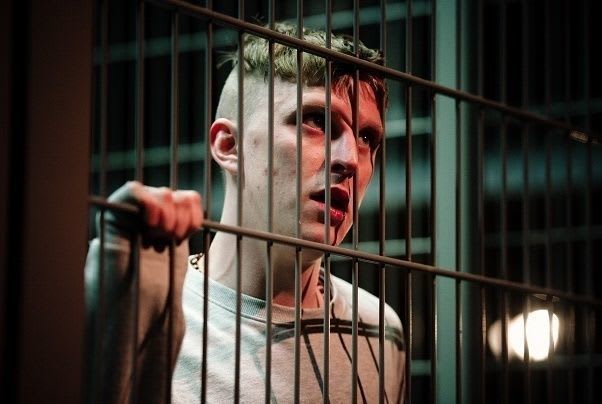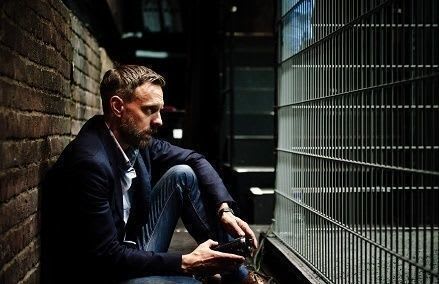 This two-hander by Franco-Uruguayan playwright Sergio Blanco, adapted and directed by Daniel Goldman for CASA Latin American Theatre Festival, might either be a piercing piece of in-your-face biography or a cleverly-constructed fiction.
Those watching it without purchasing the programme/script can decide for themselves which is the more likely source of the material.
Either way, Thebes Land is a fascinating, edgy and intense drama that looks into the soul of a patricidal killer but extends into the mind of the writer and beyond.
As introduced in a relaxed, jokey fashion, it has been written by Canadian actor Trevor White and then pitched to the Arcola. His idea was to carry out a series of interviews in Belmarsh Prison with convicted murderer Martin Santos and then ask the young man to represent his life on stage.
Happily, from the outset, the Ministry of Justice was on board, as long as security in the theatre is heightened. However, perhaps predictably, its representatives eventually reverse that decision, thus protecting society and, at the same time, saving the taxpayer what would have been a considerable outlay.
Therefore, we literally witness Martin relating a modern horror story, which details the abuse that he suffered at the hands of an evil father and then, completely silencing the audience such that the proverbial pin would sound deafening, chillingly recreating the 21 blows with a kitchen fork that end the mental torment.
Readers might spot echoes of Roberto Zucco by French playwright Bernard-Marie Koltès but this is a finely written and original drama that attempts to go further than merely anatomise the act of patricidal and identify its underlying causes.
Before long, we are informed that the basketballing inmate in the 9-foot-high cage is not Martin but an actor, Freddie. Now, we can watch and appreciate Alex Austin's skill, switching effortlessly between roles so effectively that there is never a doubt as to which part he is playing.
Blanco, through Trevor, also seeks to educate not only the barely literate lifer but also visitors to the Arcola, littering the text with literary and other artistic allusions, the most obvious references being to the myth of Oedipus, who suffered a similar fate in Thebes, and The Brothers Karamazov.
By the end, not only has Trevor tamed and befriended the beast, he has deconstructed his own work and given the audience a real insight into the mindset of the kind of man that they would normally only see or hear about during reports of a court appearance or tacky, fly-on-the-wall TV drama.
Whether Thebes Land is a documentary or a work of fiction, it has the power and intelligence to make for compulsive, if guiltily voyeuristic viewing as well as potentially shining a light on the injustice of imprisoning for life those who commit a single offence under the most extreme provocation.
Reviewer: Philip Fisher