The Recruiting Officer
George Farquhar
Donmar Warehouse
–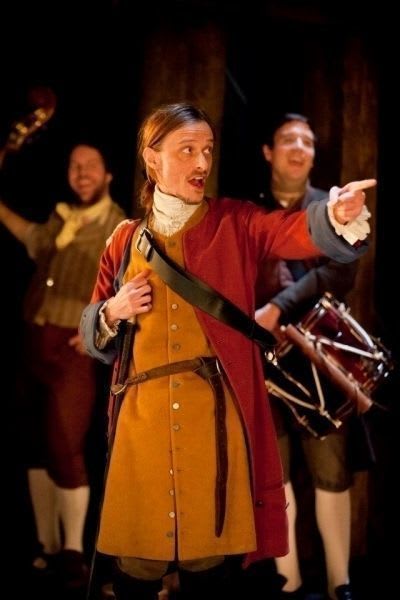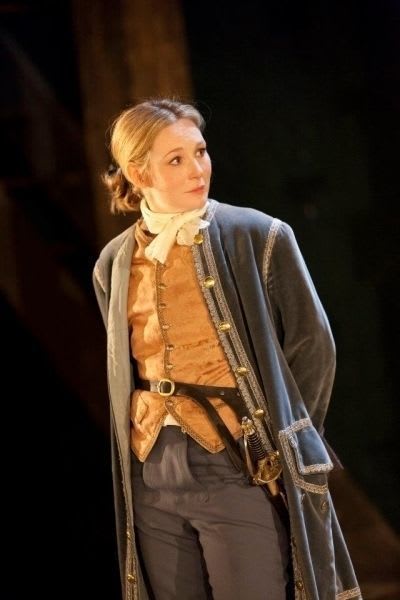 This was undoubtedly the biggest night of Josie Rourke's professional life and she came through it with flying colours. It cannot be easy to follow Michael Grandage and Sam Mendes, two of the best directors of the last decade and more, but if The Recruiting Officer is a sign of things to come, the Donmar is in safe hands.
The effort that has gone into ensuring the success and accessibility of this production is apparent from the start. With assistance from designer Lucy Osborne, the space has been taken back 300 years with wooden stage, fittings and ceiling complimented by period costumes and candles galore. The effect is that of a compact, indoor version of the Globe.
A lively five-piece band is the next adornment and throughout the evening they play a stream of traditional English songs with folk roots, composed and arranged by Michael Bruce, as well as playing supporting parts.
Having set the scene and mood, the players appear led by a piratical Mackenzie Crook as Sergeant Kite, the polygamous, rascally Recruiting Officer intent on pressing as many good folk of Shrewsbury as he can, by fair means or foul.
This self-professed "man of honour" draws inspiration from his mentor, handsome Tobias Menzies wryly portraying Captain Plume, an officer with an eye for the ladies and apparently a babe in every town that the troop visits.
Plume has set his cap for the richest heiress in town, the demure Sylvia, deliciously played by Nancy Carroll, always a delight in breeches roles.
Their bumpy path to true love is mirrored by their closest friends, nervy, melancholy Worthy and haughty, comically self-important, Melinda respectively played by Nicholas Burns and Rachel Sterling in imperious Grande Dame mode.
Help and hindrance come in equal measure from Mark Gatiss playing Captain Brazen the foppiest of fops who is also after Melinda, Kathryn Drysdale as saucy Lucy her maid and Gawn Grainger who makes the most of his role playing Sylvia's gulled father, the eccentric Justice Balance.
The bare bones of the plot provide great entertainment but so much care has been lavished on this production that it becomes a continuous joy, with witty flourishes injected on a constant basis.
Possibly the highlight is a scene where Kite transforms himself into a German fortune teller with Shakespearean echoes, creating mayhem and hilarity as he advances the plot towards the inevitably happy denouement.
George Farquhar, an Irishman who died aged only 30 the year after this play appeared, is all too rarely performed but anyone exhilarated by the pleasures of these 2½ hours will be keen to see more. That also goes for the Donmar, where the future holds such great promise under new management.
Beg, steal or borrow a ticket as, being the Donmar, it is a racing certainty that the only people able to buy one after opening night are fans of long stints in returns queues.
Reviewer: Philip Fisher