The Red Lion
Patrick Marber
Dorfman Theatre (National Theatre)
–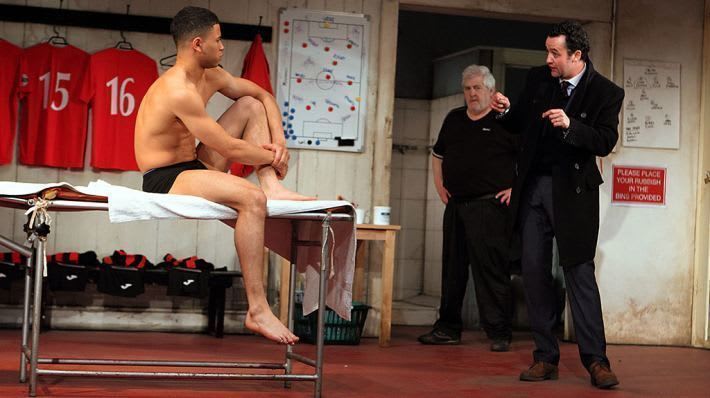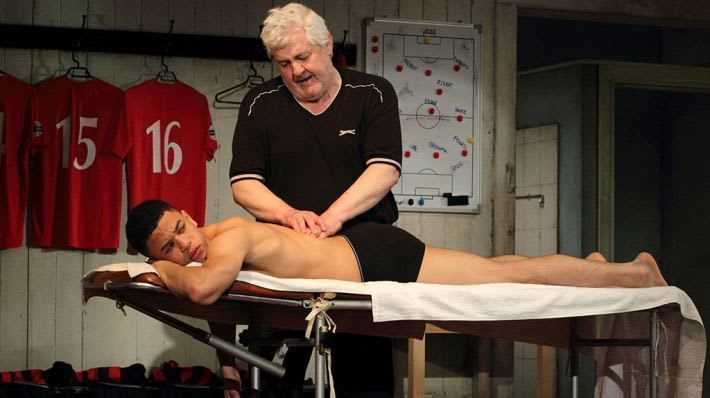 The Red Lion is ostensibly a comedy with darker overtones about a non-league football team striving for promotion.
With its concentration on three individuals, who each represent almost caricatured stereotypes, it is also something of a study of human nature.
Some might additionally see a metaphor for our heavily commercialised times or representation of the Wonga generation in the struggles of those represented on stage.
For 2½ hours, the action moves no further than the shabby home team dressing room at the unnamed semi-professional club.
There, we witness a series of conversations involving the eclectic trio who have little in common except an obsession with what at this level is probably very long way from "the beautiful game" adored by the media and the nation.
The catalyst for the drama is the discovery of a potential star, Calvin Demba as Jordan. It is love at first sight for his two fellows, who see talent shining and instantly visualise how they might benefit from association with it.
Daniel Mays is opinionated, thirty-something manager Jim, whose life is at an unfortunate crossroads, having recently been deserted by his wife and small children.
The reasons become obvious when we observe his obsessive behaviour, depicted with great energy and commitment by the performer.
The manic qualities are compounded by a streak of innate dishonesty that does not bode well for his future and immediately it becomes apparent that Jim's interest in the youngster is unhealthily connected with his own ailing bank balance.
More altruistic is old timer and club dogsbody, John. Giving a fine performance, Peter Wight plays the voluntary kit man so much in love with a club that he supported as a child and played for in the (relative) glory days that he literally has The Red Lion of its badge tattooed over his heart. It is his life.
His angle on the potential prodigy is an opportunity to rejuvenate vicariously and help what he sees as a damaged soul.
Patrick Marber injects some memorable one-liners into Ian Rickson's production and the actors balance humour with an innate sense that these people are sacrificing their lives for a few minutes of fun on a Saturday afternoon rather than doing something more valuable and rewarding.
There are some contrivances and extremities of character required to get the plot of this small-scale drama to its poignant ending. Even so, football fans are bound to love The Red Lion and agnostics might enjoy the interactions too, even if they find the motivations baffling.
One wonders whether some enterprising playwright might try creating a similar piece set in the dressing room at Manchester United rather than Nobody United, where the issues (and financial considerations) would be magnified a million fold.
Reviewer: Philip Fisher