The Red Shoes
Directed and choreographed by Matthew Bourne, music Bernard Herrmann, design Lez Brotherston
New Adventures
Sadler's Wells
–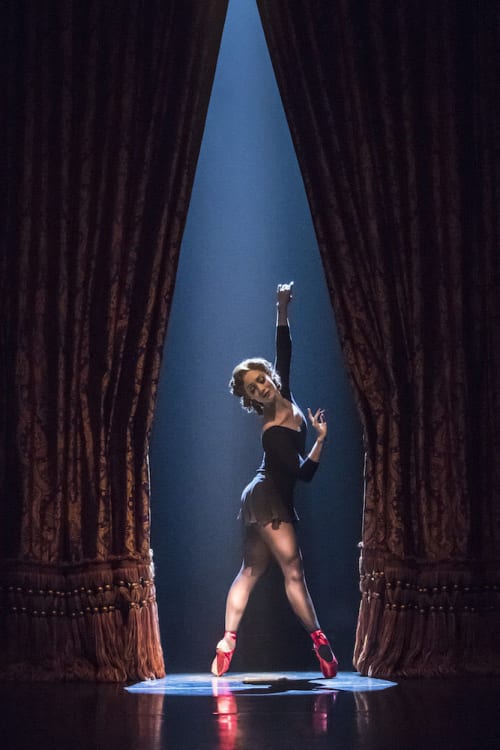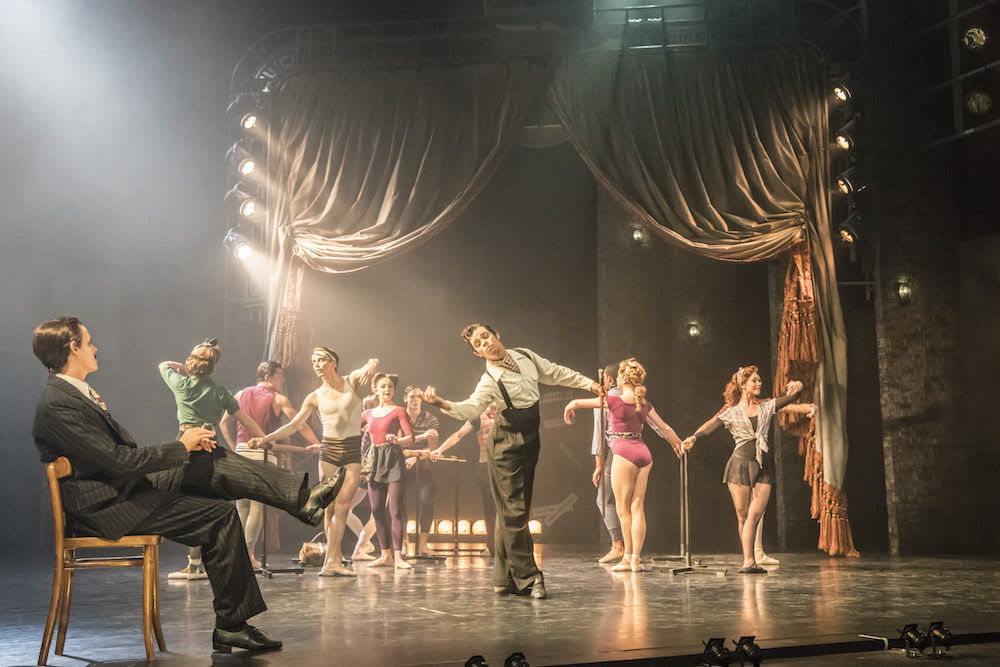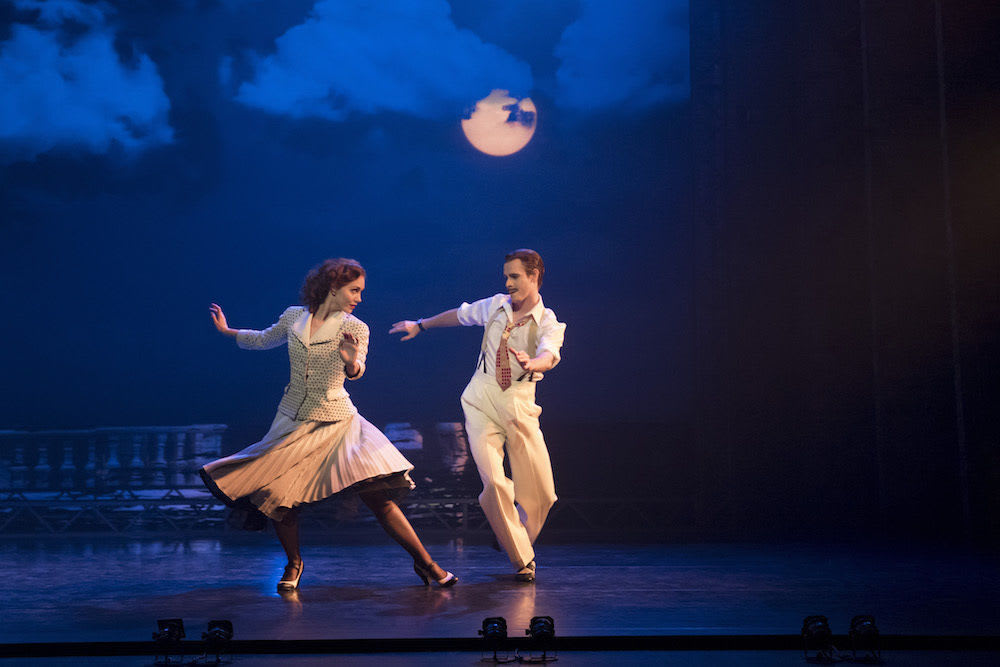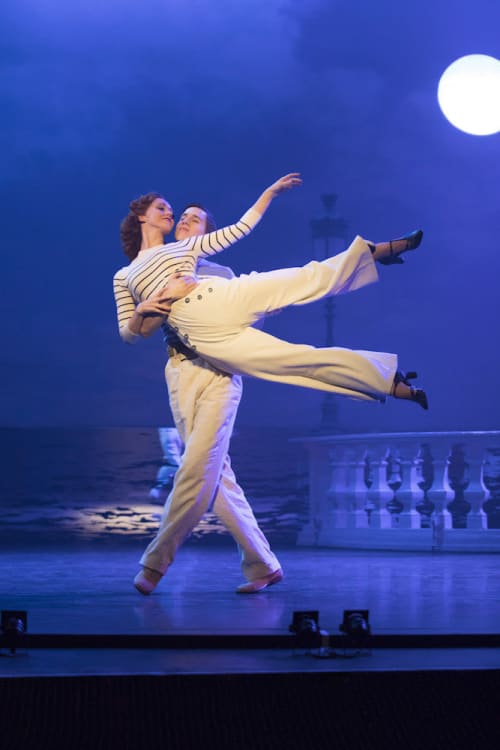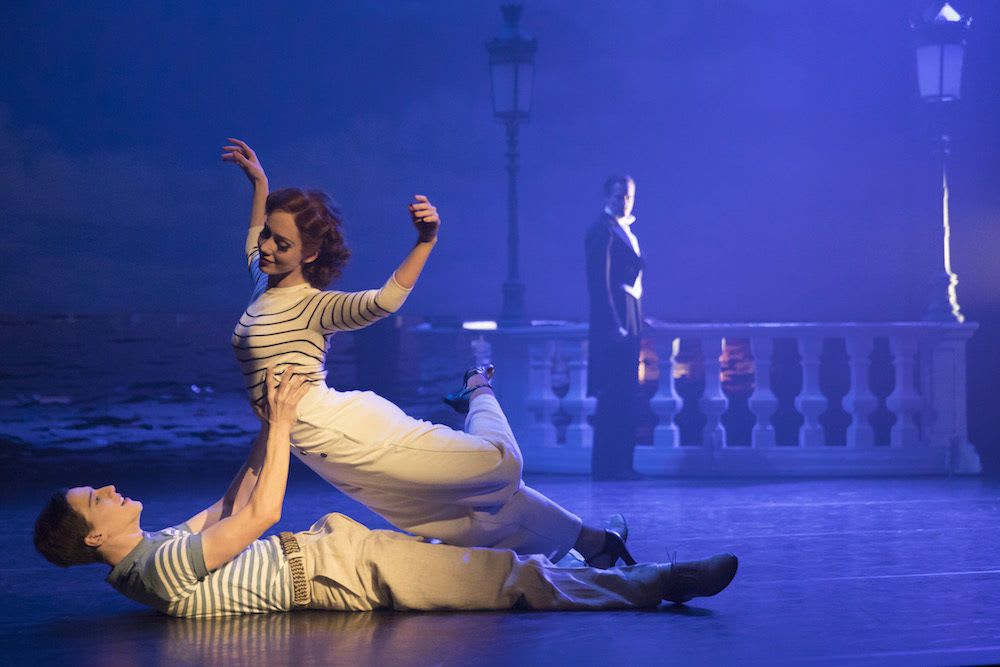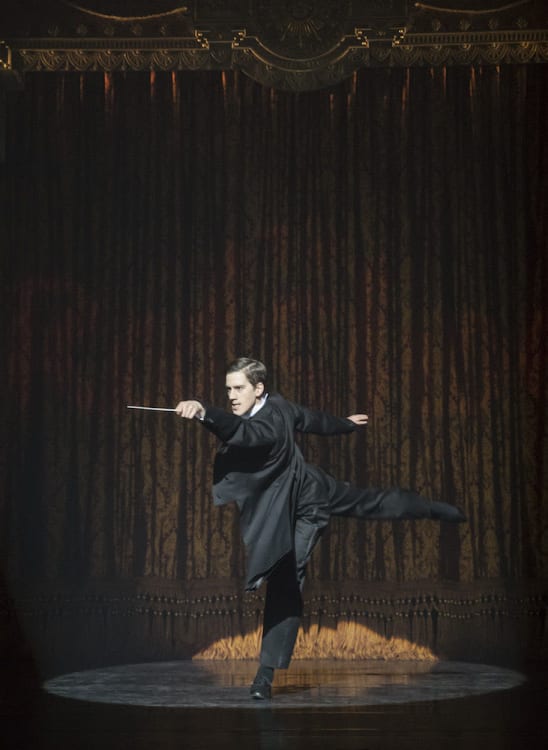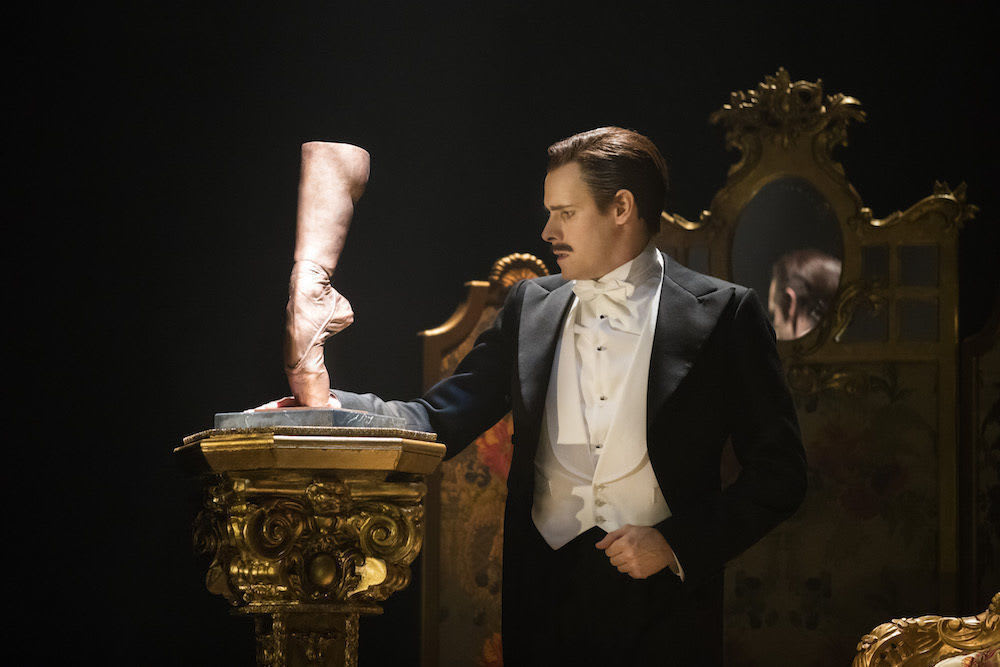 Michael Powell and Emeric Pressburger's film about the theatrical world of ballet is given back to the theatre in Matthew Bourne's new, highly anticipated production of The Red Shoes, apparently twenty years in the brewing. And I have mixed feelings about it.
Dancing is good, storyline clear, there's no programme synopsis so it has to be, and Lez Brotherston's costumes and set are dazzling—the stars of the show. The dominant proscenium arch stage curtain that swivels and turns, rides back and forth, changing scenes and stage settings, reminds me of Yuri Lyubimov's conceptual sweeping curtain, a player in his English Hamlet staged in London in 1989.
My mistake is to have renewed acquaintance with the film the night before: I envy those who are seeing this production untainted. What I see are children playing at adults hamming it up, pale copies of the larger than life characters on screen, in a story about the destructive nature of diabolical possession in a production done with love by a man steeped in musical drama movies. And Hermes Pan influences?
But what Bourne does so well is run with the Diaghilev Nijinsky story of impresario and protégé. Svengali Lermontov (I've often wondered whether this name choice was a deliberately ironic reference to nineteenth century Russian writer Lermontov's most famous work, Hero of Our Time) discovers a new dancer, Vicky Page, at her aunt's soirée (an excuse for some fab gowns, long cigarette holders, very Oscar Wilde). He gives her the lead in a new ballet, The Red Shoes.
She meets its composer Julian Craster, and they soon marry, which causes their expulsion from the company. Exactly parallel to Diaghilev's piqued response to Nijinsky's marriage. If you married in the Ballets Russes Company, you were out. Diaghilev/Lermontov knows exactly what revenge he is exacting. Life or death is the only choice.
Vicky and Julian are reduced to performing in a music hall (Bourne has some fun with that) in the East End of London (Nijinsky at the variety Palace Theatre—he said he'd never stoop to it—and his attempt was a failure). Lermontov (Sam Archer) watches. Diaghilev also came to see Nijinsky's fall. Vicky in shabby bedsit in town looks at her red ballet shoes and longs to be back on the Riviera—captions tell us in Monte Carlo and Villefranche-sur-Mer.
Who wouldn't… Party on the beach with big bouncing beach balls reminds me of Bourne's earlier witty pieces, which will be back at Sadler's Wells in April next year. A moonlit night of love on the hotel balcony (Ashley Shaw and Dominic North in lovely duet), glamorous evenings, applause, renown, the stuff of life for one who lives to dance (Vicky), or lives to see it done well (Lermontov).
Torn between love for Julian and love for Lermontov's world, she makes the decision to return—those red ballet shoes lead her on as in the fantasy ballet within a ballet till she can dance no more. She pays the price with her life: life imitates art. Headlights blinding, a train steams straight on into view…
Imitating and re-gilding with his signature musical theatre tropes, Bourne and his creative team have done their research—for the balletomane clues abound, not just in the names. Backstage life is brought amusingly to life, the prima donna Irina Boronskaja (Michela Meazza excellent), her partner Ivan Boleslawsky (Liam Mower outstanding, the hit of the evening for me), ballet master Ljubov / the devil in disguise (Léonide Massine a shoemaker in the film), the corps, the hustle and bustle.
A portrait of Karsavina in The Firebird dominates Lady Neston's drawing room; extracts of ballets performed are a pastiche of Les Sylphides, others seem to be the 1924 Le Train Bleu with a nod to Coco Chanel beachwear designs, and Massine's Mercure; Brotherston brings in Cocteau's drawings for the stage curtain in France. (Villefranche–sur-Mer has a chapel decorated by Cocteau.)
Diaghilev's 1909-1929 world of art era is recaptured with some wonderful markers and additions, but Anderson's shoemaker is transposed into sleazy Chicago gangster cabaret club owner (Glenn Graham) in a red-striped suit, red-braces, white streaks at the temples. Amusing though they might be, the club scenes outstay their welcome for me.
A nod no doubt to Hollywood to match the Terry Davies orchestrated musical score by prolific Bernard Herrmann, Alfred Hitchcock's favourite composer until they fell out. A weave of a score played live by the New Adventures Orchestra: I think I hear Vertigo, but I'm wrong, it's his music from the dystopian 1966 film Fahrenheit 451 with extracts from The Ghost and Mrs Muir and more. Herrmann called himself a neo-romantic: Bourne might fit that bill, too.
There is much to unpick, so praises to all who worked on this mosaic homage to a film. Jack Cardiff's magical Daliesque cinematography is, of course, impossible to replicate on stage: on film Vicky floats over a surreal landscape; on stage she is earthbound in a storybook monochrome back projection on a white series of flats (looking very like the white architecture of the Cocteau Museum in Menton).
Bourne's New Adventures has a huge fan base—I hear it's almost sold out, the show that hinges on a bit of Powell and Pressburger, a bit of Hans Christian Anderson, and a lot of Matthew Bourne: The Red Shoes is cast-iron critic-proof.
Reviewer: Vera Liber