The Resistible Rise of Arturo Ui
Bertolt Brecht, in a new adaptation by Bruce Norris
Donmar Warehouse
–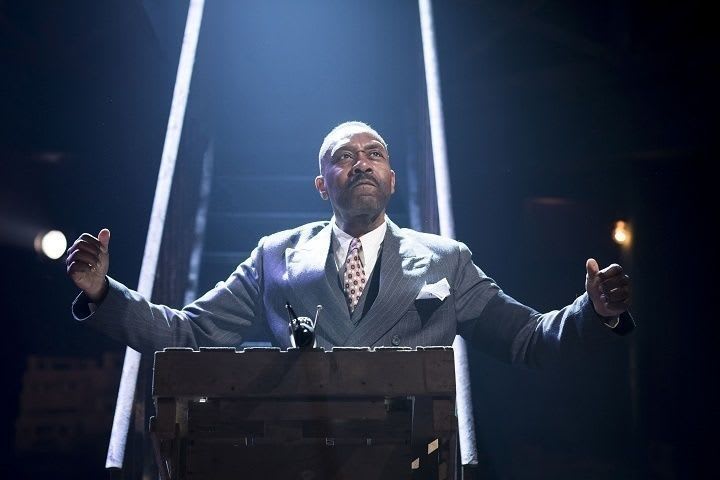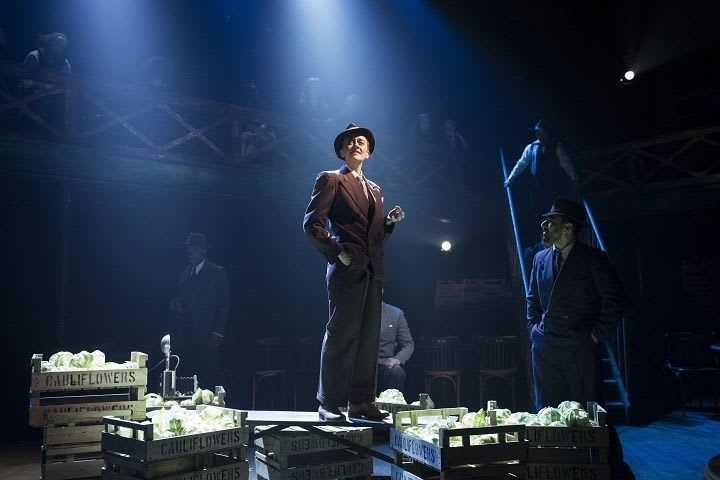 While the play might be set in Chicago, there is no doubt that Bertolt Brecht had in mind a specific model for his all-conquering gangster.
Typically, Arturo Ui is depicted as a short, bumptious man with a distinctive cow lick of hair and toothbrush moustache. It goes without saying that he is also appropriately Aryan.
Although still set post-Depression USA in the early 1930s, this slangy, modern and irrepressibly lively adaptation by Bruce Norris, a hot American playwright with Chicago connections, utilises a fine ensemble directed by Simon Evans and turns all expectations upside down.
Lenny Henry may be seriously talented and developing a successful stage career to accompany his work on the small screen but nobody could accuse the actor of being Aryan. Despite this potential limitation, he has been given the title role, turning Ui into a very different character from the norm but not necessarily from the persona that Brecht originally created.
The protagonist starts out the evening looking like a punch-drunk prize-fighter who has probably never seen better days. However, a gift for violence and low-level political strategising, supported by a team of fearsome but dedicated hoodlums with a talent for unsubtle assassination, marks him out as a man to watch.
By the end of 2¾ hours that feels far shorter, he has taken over the grocery businesses in both Chicago and Cicero, liberally murdering his rivals (and colleagues) before delivering a final speech promising to "make this country great again", pertinently and surely not coincidentally echoing the rhetoric of the leader of the free world today.
Ever since making his name as the incomparable fall guy Alfie in One Man, Two Guvnors, Tom Edden has been searching for a role that meets his prodigious talents.
Finally, given free rein to seek laughs, he grasps a wonderful opportunity. Edden opens the evening as an Announcer delivering a hilarious prologue in rhyming couplets, which sets the tone. Later on, he returns in a number of roles, the most significant playing the Actor commissioned to shape shy, ungainly Ui into a fearsome, tyrannical dictator who can move the masses.
There is great support from the whole cast, Lucy Ellinson and Justine Mitchell catching the eye in cross-dressing roles, eschewing female cuteness as they stand up against powerful male counterparts.
Michael Pennington is reliable as ever playing corrupt old politician Dogsborough, while at different times Guy Rhys and Giles Terera also catch the eye as brainless hoodlums.
Simon Evans's production never lets the pace drop, injecting snatches of song to fill any gaps in the drama where Tom Edden has not popped up to warm up the audience.
The production is greatly enhanced by a Peter McKintosh staging that turns the stalls into a speakeasy with tables and uncomfortable wooden chairs replacing the normal seating. This enables the actors to select embarrassed audience members and bring them into the drama, one poor fellow having to stand trial for arson, before ending up bandaged and in a sling.
This may not be Brecht as we know him but it is dazzling theatre and keeps up the Donmar's remarkable record of highly entertaining but consistently challenging hits.
Reviewer: Philip Fisher