The Restoration of Nell Gwyn
Steve Trafford, with songs by Henry Purcell
Ensemble and York Theatre Royal
York Theatre Royal Studio
–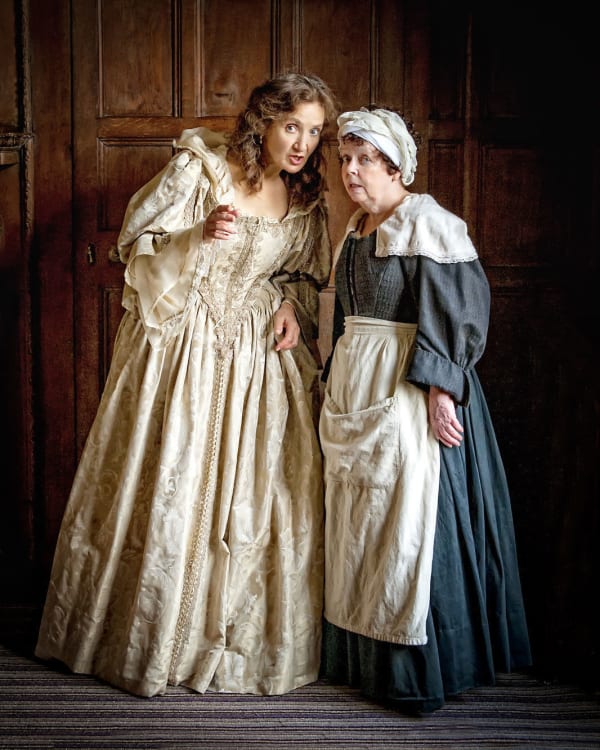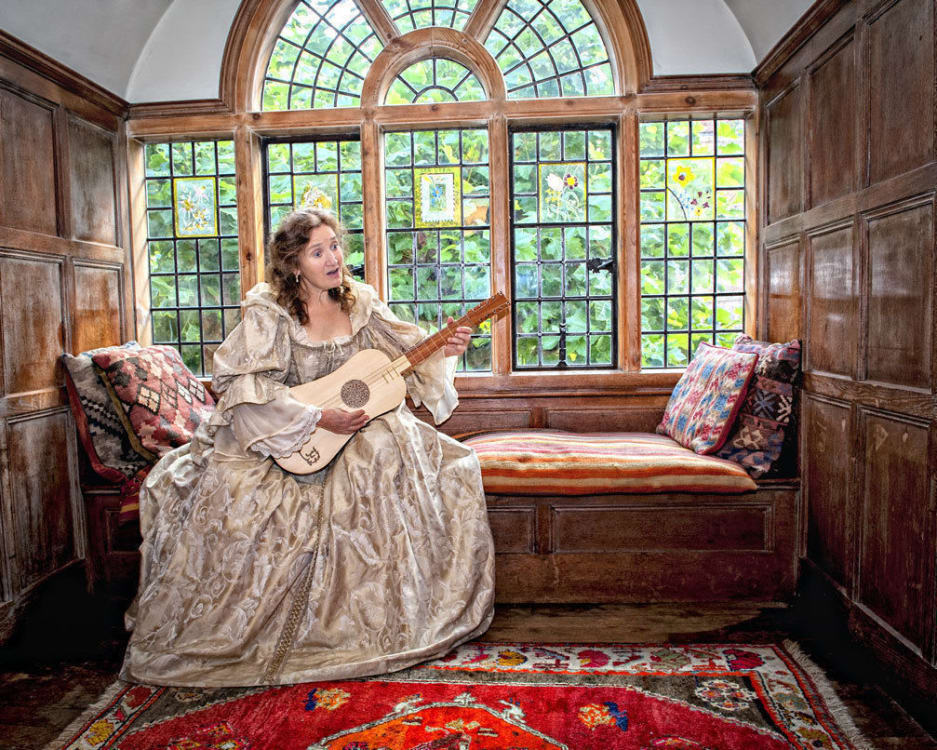 York Theatre Royal's latest joint venture is a curious, small-scale curate's egg of a piece, a new writing two-hander which is in many ways modern but which engages winningly with a period in theatre history ripe for investigation.
Ensemble Theatre Company, co-founded by writer Steve Trafford and performer Elizabeth Mansfield, has form in musical biographies, having previously created pieces tracking the lives, loves and lieder of Edith Piaf and Bertolt Brecht, among others.
Here it's Restoration actress Nell Gwyn that gets the Ensemble treatment and, to aid the narration of her tale, Purcell's music is given powerful voice by Mansfield as Gwyn.
The script imagines a companion for the actress, the 'semi-fictional character' Margery, played by Angela Curran, who functions as confidante, maidservant, dresser and sometime omniscient narrator.
Trafford's text has clearly been written from a position of passion for the era and topic—a passion supported by detailed research and a keen ear for certain linguistic twists of the time. But it's resolutely modern in tone too, conversational and accessible to a broad audience.
So we have a Prologue (a formal nod to the plays of the Restoration), in which Margery explains to us in rather pat couplets the situation in which Nell Gwyn finds herself. We join her late in her life, with illness creeping on and her former lover, King Charles II, also sickening and refusing to see her.
Though Gwyn has forsaken the stage (or been forsaken by it), she strums plaintively on a period guitar, and at times launches into renditions of songs of the era chosen to reflect the dramatic moment.
This is an intimate two-hander lasting nearly two hours (with interval), and ostensibly all set in a single room—and yet the text, along with Damian Cruden's direction, works well to maintain interest and variety over the course of the performance.
The opening strikes some off-notes—the Prologue, as mentioned, is more doggerel than it is Dryden, and at times Mansfield's melancholy overwhelms the sense that here might be a magnetic actress who charmed and flattered her way onto the stage and into the King's bed.
Mansfield's habit of gazing glassily down puts her at a disadvantage in comparison to Curran's freedom to cast knowing narrator's glances into the audience. Margery conducts more of a conversation while Nell is, perversely, trapped behind the fourth wall.
Both Stafford's script and the production itself hit their stride though, and the storytelling is clear and interesting throughout. It also puns compulsively, and Stafford clearly has a Wilde side, giving his characters innumerable verbal gags, tics and tricks: when the Plague struck, we're told, most of the aristos packed up and moved out, 'lock, stock and brothel'; renowned actor-manager Thomas Betterton is described as a self-involved, proud man: 'a walking monument to himself'.
Some of this is hit and miss, but the text bubbles along so pleasantly and engagingly that enough lines stand out to keep audiences engaged.
And Mansfield's Nell really comes alive at moments such as when she describes bit-players in her biography: as she recounts an encounter with 'Sir Nicholas Somesuch' she lives out the actor's irrepressible instinct to take on the other's bearing and vocal traits.
This show is designed for a lengthy tour of some small venues, and Richard Aylwin's set is consequently minimal—modern but unobtrusively so. The central element is a large sheet which twists down and drapes itself, immobile, across the floor, and it is something of a shame that the direction largely ignores the logics of the space thus marked out. The performers are forced continually to step over it, rather than to negotiate it in a way which would make meaningful use of the space.
Similarly, I have reservations over the lighting design, by Nao Nagai, which is for the most part sympathetic, but occasionally brightens and hardens into a stark oversaturated wash. At times this is effective, but during an ostensibly comic dance-off between the two women it was either miscued or ill-thought-out, and the audience was left in confusion over the tone of the moment: whether to laugh or ponder some apparently intended symbolism.
So this is a flawed but ultimately endearing production. It should appeal to aficionados of the period in question, but—more importantly for most of us—it welcomes in those who don't know their Aphra Behn from their Etherege. It is better, and more nuanced, than the 'bawdy' tagline might suggest.
Reviewer: Mark Smith