The Riot Act
Rob Johnston
Breathe Out Theatre
Manchester Central Library, Manchester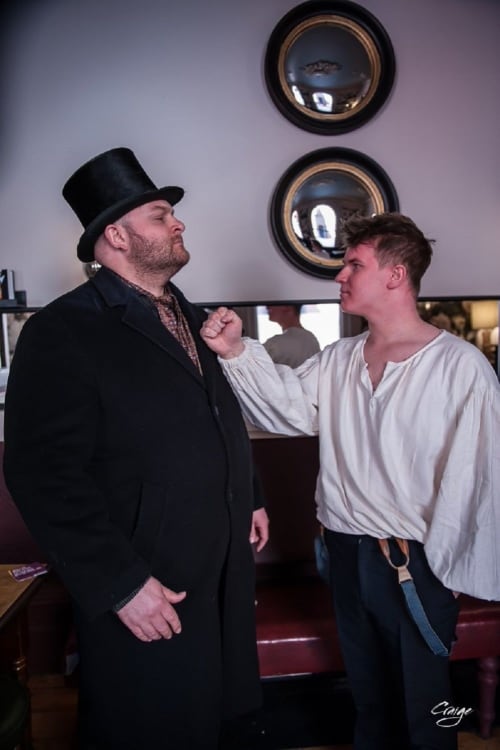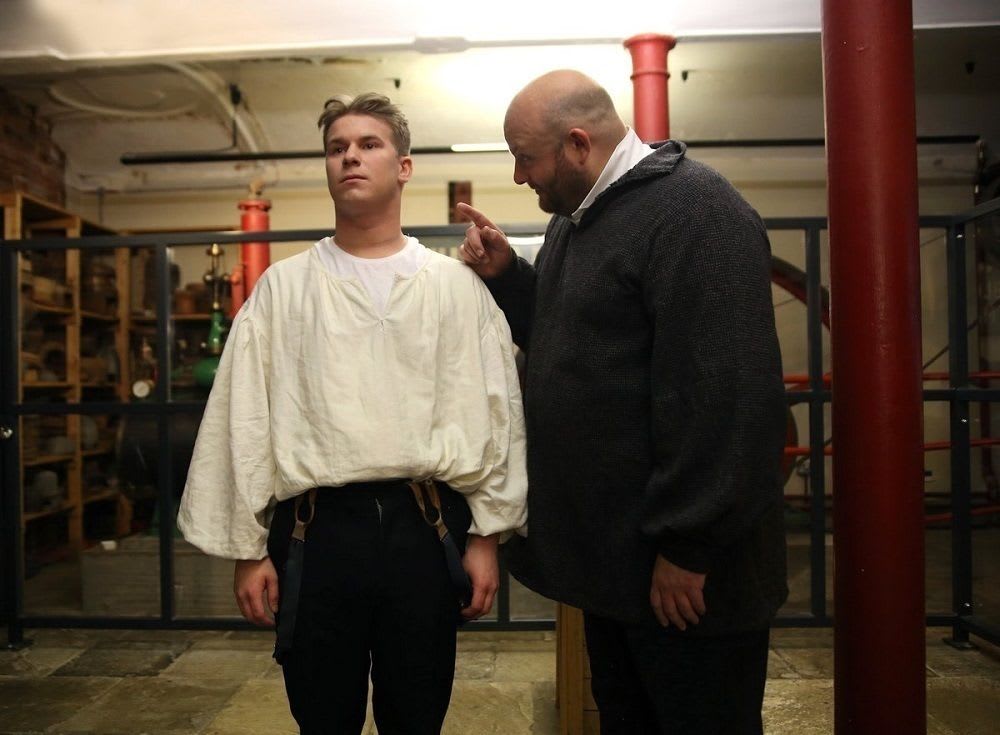 Manchester Central Library is not the most obvious venue for fringe theatre. But then Rob Johnston's The Riot Act cannot be considered a conventional fringe production.
In 1842, 23 years after The Peterloo Massacre, history repeats. In Preston, a pair of mill workers (Jake Talbot and Christopher Ward who perform all of the roles) prepare for a protest against appalling pay and conditions. Meanwhile, two mill owners have a similar discussion from a different viewpoint. One is progressive and asks why they cannot give the workers better conditions while the other is resolute that change is not possible—at least not without reducing his profits. The latter has managed to bring his fellow entrepreneurs around to his viewpoint and, as he is also town mayor, is responsible for reading the Riot Act that gives warning of the consequences of protesting.
The Riot Act has just completed a tour playing non-theatrical venues such as museums. As such venues are intended to inform and educate rather than entertain, Johnston has to ensure the research for the play is immaculate and the political and economic arguments delivered with passion. In Manchester, this approach is a great success and the play attracts attendees from historical societies and political groups who clearly appreciate the authenticity. But then the city is in the middle of a three-month commemoration of The Peterloo Massacre so interest is high.
It is rare to see a play with such heavy factual content work so well. Johnston does not skimp on the historical details but, rather than insert them heavy-handily into dialogue, reserves the recitation of places and names for the aftermath of the protest. The reasons for the army opening fire on the protestors and the details of those who died are given in a kind of grim autopsy as survivors and perpetrators try to make sense of events.
The play follows the conventions of theatrical tragedy—although the outcome can be foreseen, no-one seems able to stop the rush to disaster. The mill workers, despite all evidence to the contrary, cannot believe the authorities will resort to violence, assuring each other the soldiers, being from the working class, will not fire on members of their own community or, if they do, will use blanks. The possibility that those in power are hostile to the community is simply too frightening to contemplate.
It is acknowledged those who do not learn the lessons of history are condemned to repeat past mistakes. The Riot Act offers little hope for the future concluding the authorities will mouth platitudes and promise to do all in their power to help the working classes except take any action that might erode their privileges. But then, considering how hard-won social reforms have been reversed in the past decade or so, it is hard to disagree with the bleak conclusion.
Reviewer: David Cunningham