The Rise and Fall of Little Voice
Jim Cartwright
Octagon Theatre Bolton
Albert Halls, Bolton
–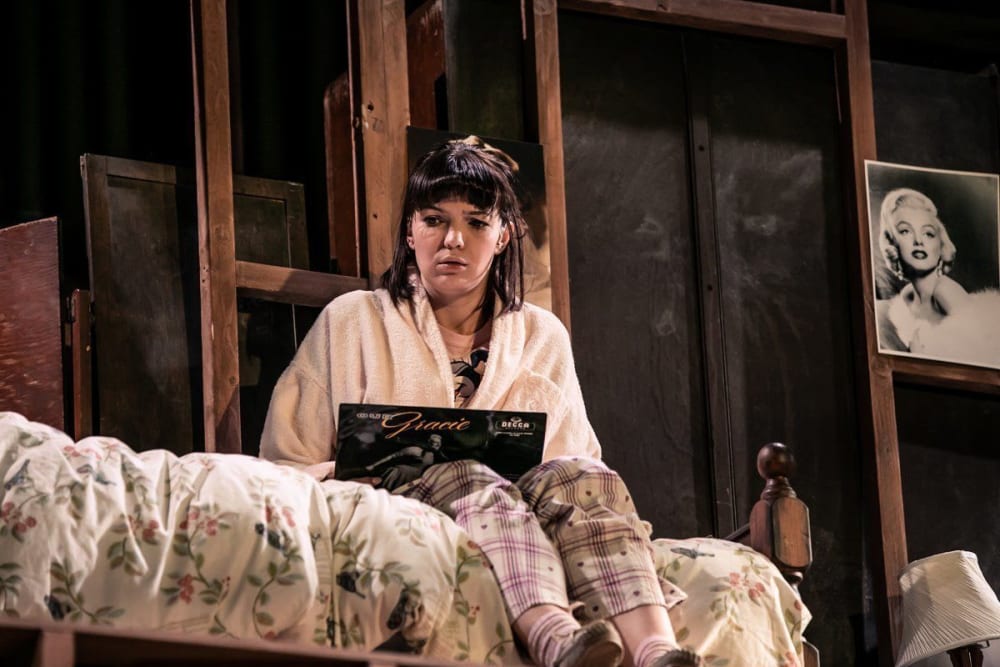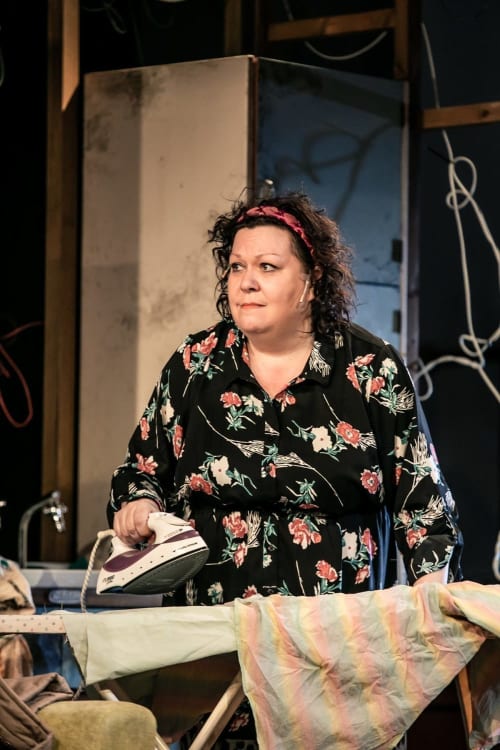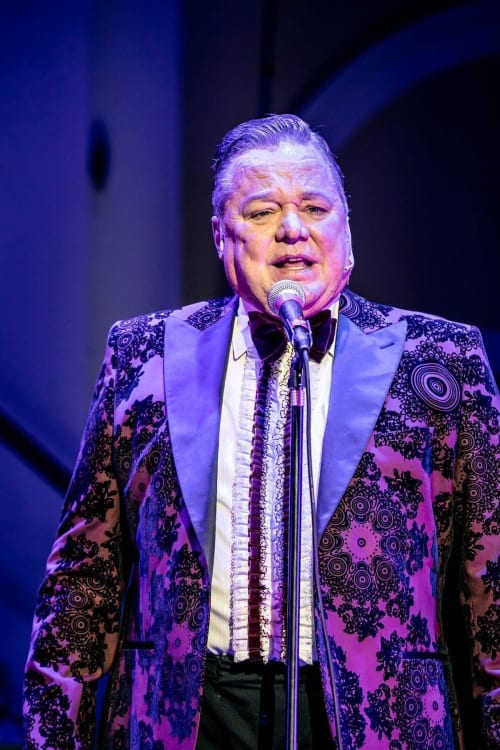 The Octagon has again revived one of Cartwright's most popular plays—this and Two appear most often in our own reviews pages, with the occasional Road between—bringing back the same actor in the title role as their last production of this play seven years ago but with a different director and a different supporting cast.
And also a different venue. The Octagon itself has been gutted for a refurbishment that will take another twelve months at least to complete, so has moved just round the corner to the top floor of the Albert Halls, which has the temporary appearance of a large Edinburgh Fringe venue with ornate plasterwork visible through metal gantry and lighting bars and the pipes of the organ clearly visible at the back of the stage. There was even loud music bleeding through from the wedding party below for a while on press night, just to complete that Edfringe feeling.
All of that plasterwork gives the room the acoustics of a school gym, and Amanda Stoodley's skeletal wooden set, as impressive as it looks, does nothing to dampen the intrusive reverberation, nor does miking everyone up for the dialogue seem to help. This creates a curious distancing effect to the whole piece, and with the restricted view from the front few rows, especially of LV's bedroom upstairs, it's sometimes difficult to follow what is happening.
Little Voice (Katie Elin-Salt), or LV, is the painfully shy daughter of brash, cruel Mari (Sally George), who adored her late father and cherishes his record collection of songs by the great divas such as Judy Garland, Marilyn Monroe and Shirley Bassey. Not only that, but she can do perfect impersonations of them all, and when Mari's latest man Ray (Mark Moraghan), who manages local acts for the club circuit, hears her singing in her bedroom during one of their frequent power-cuts, he is determined to make a star—and some money—out of her.
There's a lot of scene-setting in act I, but there are a few more interesting moments in act II. The three musicians on keyboard (presumably MD Rob Hiley, although the programme doesn't say), drums (Robbie Burgess) and bass (Octagon regular Barbara Hockaday) appear on stage as the glitter slash curtain surrounds the house and Ted Robbins takes the stage as club owner and compère Mr Boo. Of course this comes as second nature to an experienced comic like Robbins, so an audience can't help but be won over to laugh at even the oldest gags. The subsequent performance by LV is as excruciating as it should be.
Elin-Salt does get a chance to show what she can really do as LV is bullied into further performances; seven years on, she can still portray well the lost and shy young girl who just occasionally comes out of her shell in a big way when music enters her body. Moraghan plays Ray perfectly as someone easy to like but who could turn round and be exceptionally cruel when pursuing what he wants; his breakdown on the stage of the club is judged just right.
George's Mari also judges the character well, but her constant torrent of too-clever, self-pitying, self-promoting dialogue probably suffers most from the acoustic problems. Hers is a character that is difficult to like at all; she repeats the same cruel jibes against her daughter (and before that against her husband) and arrogant claims for herself so often that she becomes a bore. No justification is given for why she is like this and nothing that happens to her changes her for more than a moment.
The cast is completed by Sue Vincent as Mari's loyal but mostly silent neighbour Sadie and Akshay Gulati as the sweet telephone engineer, Billy, who falls for LV and is determined to bring her out of her shell in a gentler, less intimidating way than Ray.
It's possible that those on the raked seats further back had a completely different experience to me, but the audio issues combined with the closed-in set made it difficult to ever feel really involved with the characters. However this is a fine cast (and musicians) in a production that does have some stand-out moments, especially in the very long second half.
Reviewer: David Chadderton